HSBC (HBC) announced final results for FY12/2007.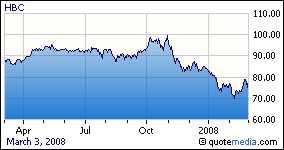 Net operating income was up 13% y/y to US$61,751M and net profit was up 21% y/y to US$19,133M. For the review period, loan impairment charges and other credit risk provisions amounted to US$17,242M, up US$6.7B or 63% y/y.
But investors should note that HSBC's net profit was inflated by several one-off gains which also amounted to about US$7B. EPS was US$1.65, up 17.9% y/y. Final dividends were US$0.39 per share, up 8.3% y/y; full year dividends were US$0.9 per share, up 11.1% y/y.