RadioShack (NYSE:RSH) is getting hammered by a lack of visibility and short sellers (short interest is a staggering 36% of float). With proper management moves, RSH could start a new move up. At current price levels, there appears to be significant safety (based on strong balance sheet) and huge upside (stock trading below book, huge short interest, strong international opportunities).
RadioShack has lost Institutional interest and since management has been slow to detail their plans for the next several years, investors have fled the stock, causing it to hit an all-time low ($4.05) this last week. The worst move management made was suspending the "stock buyback". Even if they buy back a small amount of shares each quarter, the threat of a strong bid there keeps the hedge funds away from shorting it into the ground.
The current price is baseless. It is all from short sellers driving it into the ground while there are no buyers given the lack of visibility. Management should do the following and if they do, it is in my opinion, the stock could easily soar back to $10-15 per share:
Provide clear-cut guidance as to their 3-5 year time business plan.
Provide earnings expectations on the above plan.
Reinstate the stock buy back. At these levels, earnings could soar.
Reaffirm that the dividend is 100% safe. They recently doubled the dividend to 50 cents per share, which yields over 12%.
Provide monthly updates on sales.
Re-brand the name. "Your best buy is to head to The Shack." - It kind of slams the competition in a sneaky, effective way.
Another ad campaign - "Your one stop for not just accessories, but phones, electronics, everything you need!"
Close stores that are under-performing.
Continue to explore International growth with the ultimate goal of spinning off a new company stock tied to it - RadioShack International, for example.
Get Institutional interest back. Executives must show they are serious by jumping on current prices with insider buying.
If James Gooch (current RSH chief) gets his act together and starts focusing on this list, he can restore RSH back to a powerful player in retail. RadioShack has a lot going for it - strong balance sheet; smaller, more manageable stores; foothold on smalltown U.S.A. Investors just need more clarity on the CEO's vision.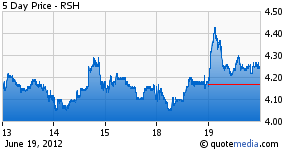 52wk high: 16.25
52wk low: 4.05
EPS: 0.28
PE: 14.80
Div Rate: 0.50
Yield: 12.0773
Market Cap: 409.64 M
Volume: 5.81 M
Disclosure: I am long RSH. I plan to add to my holdings if price remains depressed and/or the company provides more clear-cut plans for the future.