La-Z-Boy Inc. (NYSE:LZB) reported earnings per share of $0.37, including $0.19 per share reflecting anti-dumping duties. Same-store written sales were up 9.4% for year, and up 10% in the 4th quarter. Revenue increased 3.8% over fiscal year 2011, which was one week longer, with that week having a 2% impact. The stock is responding well to this earnings announcement up about 3.5% in after hours trading to $13.60.
One positive to the stock is the slight improvement in the US housing market. As housing starts rise demand for furniture should follow. The company is currently trading at around 14 times forward earnings, and analysts currently have an average of $17 price target. Should the company continue to achieve high single digit same store-sales growth I think it could easily reach that target in the next 12 months. La-Z-Boy's partnership with Kuka Home in China could also be significant for the company as it seeks to grow sales by expanding into that market.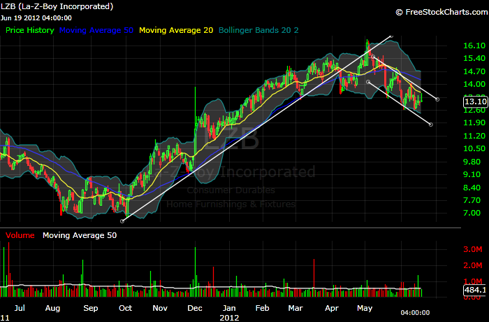 La-Z-Boy rallied off lows early last fall from around $7 all the way up to over $15 per share. Then it broke below that trendline and has since spent almost two months in a down channel that has taken the stock down about 20%. Until La-Z-Boy breaks out of the down channel to the upside it would be better to continue monitoring the stock before taking a long position. One possible trade would be to write the October 12.50 put, collecting $1 giving you downside protection to $11.50 where La-Z-Boy might find support.
Disclosure: I have no positions in any stocks mentioned, and no plans to initiate any positions within the next 72 hours.