Here is why Walgreen Company (WAG) was purchased on weakness, June 19, 2012.
Before the open Walgreen Company announced third quarter 2012 earnings of $537 million or $0.62 per share. This was lower than the third quarter 2011 earnings of $603 million or $0.65 per share. Not ideal news, but it got better. It also announced an increase to the quarterly dividend from $0.225 to $0.275 per share. The dividend is payable on September 12, 2012 for owners of record on August 17, 2012. It further announced it was taking a large stake (45%) in Alliance Boots.
The announcement had two positives. First positive was the increase in the quarterly dividend from 22.5 cents to 27.5 cents a share. That is a 22% increase. Based on the closing price of $30.11, the new dividend yield is 3.65%. This is up 66 basis points from the former dividend yield of 2.99%.
Another positive factor was the Alliance Boots stake announcement. Management is using cash to expand the business, which may result in greater sales and profits. In my opinion, that is a better use of cash then shrinking the business via share repurchases. The former has the potential to increase sales and profits, the later doesn't. Hopefully, this is a change for real wealth creation.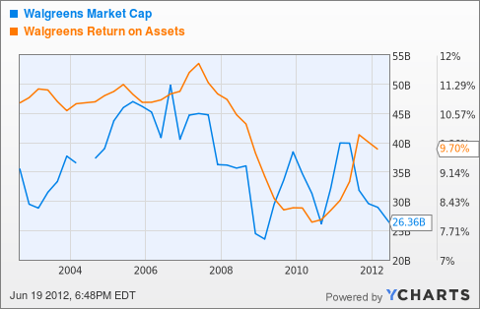 Click to enlarge
WAG Market Cap data by YCharts
If Walgreen traded at a 3.24% dividend yield, or twice the 10-year US Treasury yield of 1.62%, then the stock could trade at $33.95. That is a 12.7% move from current levels. With a 3.00% dividend yield the stock would be at $36.67, or a 21.7% move higher.
S&P has placed Walgreen on a negative credit-watch over concerns with the Alliance Boots announcement. Time will tell what happens.
As an investor I trust the management of Walgreen to build and grow the business more than its ability to trade or value its stock. Here is why, on February 29, 2012 there were 136,105,870 shares of treasury stock on the balance sheet with a cost of $5,826,000,000, or $42.80 per share. The stock closed June 19, 2012 at $30.11. The treasury stock is underwater by $12.69 per share or more than $1.7 billion. I like the odds of the Alliance Boots stake performing better than the treasury stock purchases. Given the turmoil in Europe the entry point of the stake appears to be closer to an economic bottom than a top.
It is possible investors might be disappointed in future operating results but that is the risk every investor must take. However, I would rather be disappointed in a firm attempting to grow sales and net income, than by management attempting to hide poor results with share repurchases in the hopes that investors will focus upon earnings per shares rather than the absolute level of net income.
Walgreen might not fit your risk-reward profile but given today's weakness it appeared to provide a decent value so it was purchased. Of course I could be wrong. Yield based target is $33 to $36. Time will tell when, or if, it gets hit.
Source data: SEC filings at sec.gov.
Disclosure: I am long WAG and have added to position on the June 19th weakness..