As we mentioned Sunday, several markets, including U.S. stocks (NYSEARCA:SPY), foreign stocks (NYSEARCA:VEU), commodities (NYSEARCA:DBC), semiconductors (NYSEARCA:SMH), and Treasuries (NYSEARCA:TLT), were giving the short-term nod to the bulls heading into the Greek election. With the S&P 500 up 1.13% on Monday and Tuesday, the bulls have now clearly recaptured the intermediate-term trend. Given what we know today, we will view any post-Fed pullback as another buying opportunity.
The most important story on Tuesday, from The Guardian, points to a more direct approach to combat rising Spanish and Italian bond yields:
Angela Merkel is poised to allow the eurozone's €750bn (£605bn) bailout fund to buy up the bonds of crisis-hit governments in a desperate effort to drive down borrowing costs for Spain and Italy and prevent the single currency from imploding.
The Telegraph ran a similar story:
European leaders are poised to announce a 750 billion euro deal to bailout beleaguered Spain and Italy by buying the countries' debts. Pan-European Government funds are set to be used to buy Spanish and Italian bonds, which have recently hit record highs - in a move which will send a strong signal to financial markets that the German administration is prepared to back its weaker economic neighbors.
The stories above are from reliable sources. Thus, we would expect them to be reasonably accurate relative to the next steps in Europe. Any bond-buying program should help risk markets in the short-to-intermediate term. Regardless of where Europe is headed next, the stories above are worth keeping an eye on.
The CCM Market Models have shown some meaningful improvement in the last two weeks. The levels on the left side of the table below represent the low-end of bullish territory. Thus far, only the 80-20 Correction Index has pushed back into bull mode, but the other models are making progress.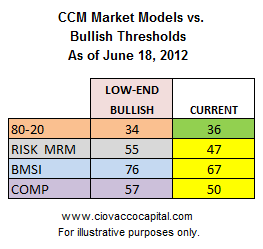 Market breadth speaks to the percentage of stocks participating in a rally. The Summation Index, shown below, is an intermediate-term measure of market breadth. The recent turn higher looks similar to the period near the October 2011 low (compare green boxes). The S&P 500 remained volatile (orange box), but eventually pushed higher.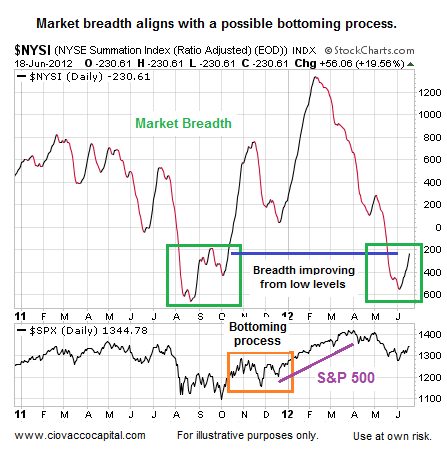 We continued to reduce our cash position Tuesday. We would have made larger incremental moves, but numerous 30- and 60-minute charts looked tired at the close. Wednesday's Fed announcement could spark big moves up or down, which is another reason to move at a measured pace in the short-term. We will remain bullish as long as the charts and news from Europe allow.
Disclosure: I have no positions in any stocks mentioned, and no plans to initiate any positions within the next 72 hours.