On November 30, Royal Bank of Canada (NYSE:RY) reported net income for the final quarter 2007 of $0.97 a share, well under Wall Street's expectation of $1.07. This negative earnings surprise sent shares tumbling 4.0 percent in one day.
Royal, the largest bank in Canada, missed its target because of a $152 million subprime write down (CDOs and mortgage-backed securities). Of course, this pales in comparison to write downs at other major banks, such as UBS ($17.6 billion) and Citigroup ($18.2 billion this quarter alone). Royal Bank's CEO, Gordon Nixon, has gone on record saying it has no more than $1.0 billion linked to the U.S. subprime market. So what's in store for 2008? (Chart of the last three years below).
click to enlarge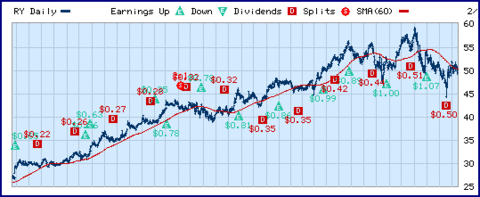 Seems like more growth, mainly from international locations. As for subprime, Canadian banks never made those "0 down, 110% of value" mortgages that proliferated south of the border. Royal, it seems, prefers boring old-fashioned profitable banking. Its core businesses of retail banking, investments, insurance and capital markets generated a 23% return on equity last year. Above, left, RY over the last three years.
Does Large Cap Mean Low Growth?
While it's harder for a large company to grow than a small one, Royal has made acquisitions in the US and abroad. It has offices in 34 countries, including Spain, France, and the emerging markets of Brazil, India, and China. This diversifies its risk, and provides exposure to global growth. Consider its returns over the last 10 years versus those of other major banks:

Royal outperformed these rivals by a wide margin and at 12 times earnings is cheaper! On top of everything else, it pays a 4.0% dividend, which has increased every year since 1996.
The Tier 1 Ratio is a critical measure for banks. It's the core equity versus total risk-weighted assets. Sounds complicated, but it's really just a measure of solvency. US Banks are required to have a ratio of 4%, but 6% or less can mean there's no margin of safety if something goes wrong. Royal Bank has a Tier 1 ratio of 9.3%, compared to Wells Fargo (NYSE:WFC) at 7.6% and Bank of America (NYSE:BAC) at 6.8%.
Financial stocks may be beaten down, but in some cases, the market has thrown out the baby with the bath water. Royal's net income has increased more than 30.0 % each of the last three years, and if the US dollar devalues against the loonie, returns will be higher.
Disclosure: Author has a long position in RY