In "British Pound Surges Into Resistance - Buy Dips As Government and Bank of England Try To Ease Credit Crunch" on June 15th I argued that it is time to buy the dips in the British pound versus the U.S. dollar (NYSEARCA:FXB) with a sell target just under the 200DMA resistance. So far, so good on this strategy. The 30-minute chart below shows the buyable dips and the selling point at resistance for the GBP/USD currency pair.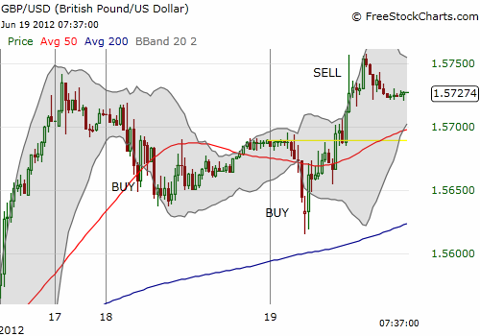 Click to enlarge
The erratic movement of the British pound provides good volatility for intraday trading
The daily chart shows how the 200DMA is providing effective resistance for the third straight day. I continue to think this critical level will serve as a magnet for the currency pair as the U.S. dollar index (NYSEARCA:UUP) slowly but surely weakens from its QE2 reference price.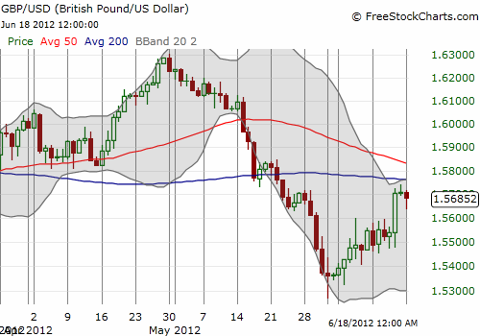 Click to enlarge
The British pound wavers under 200DMA resistance but hangs close.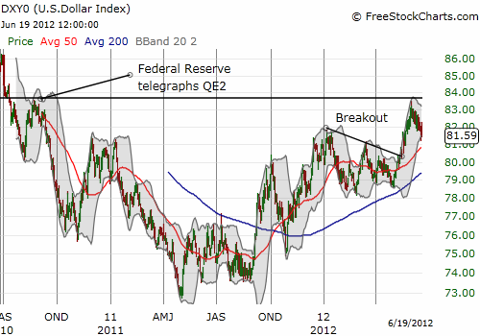 Click to enlarge
The dollar index continues to fade away from its QE2 reference price.
Source: FreeStockCharts.com.
The dollar index continues a slow and orderly decline from its QE2 reference price ahead of Wednesday's monetary policy statement from the U.S. Federal Reserve. Clearly, the market is expecting some kind of statement that is more dovish and accommodative than the recent string of pronouncements (as I am). If the Fed disappoints, the dollar should surge in strength across the board for a brief spurt. It might take a day or two, but eventually I expect currency markets to return to dovish expectations for the next round. Such a move will provide a particularly attractive short-term buying opportunity for the British pound.
Disclosure: I have no positions in any stocks mentioned, and no plans to initiate any positions within the next 72 hours.
Additional disclosure: In forex, I am long GBP/USD