by Daniela Pylypczak
U.S. stocks were once again buoyed by the idealistic notion of hope Tuesday, as equities surged ahead in anticipation of Wednesday's Federal Reserve announcement. Eurozone fears subsided after Spanish yields finally eased off of all-time highs, allowing European markets to rally to their biggest single-session gain in weeks. As investors cling onto the possibility of QE3 coming sooner rather than later, U.S. equities took their cue: the Dow Jones Industrial average inched 0.8% higher, while the S&P rose 1.0% and Nasdaq come out on top with a 1.2% gain.
The housing market received some good and bad news today as the latest data showed home building slowed in the month of May, but new permits surged to their highest levels since 2008. The 7.9% increase in building permits, which was expected to come in at 1.0%, suggests that Americans demand for new houses in the future is on the rise. Despite the somewhat positive news on the homefront, investors will likely keep their focus on Wednesday's FOMC meeting.
The iShares MSCI Brazil Index Fund (NYSEARCA:EWZ) was one of the best performers, gaining 3.65% on the day. As the Brazilian real strengthened against the dollar today, this ETF gapped higher at the open, only to even higher throughout the trading day. EWZ closed just shy of its high of $54.70 per share.
Click to enlarge
The United States Natural Gas Fund (NYSEARCA:UNG) was one of the worst performers, shedding a dismal 3.44% on the day. After a wildly successful few days of trading, this ETF cooled off its winning streak as profit taking investors sought to lock in gains. UNG gapped significantly lower at the open, only to continue sliding lower throughout the day.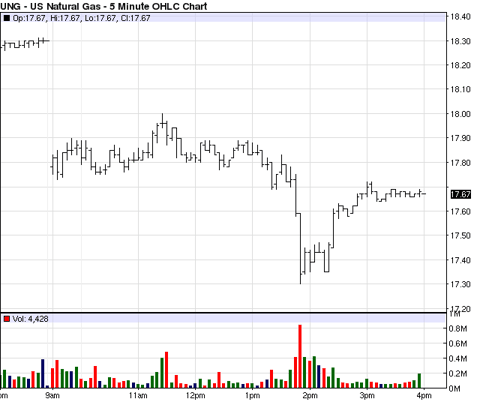 Click to enlarge
Disclosure: No positions at time of writing.
Disclaimer: ETF Database is not an investment advisor, and any content published by ETF Database does not constitute individual investment advice. The opinions offered herein are not personalized recommendations to buy, sell or hold securities. From time to time, issuers of exchange-traded products mentioned herein may place paid advertisements with ETF Database. All content on ETF Database is produced independently of any advertising relationships.