Last week, Prime Minister Yoshihiko Noda ended Japan's month-long freeze on nuclear power. On June 16, after the Prime Minister met with three Cabinet ministers sharing nuclear approval authority, he stated that two reactors at Kansai Electric Power's Ohi nuclear plant could be put into operation. The Ohi plant serves the second-largest urban region within Japan, and Kansai immediately began working towards starting the reactors, estimating that the first should be up running in early July and the second by mid-July.
Japan will slowly reopen most of the nuclear plants that provided almost one-third of the nation's energy, before being shut down after the meltdowns at Tokyo Electric Power's Fukushima station in March of 2011. The decision to restart nuclear power usage follows a deal between political parties that also included a consumption tax increase. The nuclear power restart is still unpopular with many Japanese people, but many industrial businesses have claimed they require the power.
This could be the start of something in the potential turnaround for uranium miners. Japan was formerly one of the largest users of nuclear power, and its moratorium on the use had a significant reduction in the overall demand for the commodity. The last year was exceptionally negative for uranium miners and the radioactive element itself. Beyond Japan's actions, Germany added that it planned to phase out nuclear power production. Japan's ramping up of its sizable nuclear power development should help buoy demand for uranium, and also help stabilize or increase its price.
After a serious surge to start off the year, where several uranium producers appreciated by more than 60% in January, most have since been stuck in their state of gradual decline that accelerated when the broader equity commodity markets also began to decline.
Emerging market demand trends for uranium look strong, with both China and India announcing multi-year plans to develop nuclear power infrastructure. China plans to increase its nuclear capacity eight-fold by the end of the decade and India plans to increase its production thirteen-fold. Other nations within Asia and Southeast Asia could follow their lead. If this were to happen, emerging market demand would likely replace and even surpass current first-world demand for uranium. Natural gas is not a cheap option in Asia.
Few companies are substantially related to uranium, but examples include Cameco (NYSE:CCJ), Denison Mines (NYSEMKT:DNN), Uranerz Energy (NYSEMKT:URZ), Uranium Resources (NASDAQ:URRE) and USEC (USU). Below is a year-to-date performance comparison chart for the group.
Click to enlarge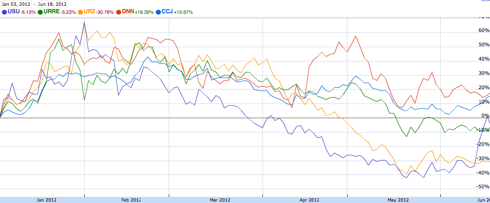 So far this year, Denison is the best performing listed uranium producer, followed by Cameco. Much of Denison's relative strength came after it reported earlier this quarter that it would enter an agreement with Energy Fuels in order to spin off Denison's uranium mining assets within the United States. Under the agreement, Energy Fuels will acquire all of Denison's U.S. mining assets and operations to Energy Fuels in exchange for about a two-thirds stake in Energy Fuels. Denison's shareholders are to receive shares in Energy Fuels, making them owners of both a U.S. uranium miner and an international, but primarily Canadian one.
USEC was formerly the worst performing listed uranium provider, but it recently spiked upwards, almost taking it to parity for the year. USEC is not a uranium miner like the other listed equities, but enriches uranium. USEC has been in a state of decline over concerns it may not be able to remain solvent, especially due to fears that its American Centrifuge project, the future of the company, would not continue. Last week, the Department of Energy signed an agreement to fund 80% of the project, or $280 million, which should help mitigate some of USEC's near-term risk. After the announcement, USEC's shares appreciated over 40 percent.
Some argue that alternative power sources could make uranium powered reactors obsolete, such as thorium-based reactors, or that natural gas and other safe and viable alternatives will simply be selected as a cheap, safe and clean enough option. These alternatives may also be able to grow alongside uranium's continued use and expansion. While the future is never certain, one fact we do now know is that Japan has returned to its use of nuclear power, and that as it ramps up nuclear productivity, demand for uranium should also increase. Japan plans to have one reactor up in early July and two up before the end of July, with many others that could soon get the go-ahead. This probable demand increase should bode well for uranium producers to the extent that more of the supply will be consumed and at a potentially increasing price.
Disclosure: I have no positions in any stocks mentioned, and no plans to initiate any positions within the next 72 hours.