We have held a long position in Altria Group (NYSE:MO) since March 31, 1999, when it was known as the Philip Morris Companies and we have been pleased with the results of the company and its spin-offs during this time. We believe that Altria Group is a great investment for investors seeking income, particularly dividend payments.
Altria Group is one of those rare-breeds of companies that offers an above average dividend yield of 5% (as of June 11th, 2012) and is a dividend growth champion (Altria has increased its dividend per share (adjusted for the Philip Morris International (NYSE:PM) and Kraft Foods (KFT) spin-offs) 45 times in the last 43 years). Furthermore, despite the fact that Altria spun-off the fastest growing divisions of the old Philip Morris Companies, Altria has still increased dividends by over 9% compounded annually since the 2008 spin-off of Philip Morris International.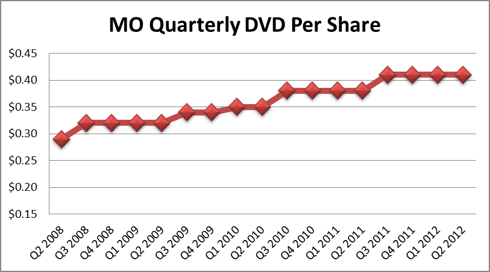 Source: Altria's Dividend Schedule and History
COMPANY OVERVIEW
Altria Group is the largest U.S. based Tobacco Company. It sells cigarettes, cigars, smokeless tobacco products and premium wines. It generated $23.8B in revenue in 2011 and paid $7.2B in adjusted taxes, resulting in net adjusted revenue of $16.6B. Philip Morris opened a tobacco shop in London in 1847 and made his first cigarette in 1854. Altria Group was incorporated in 1902 as Philip Morris & Company in New York City. Its leading product is the Marlboro cigarette brand. Philip Morris introduced the Marlboro Man cowboy as part of a product rebranding and this resulted in Marlboro rapidly increasing its market share. Philip Morris Inc. (Altria) passed RJ Reynolds as the leading U.S. tobacco company in 1976, a position that is currently held by Philip Morris USA. When Philip Morris faced a threat to profitability from rent-seeking anti-smoking health fascists, it responded by diversifying its business mix away from tobacco by acquiring other consumer products companies.
History of Altria
In 1970, Philip Morris & Company became Philip Morris Inc. and acquired the Miller Brewing Company.
In 1985, the Philip Morris Companies was established as a holding company for Philip Morris Inc., Miller Brewing Company and General Foods (which it had acquired that year).
In 1988, Philip Morris Companies acquired Kraft Foods after a $10B hostile takeover bid and merged it with General Foods.
In 2000, Philip Morris Companies acquired Nabisco, merged it with Kraft Foods and took Kraft public in 2001 by selling off 16% of its stock ownership interest.
In 2002, Philip Morris Companies sold Miller Brewing to South African Breweries in exchange for 34% plurality interest in the combined SABMiller PLC.
In 2003, Philip Morris Companies changed its name to Altria Group
In 2007, Altria spun-off its majority interest in Kraft and acquired John Middleton & Company (leading cigar maker)
In 2008, Altria spun-off Philip Morris International
In 2009, Altria acquires UST Inc., which manufactured smokeless tobacco products and premium wines.
We already established that Altria has shown solid dividend growth, even though it spun-off the faster growing Philip Morris International and Kraft Foods. We should examine whether its dividend growth is sustainable by examining its adjusted dividend payout ratio: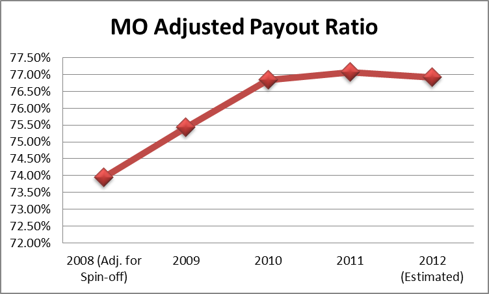 Source: Morningstar Direct and Saibus Research estimates
We are not worried that MO's adjusted dividend payout ratio has increased from 74% to 77% during this time period. At Altria's Investor Relations Website, it says that Altria's target dividend payout ratio is approximately 80% of adjusted earnings per share. Considering that Altria Group generated a return on beginning period shareholders' equity well in excess of 100%, we can see that PM can certainly afford to pay 80% of its annual profits to shareholders and leave plenty of available cash for marketing, research and development, growth CapEx, acquisitions, debt reduction and share repurchases.
Now let's look at Altria's Q1 performance versus its competition in order to see if it can maintain its high dividend yield as well as grow it. We have generally found that tobacco companies are known for the ability to generate mammoth free cash flows, require minimal CapEx and spend heavily on dividends and share repurchases. We find that to be especially true of US tobacco companies.
In our analysis, we see that all three tobacco companies are strong cash cows operating in a mature, slow growth environment. We believe that Altria has an edge versus Lorillard (NYSE:LO) and Reynolds American (NYSE:RAI) due to Altria's strong operating margin and dominant market share position within the U.S. tobacco market. We believe that Altria has a stronger competitive position than Lorillard and Reynolds American, and can use its higher operating margin to fund a price war or to protect against one launched by its competitors.
In conclusion, we are pleased with the performance from Altria Group. Philip Morris International has shown itself to be a solid high-dividend yielding company and a dividend growth champion in terms of quantity (43 years of consecutive dividend increases) and quality (9% CAGR since 2008).
One of the reasons why we are interested in the tobacco industry is a quote from Warren Buffett of Berkshire Hathaway. Buffett said "I like the tobacco business. It costs a penny to make. You sell it for a dollar. It's addictive and there's fantastic brand loyalty." We agree with Buffett wholeheartedly there. He got right to the point about why the tobacco business is a happy-hunting ground for investors who desire immediate income, particularly dividends. There's not a lot of gray area in that quote. We can certainly see that the Philip Morris Companies and its successors-- Philip Morris International, Kraft Foods and Altria Group-- can certainly generate superior returns in excess of the S&P 500 and use those mammoth cash flows to return cash to shareholders.
Disclosure: I am long MO, PM, KFT.
Additional disclosure: Saibus Research has not received compensation directly or indirectly for expressing the recommendation in this report. Under no circumstances must this report be considered an offer to buy, sell, subscribe for or trade securities or other instruments.