Agriculture may be a boring sector to invest in given the buzz surrounding technology and financials, but it is meaningfully undervalued right now. Over the last three months, basic material firms Potash (NYSE:POT) and Mosaic (NYSE:MOS) lost a respective 15.9% and 13.6% of their value while similar, although not peer, food processor Archer Daniels Midland (NYSE:ADM) lost just 1.1%. I find that this loss in shareholder value was overblown for Potash and Mosaic.
To be sure, Potash has delivered miserable results of late. For example, 4Q11 and 1Q12 EPS was a respective 12.4% and 13.9% below consensus. At the same time, the company is fundamentally sound and offers an attractive margin of safety.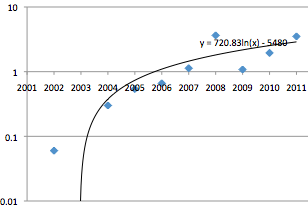 Source: Internal research. Note: Potash's EPS over the past 5 years.
If you take a logarithmic regression of EPS over the last decade, you can extrapolate 2016 EPS to be $4.72 - a figure that is actually very bearish given the consensus for 10.3% annual 5-year EPS growth.
In order to make out any meaning of my 2016 $4.72 EPS figure, you need to take an exit multiple calculation that is appreciative of the past and peer levels. Potash's 5-year average PE multiple stands at 24.1x - more than double the current one. At the same time, Potash's PE multiple is only 61% of its sector's. Assuming a conservative 2016 EPS of $4.72 and multiplying by a conservative 2016 multiple of 16x, the future value of the stock is $75.52. Present valuing this figure by a discount rate of 10% yields a conservative target price of $46.89 for at least a 27% margin of safety.
But the story gets even better: Potash is also a free cash flow machine. Based on my 13.8% growth projection over six years and 2.5% into perpetuity, consistent operating metrics, and a 9% discount rate, the intrinsic value of the stock is $50.45. The Street gives the stock a target price of $54.47.
Mosaic is even cheaper. It trades at a respective 10.6x and 9.8x past and forward earnings versus corresponding figures of 11.9x and 10.1x for Potash. The consensus target price is also strong at $66.47, which is a 33.7% premium to today's value. 33% higher volatility than the broader market will also help close this value discount when risk perception dissipates. With that said, I am less optimistic about Mosaic's growth story than I am about Potash. Management has noted how challenging the business environment has been and it will take time for investors to recoup from the 27% decline in potash sales during the third quarter.
ADM appears to be expensive relative to Potash and Mosaic at a 15.8x past earnings multiple, but it still generates impressive free cash flow. In fact, the market cap is only 7.7x free cash flow. Even still, the Street is hesitant about the stock and sees limited margin of safety at a price target of $35.25. What ADM needs more than anything is reduction in supply and labor. Consumer uncertainty has driven volatility in the corn and oilseed markets, so I recommend holding out for now.
Disclosure: I have no positions in any stocks mentioned, and no plans to initiate any positions within the next 72 hours.