On Tuesday, shares of Walgreen (WAG) dropped 5.8% on the news that the company would be buying a stake in Alliance Boots GmbH - a strategic initiative Walgreen says will "bring together the strengths and expertise of both companies to create the first global pharmacy-led, health and wellbeing enterprise."
But the board of directors also raised the company's dividend by 22%, from 22.5 cents to 27.5 cents per quarter.
That hikes the annual payment from 90 cents to $1.10 per share.
Given this increase, here are some new dividend levels to watch, compared to previous levels going back to 2008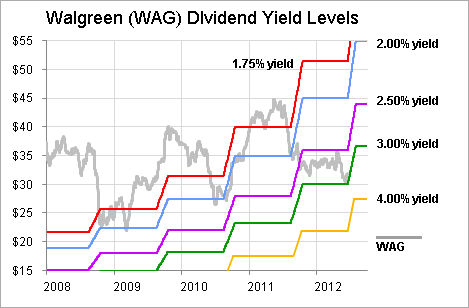 As you can see, the $1.10 payment means that if you were to pay $30 per share for WAG, you'd be getting a 3% yield with the current dividend, but that's the equivalent of 3.7% at the new payout. That's a fairly high yield considering that the stock has not offered that much over the past 4 years.
Of course, "accidentally high yielders" can be "accidentally high" for a reason. The company's Alliance Boots deal may be good or bad for shareholders so I'd encourage you to read a few different opinions by fellow Seeking Alpha contributors Dana Blankenhorn, Kraken, and Stone Fox Capital.
Rising payments and payout ratios
As far as the dividend itself, it's been rising rapidly.-with the new payout doubling since 2010 and tripling since 2007.And the payout ratio, while rising, still remains at acceptable levels.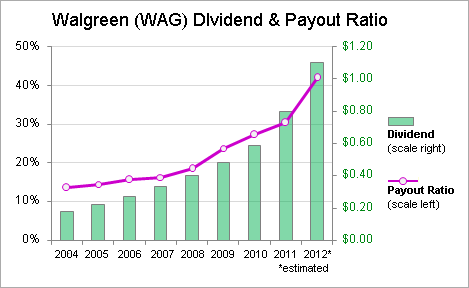 PE ratio nearing 10X
The company has not traded below 10 times trailing 12-month earnings (per data from YCharts.com) since 2008, so this could represent a chance to acquire shares at a reasonable multiple and a decent dividend payment.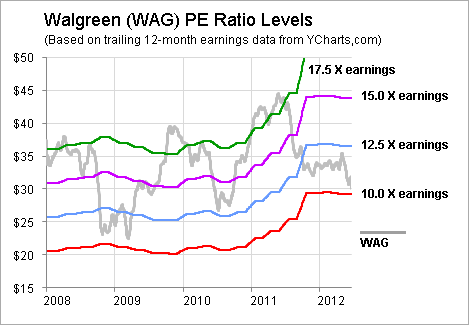 I don't follow the company closely, but it's clear the company is looking for new growth opportunities since it ended its relationship with Express Scripts (NASDAQ:ESRX)
I don't see any rush to getting into WAG considering that the Alliance Boots deal will take a few months to close, but if you're thinking about acquiring more shares in Walgreen, or establishing a new position, keep these new dividend levels in mind.
Disclosure: I am long ESRX.