From shareholder unrest about Chairman & CEO Indra Nooyi's performance to market losses against Coca-Cola (NYSE:KO), PepsiCo (NYSE:PEP) has been a disappointment. Regrettably, the stock appears to have more room to fall given past performance. In light of this backdrop, I strongly recommend going long Coca-Cola to benefit from the outperformance. Dr. Pepper (NYSE:DPS) is a speculative "buy" as it is near its 52-week high.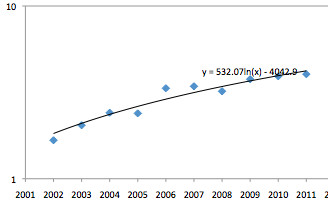 Source: Internal research. Note: PepsiCo's EPS over the past decade.
PepsiCo has been consistent in growing EPS over the years, but the results have not been strong enough. If you take a logarithmic regression of EPS over the past decade, you extrapolate 2016 EPS to be $5.55. Taking a PE multiple of 17x and multiplying by 17x yields a future stock price of $94.38. Discounting backwards by a low WACC of 8% yields a target price of $64.23 -- below the current valuation. The 3.1% dividend yield is also compromised by the uncomfortable financial position. A quick ratio of 0.8 and debt/equity ratio of 1.2 are unsettling.
Investors would be wise to then go with Coca-Cola, which offers a safe 2.7% dividend yield and is rated close around a "buy" on the Street. This top brand merits a premium to the market given its sustainability and solid consistent growth. EPS is expected to grow 8.2% annually over the next five years. That means a future stock price of $109.44 or a combined average return of 11.7% when factoring in dividend yields.
There are additional reasons why those seeking stability should back Coca-Cola. Performance, for example, has been predictable but still better-than-expected. Volatility is roughly half of the broader market. Management has executed time and time again while rightfully pursuing penetration in emerging markets. And, unlike PepsiCo, equity exceeds debt. Accordingly, I rate the stock a "strong buy."
A more speculative, but still attractive, play on beverages is Dr. Pepper. The company offers an even higher dividend yield than Coca-Cola at 3.2% and has a more recognizable brand than what the market recognizes. "Dr. Pepper" may not have the same ring as "Cola," but "Frito-Lay," "Hawaiian Punch," and "Mott's," among others, are still great. I like management's commitment to returning free cash flow to shareholders but would prefer they reinvest more in innovation. Consumer goods is all about branding, and management's focus ought to be in targeting high-growth areas like China, Brazil and India, that will have more disposable income to spend. Beverages that are popular in the United States are commonly distasteful abroad and vice versa, so established brands here won't necessarily translate abroad. This gives Dr. Pepper an excellent opportunity to become the Coca-Cola of emerging markets.
Disclosure: I have no positions in any stocks mentioned, and no plans to initiate any positions within the next 72 hours.