As highlighted in previous articles, we have never really been a fan of Chimera Investment Corp. (NYSE:CIM). Over the past six months, the company has cut its dividend twice, delayed two consecutive SEC filings, and fired its auditor. Not exactly the resume you want to see for a dividend stock.
CIM's Dividend Yield Isn't As Attractive As It Once Was
After the bell yesterday, Chimera declared a second quarter 2012 dividend of $0.09 per share, which is down from the $0.11 dividend paid last quarter.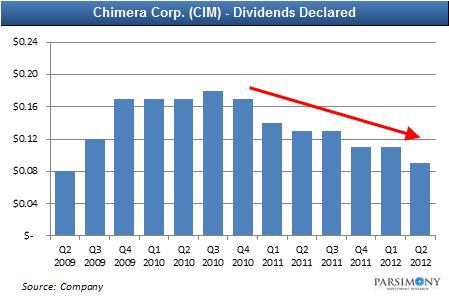 Based on its current stock price, CIM's forward dividend yield is now 12.4%. On a risk-adjusted basis, investors should expect a much higher yield from Chimera due to the company's focus on non-agency securities (over 70% of CIM's portfolio is allocated in non-agency RMBS).
Whereas agency mortgages are guaranteed by government sponsored entities (implying limited credit risk), non-agency securities do not carry a similar implied guarantee. As such, non-agency securities are inherently more risky as they are exposed to the credit risk of the underlying borrowers. Because of this added risk, non-agency focused REITs have historically had higher dividend yields compared to their agency-focused peers.
That said, CIM's dividend yield is now in line or lower than many of its agency-focused brethren.

While CIM's forward dividend yield is now in line with Capstead Mortgage (NYSE:CMO) and Hatteras Financial (NYSE:HTS), its currently lower than the forward yields of two of the more popular agency mREITs, American Capital Agency (NASDAQ:AGNC) and Annaly Capital (NYSE:NLY).
What Should CIM Investors Do Now?
As shown in the table below, most mREITs have performed very well on a total return basis over the past 3 years. However, CIM has underperformed its peers.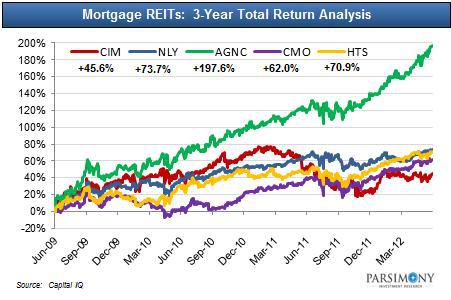 If you are a true income investor relying on the juicy CIM dividend yield, you are probably better off choosing an mREIT with a better risk reward profile. Why subject yourself to the additional headaches (and downside risk) of delayed filings and auditor changes? If CIM's recent smoke ends up turning into fire, you could lose years of dividend payments overnight.
We think agency mREITs continue to offer investors a compelling risk/reward profile due to (1) limited credit risk, (2) a relatively steep yield curve, (3) slower expected prepayment speeds, and (4) an accommodative Fed that has a stated plan of maintaining short-term interest rates for nearly two more years (late-2014). Many agency mREITs pay a similar (or higher) dividend yield to CIM without the additional noise surrounding non-agency valuations.
We are long-time holders of Annaly and American Capital Agency, which continue to be our two favorite mREITs in the space.