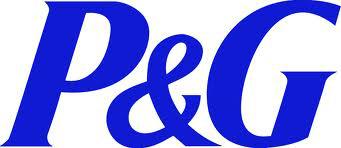 Introduction
This article is inspired by insights from frequent commenter richjoy. Rich's comments were that even though dividend growth companies are frequently viewed as old and boring, with minimal growth prospects, in fact they are quite the opposite. Let's see his thesis in his own words:
[T]he reason many 'old' Consumer Staples stocks have outstanding long records of total returns to shareholders...is because they are not the companies they were when our parents were children. These companies (and I'm thinking of Procter & Gamble (NYSE:PG), Kimberly-Clark (NYSE:KMB), Colgate (NYSE:CL), and PepsiCo (NYSE:PEP), to name a few), developed the strong product portfolios that no longer resemble those they marketed 30, 60, or 90 years ago ... but instead reflect their R&D and market research which resulted in entirely new products that have kept these companies as relevant to consumers as are Intel (NASDAQ:INTC) and Microsoft (NASDAQ:MSFT).

[I]t is the innovation resulting in new products that keeps [Procter & Gamble] a great company and stock holding (including that [long] streak of annual dividend increases, [3.6]% current yield, [and] 62% Payout Ratio...all that from a low 0.44 beta Consumer Staple that offers SWAN [Sleep Well at Night] for many investors needing low-risk portfolios.
I decided to look up the history of P&G to see how they have continued to grow and innovate all these years. Theirs is a telling story of how a premier dividend growth company did not just create one or two product lines and sleepily live on them forever, but in fact continues to innovate through R&D and acquisitions, and make key strategic decisions, to become a well-deserved blue chip stock that forms a foundational block for many retirement portfolios, including those in their accumulation phases.
P&G Timeline
1837: William Procter (candlestick maker) and James Gamble (apprentice soap maker) marry two sisters, and at the urging of their father-in-law, decide to form Procter & Gamble. The U.S. was gripped by financial panic. Hundreds of banks were closing across the country amid widespread concern that the U.S. was bankrupt. There were 14 other soap and candle makers in Cincinnati.
1862: During the Civil War, Procter & Gamble is awarded several contracts to supply soap and candles to the Union armies. These orders keep the factory busy day and night, building the company's reputation as soldiers return home with their P&G products.
1879: James Gamble, son of the founder and a trained chemist, develops an inexpensive white soap equal to high-quality, imported castiles. Inspiration for the soap's name, Ivory, came from a Bible passage, seeming a perfect match for the white soap's purity, mildness. and long-lasting qualities. Ivory's purity and floating capability are first advertised across the country in 1882.
1887: To address the storm of local and national labor unrest, P&G institutes a pioneering profit-sharing program for factory workers. This voluntary program gives employees a stake in the company.
1890: After running the company as a partnership for 53 years, the partners incorporate to raise additional capital for expansion. P&G sets up an analytical lab to study and improve the soap-making process. It is one of the earliest product research labs in America.
1895: King Camp Gillette invents the first safety razor. In 1901, the American Safety Razor company is formed in Boston, later becoming the Gillette Co.
1911: P&G introduces Crisco, the first all-vegetable shortening. Crisco provides a healthier alternative to cooking with animal fats and is more economical than butter.
1919-1920: Seasonal purchases of P&G products by wholesalers leads to uneven production needs and plant layoffs. In response, P&G announces a plan to sell directly to retailers and hires 450 salesmen. This change stabilizes production, reduces employee layoffs and, in the process, changes the way the grocery trade operates.
1923: A market research department is created to study consumer preferences and buying habits, one of the first such organizations in industry.
1920's: Once a staple of the company's product line, candles declined in popularity with the invention of the electric light bulb. The company discontinues candle manufacturing in the 1920s.
1931: P&G creates a marketing organization based on competing brands managed by dedicated groups of people. The system provides more specialized marketing strategies for each brand. P&G's approach to brand management becomes world famous and the subject of study in business schools and by other companies.
1933: The discovery of detergent technology lays the groundwork for a revolution in household cleaning. Dreft, the first synthetic detergent for household use, is introduced. "Ma Perkins," a radio serial program sponsored by P&G's Oxydol soap powder, airs nationally. Its popularity leads P&G brands to sponsor numerous new "soap operas." Faithful listeners become loyal buyers of P&G brands at the grocery.
1939: Just five months after the introduction of television in the U.S., P&G airs its first TV commercial (for Ivory Soap) during the first televised major league baseball game.
1946: Tide, "the washing miracle," is introduced. Tide incorporates a new formula that cleans better than anything then on the market. Its superior performance at a reasonable price makes Tide the country's leading laundry product by 1950.
1955: Crest, the first toothpaste with fluoride clinically proven to fight cavities, is introduced. The famous "Look Mom, no cavities" ads start to run. In 1960, Crest sales would skyrocket when The American Dental Association recognizes the toothpaste as "an effective decay-preventive dentifrice."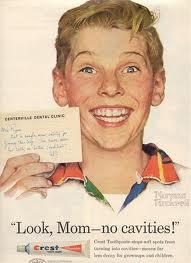 1957: P&G enters the consumer paper products business with the acquisition of Charmin Paper Mills, a regional manufacturer of toilet tissue, towels, and napkins.
1960: The company introduces liquid Downy, the company's first fabric softener.
1961: Although Pampers' first test market in Peoria, Illinois, is unsuccessful, it leads to an improved Pampers product at a lower cost that eventually replaces cloth diapers as the preferred way to diaper babies, literally creating the new disposable diaper category.
1967: Braun, established in 1921, is acquired by Gillette, bringing electric shaving and small electrical appliance businesses to Gillette.
1972: Bounce combines softening agents with a non-woven sheet to soften clothes in the dryer. It quickly becomes the second largest selling fabric softener after Downy.
1983: The company introduces a superior feminine protection product, Always/Whisper, which becomes the leading world brand in its category by 1985.
1984: Liquid Tide is introduced. This represents the results of global research with surfactants developed in Japan, fragrance in Europe and packaging from the United States.
1985: The company significantly expands its over-the-counter and personal health care business worldwide with the acquisition of Richardson-Vicks, owners of Vicks respiratory care and Oil of Olay product lines.
1987: P&G announces several major organization changes with the creation of category management and a product supply system which integrates purchasing, manufacturing, engineering and distribution.
1989: P&G enters the cosmetics and fragrances category with the acquisition of Noxell and its Cover Girl and Noxzema products.
1990: The company expands its presence in the male personal care market with the acquisition of Shulton's Old Spice product line. Most of the laundry detergent brands are reformulated to incorporate P&G's compact technology. Introduced in Japan with the Cheer and Ariel brands, the technology is expanded to 36 brands in 20 different countries during the year.
1991: The acquisitions of Max Factor and Betrix increase the company's worldwide presence in the cosmetics and fragrances category.
1992: Pantene Pro-V is introduced. Originally a small part of the 1985 Richardson-Vicks acquisition, Pantene becomes the fastest growing shampoo in the world.
1994-1995: The United States Department of Labor presents P&G the Opportunity 2000 Award, which is given annually to one company committed to instituting equal employment opportunities and creating a diverse work force. P&G is recognized for its multifaceted, comprehensive affirmative action and executive development programs. The next year, P&G is awarded the National Medal of Technology (the highest award the United States bestows for achievement in technology) for creating, developing and applying advanced technologies to consumer products that have helped improve the quality of life for billions of consumers worldwide.
1997: The company expands its feminine protection expertise into a new global market with the acquisition of Tambrands. Tampax Tampon is the market leader worldwide.
1998: Febreze, Dryel and Swiffer are introduced and sold around the world in less than 18 months.
1999: P&G enters the global pet health and nutrition business by acquiring the Iams company, a leader in premium pet foods. The acquisition of Recovery Engineering, Inc. allows P&G to utilize its understanding of water treatment by developing home water filtration systems under the PUR brand name.
2001: Crest WhiteStrips launches in the U.S. P&G acquires the Clairol business from Bristol-Myers Squibb Co. Clairol is a world leader in hair color and hair care products.
2003: FDA approves switching Prilosec, a treatment for frequent heartburn, from a prescription to an over-the-counter (OTC) product. P&G acquires a controlling interest in Wella AG, a leading hair care company founded in 1886, giving P&G a major presence in the fast growing professional hair care segment.
2005: P&G and Gillette merge into one company, bringing five more billion-dollar brands to P&G, including Gillette and Braun's shaving and grooming products, the Oral-B dental care line, and Duracell batteries.
2009: P&G exits the prescription drug business, selling its remaining assets to Ireland-based Warner Chilcott.
2012: P&G exits the food business by selling Pringles line to Kellogg (NYSE:K). The company had previously sold Jiff and Folgers to Smucker (NYSE:SJM).
Old? Yes. Boring? No.
Frankly, I was startled at the range of innovation and growth at P&G, not only in products, but in manufacturing processes, science, R&D, marketing, brand management, distribution, strategic product divestments, and labor relations. The company is a worldwide leader and innovator in practically every facet of business that you can think of.
In the timeline above, I left out some milestones concerning globalization: The company established facilities in Canada in 1915; England (1930); Philippines (1935); Mexico (1948); Venezuela (1950); France (1954); Germany (1960); Japan (1973); Czechoslovakia, Hungary, Poland, and Russia (1991); and South Africa (1994, following the lifting of sanctions). In 1993, sales from outside the U.S. surpassed domestic sales for the first time. P&G was globalizing before anyone knew what that word meant. Today, P&G has almost 140,000 employees working in over 80 countries worldwide.
In the pharmaceutical business, a "blockbuster" drug is one with $1 billion in sales per year. P&G has 26 billion-dollar brands as of the end of 2011. In 2011 Fortune magazine ranked the company fifth of the "World's Most Admired Companies."
New Thesis: There Is No Contradiction between Growth and "Dividend Champion"
The point of richjoy's comments was that the best companies keep reinventing themselves, and they do it for decades. I was born in 1946. Here's some of what P&G has done since then:
Introduced Tide. Tide has gone through various formulations, from beads to liquid to pods that contain detergent, stain removers, and brighteners. Brand extensions include Tide Original, Tide Plus, Tide Plus Febreze, Tide Plus Downy, SportTide, FreeTide, Coldwater Tide, and Totalcare Tide.
Introduced Crest. Within two years of its ADA acceptance in 1960, Crest's sales nearly tripled, pushing Crest well ahead as the best-selling toothpaste in the United States. In 1976, the American Chemical Society recognized Crest with fluoride as one of the 100 greatest discoveries of the previous 100 years. The current Crest Pro-Health Toothpaste protects against six different dental health conditions: cavities, gingivitis, plaque, sensitivity, teeth stains, and bad breath. Major brand extensions include Crest WhiteStrips, toothbrushes, and oral rinses.
Changed diapering forever with Pampers. The early diapers were bulky and heavy, but they have been steadily improved since then. Different sizes for different ages have been introduced. The original pin-on design was replaced with tapes in 1971; elasticized gussets were introduced in the 1970s and 1980s. Today's brand lineup includes a dizzying array of diapers of various sizes for different ages, gender-specific diapers, training pants, and a variety of wipes.
Acquired Gillette, making P&G the world's largest personal care and household products

company. The acquisition brought in the brands Gillette, Braun, Duracell, and Oral-B. The products and brand extensions are too numerous to list here.

Introduced Swiffer products, which have changed the way cleaning is done at my house. The brand uses the "razor and blade" business model, with the consumer purchasing the handle assembly first and then continuing to purchase replacement refills and pads over the life of the product. Products within the brand line include Swiffer WetJet, Swiffer Sweeper, Swiffer Sweeper-VAC, Swiffer Sweeper Professional, and Swiffer Dusters.
In the spring and summer of 2000, P&G experienced one of the most demanding challenges in its history. After missing earnings commitments, the company's stock declined dramatically, resulting in a loss of nearly $50 billion in market capitalization. New CEO A.G. Lafley reaffirmed P&G's Purpose and Values and re-focused the company on a few strategic points of emphasis: growing its leading categories and brands with its largest retail customers in its top geographic markets; accelerating growth in health, beauty, and personal care; and accelerating growth in fast-growing developing markets. In the five years that followed, P&G increased sales more than 40% and doubled its profits.
In addition to divesting non-core businesses, in the past several years P&G has repositioned its product portfolio toward more value offerings, increased spending to defend market share, and aggressively expanded overseas. In February, the company announced a massive $10 billion cost savings plan designed to return to 8% to 10% EPS growth and free up funds to reinvest in its business. The company lowered guidance in its most recent conference call.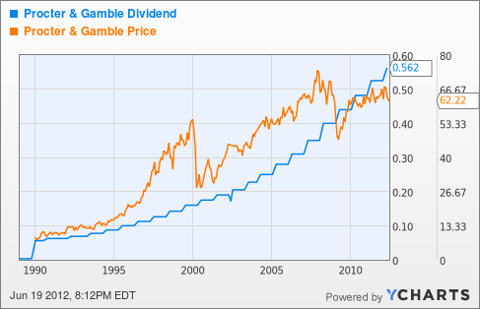 Click to enlarge
(Click to enlarge)
PG Dividend data by YCharts
P&G has increased its dividend for 56 straight years (beginning when I was 9), including a 7.1% in May. It currently yields 3.6%, with that figure spurred by a stock price tumble from nearly $68 to a little over $62 since February. It is historically a low-volatility stock with a beta of 0.44. Its 1-, 3-, 5-, and 10-year dividend growth rates are all in the 9% to 10% range. Its total returns have about matched the S&P 500 over the trailing 10 and 15-year periods, exceeded over the past 5 years, but trail over shorter time periods.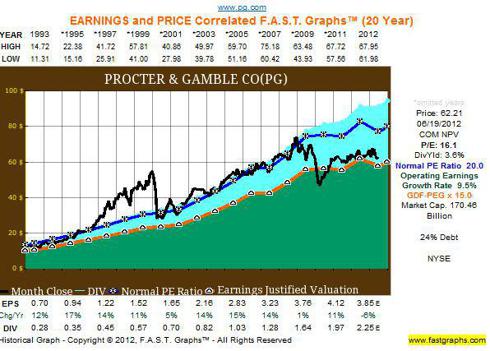 Click to enlarge
(Click to enlarge)
Sources: "P&G: A company History" (2006, Procter & Gamble); various Wikipedia articles; numerous brand-specific websites; YCharts; F.A.S.T. Graphs; U.S. Dividend Champions; Morningstar.