By Alex Morozov, CFA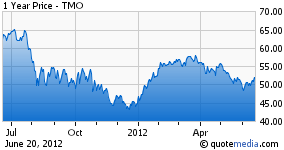 Thermo Fisher's (NYSE:TMO) customer approach is compelling to its customers. The company takes the mundane work of inventory management, procurement, and other supply chain management processes out of its laboratory customers' hands to allow them to focus on research, while improving productivity and providing them with savings. This approach has successfully worked with biopharma clients, as Thermo Fisher's top pharma accounts have grown north of company averages over the past few years. Now Thermo Fisher is applying the same approach across other customer end markets. The company is targeting industrial and academic clients with the same value proposition, and considering the savings of the one-provider model with global presence and robust product breadth, we believe it is a good strategic partner for clients across the spectrum. We appreciate the relative simplicity of the one-stop-shop approach, which has been a key pillar to our moat assessment. The strength of this model is particularly evident in Thermo Fisher's clinical trials logistics segment, where the company is the leading provider of trial service offerings. Thermo Fisher can support every step of a clinical trial, from manufacturing of pharmaceuticals to storage and transportation. This has resulted in virtually exclusive relationships with firms such as Merck (NYSE:MRK), Eli Lilly (NYSE:LLY), Celgene (NASDAQ:CELG), and others for trial support.
Product Portfolio Positioned for Continued Growth
In addition to the unmatched distribution infrastructure, the company has a strong analytical product portfolio that further allows for client penetration and cross-selling opportunities. Thermo Fisher has launched a number of successful products over the past year, particularly in mass spectrometry. The Q Exactive mass spectrometer launched this year has already exceeded both the firm's and our initial expectations and is on track to deliver more than $100 million in sales despite its hefty price tag and challenging end market conditions. Thanks to the Dionex acquisition, its new liquid chromatography offerings also have the potential to improve Thermo Fisher's competitive standing. The company points out that its research and development as a percentage of total revenue has increased from 4.1% in 2009 to 4.7% targeted for 2012 -- although we note that a big portion of this increase is simply due to a shift in mix aided by acquisitions.
Bringing Dionex into the fold has been successful, with cost synergies ($11 million) and market share gains due to cross-selling opportunities ($14 million). The Phadia deal should also be accretive to top-line growth and profitability over the long run, although the firm is still in the early stages of bringing it into the fold and delivering on its promise for return on invested capital. The market opportunity is noteworthy, given the low penetration rate of in vitro allergy testing and relatively minimal competition in this area. Thermo Fisher highlighted its Procalcitonin, ImmunoCAP, and uKnow Peanut Molecular Allergy tests as products in areas of high-growth and low competition. However, the overall molecular diagnostics field is getting more concentrated and more competitive. Being largely a niche assay provider, Thermo Fisher does risk eventually running into competitors with more robust offerings (including instrumentation). However, the company's commitment to R&D and virtually unlimited appetite for acquisitions should allow it to maintain its top-tier status across the board.
China a Model for Thermo Fisher's Emerging-Market Strategy
Emerging markets are an integral piece of the firm's strategy to increase its top line and gain market share. These geographies currently account for 19% of total revenue, up from 10% in 2006. Thermo Fisher targets 25% of total sales to come from emerging markets in 2016, implying mid-teens organic growth in these geographies. China has been driving overall top-line growth, and the company now targets India, South Korea, Brazil, and Russia as areas where it can successfully implement the Chinese model and generate double-digit revenue growth. It is important to note that China will still be a key component of emerging markets expansion, particularly in the lipopolysaccharide and diagnostics segments. Unlike government spending on infrastructure and housing, Chinese investment in life sciences and health care is still scheduled to grow at a double-digit clip, according to the latest five-year plan, allowing companies already on the ground (particularly Thermo Fisher) to capture the lion's share of this growth.
Thermo Fisher points out its still minimal consumable presence in these geographies (limited to high-end reagents) compared with legacy Thermo Electron products that have been in this marketplace since the 1970s. A part of the problem, in our opinion, is the fragmented and low-cost nature of the Chinese consumables market; Thermo Fisher is addressing this by aggressively expanding the local manufacturing infrastructure, such as the Suzhou facility scheduled to open in 2012. A greater local presence should allow the firm to more effectively compete with indigenous manufacturers. It should also support the company's push toward low-cost region manufacturing to support its sales efforts, with the goal to manufacture more than 50% of sales in China locally. Eventually, it is possible that the company could move the bulk of its manufacturing to emerging markets (it is also building out facilities in India, Lithuania, and other countries), but given logistical difficulties, low-cost region manufacturing will primarily be used to serve local markets.
This does give the firm another lever to pull to improve its operating margins, though. Nearly 11% of total manufacturing revenue in 2011 was from low-cost regions, up from 5% in 2007, and every $100 million of moved production saves the company $20 million. However, the magnitude of these savings from manufacturing shifts is not likely to be fully reflected in Thermo's margins, given the pricing dynamic in emerging markets. While the company suggests that its margins in emerging markets are similar to corporate averages, this can be explained by a greater percentage of revenue in the form of high-margin instrumentation. As low-margin consumables gain more traction, this will counter some of these manufacturing-related margin gains. However, it does benefit the overall cost structure, in addition to productivity improvement measures.
On Track for Improving Margins, Double-Digit Near-Term Growth
The company's record of margin improvement is stellar, averaging 70 basis points per year since 2006, and its forecast for 2012 calls for another 70-90 basis points of expansion (once again, some of this is a simple mix shift benefit). While the company hasn't offered an update to its 2012 forecast or provided 2013 guidance, it did suggest that it should deliver double-digit earnings per share growth in 2013, sequestration budget cuts or not. This should soothe some investors who are worried about the impact of an academic spending pullback on the company's earnings growth.
Several factors are likely to mitigate any sequestration-related headwinds, from revenue as well as cost perspectives. First, the company's total direct exposure to the National Institutes of Health is about 5% of total sales. Second, while the indirect exposure via academic spending is substantially higher (global government and academic spending accounts for roughly one fourth of total sales), the sequestration effect has more or less already been factored into academia purchasing decisions. The NIH budget for 2012 was 1% higher than the previous year, yet total spending by academic and government end markets is down by mid-single digits, suggesting that these customers aren't waiting for the September decision on the 2013 NIH budget to adjust their budgets. Thus, the proposed roughly 8% reduction isn't going to be as punitive on suppliers as it appears. Thermo Fisher has felt the effect since the third quarter of 2011 (the pullback actually caught the firm by surprise and the stock has been punished accordingly), so we anticipate the effect will be significantly mitigated. Further, revenue growth is aided by the steadily climbing presence of high-growth emerging markets in the mix. Finally, a bulk of the company's total cost structure is variable in nature, allowing Thermo Fisher to minimize the effect of a revenue pullback on its margins and earnings. The latest example of the levers the firm can pull is its 2009 performance, where adjusted operating margins slipped only 100 basis points despite a 4% top-line decline.
The company's five-year guidance is admirable: mid-single-digit top-line growth, 50-100 basis points of adjusted margin growth (reaching 22%-23% by 2016), and earnings per share of $7.50-$8.75, implying midteens growth per year. A sizable chunk of EPS growth is due to some financial engineering, including buybacks, a product shift mix to lower-tax locales, and a shrinking debt load. However, Thermo Fisher's long-term adjusted operating margin improvement targets are reasonable and just ahead of our expectation for a 40-basis-point improvement on average.
We do find Thermo Fisher's adjusted expectations for return on invested capital (60-70 basis points of improvement per year) a bit misleading, given that these targets don't incorporate any acquisitions, which have been the company's modus operandi for more than a decade. A capital allocation strategy heavily geared toward acquisitions has resulted in suppressed ROICs, but the company is finally in economic profit territory, having reached ROICs north of 9% (its cost of capital is roughly 9%, using the current leverage level). We're still not convinced the company's acquisition strategy is the most accretive use of capital to ROICs. We also view acquisitions as the main company-specific factor contributing to the lackluster stock performance over the past five years. However, we think the company is likely to take a pause with acquisitions over the next 12 months or so, small tuck-ins notwithstanding. We think the company will probably spend the next 12 months de-leveraging its balance sheet. The recent dividend initiation is yet another sign of the slight alteration of the firm's capital allocation strategy, historically evenly split between buybacks and acquisitions.
We think a less aggressive usage of capital over the past five years would have been welcomed by investors. Nonetheless, we remain bullish on the shares, as we think Thermo Fisher's long-term earnings growth potential --driven by strengthening competitive positioning and the growing penetration of higher-value-added products and geographies -- is under-appreciated.
Disclosure: Morningstar licenses its indexes to certain ETF and ETN providers, including BlackRock, Invesco, Merrill Lynch, Northern Trust, and Scottrade for use in exchange-traded funds and notes. These ETFs and ETNs are not sponsored, issued, or sold by Morningstar. Morningstar does not make any representation regarding the advisability of investing in ETFs or ETNs that are based on Morningstar indexes.