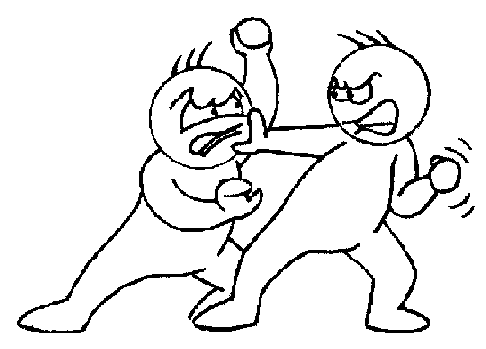 Use your imagination for just a moment.
What would Apple (NASDAQ:AAPL) do if it truly had competition in one of it's profitable product lines? Real competition?
Since the introduction of the iPod, Apple has not had any meaningful competition, as their combination of form and function easily beat all comers and eventually allowed it to morph into its own eco-system, as everyone loves calling their integrated product line.
Integrated product lines are great, but they can be like the continuous stitch, which functions beautifully, as long as its weakest link isn't compromised.
Back in the days when Apple was Apple Computer it had competition from Microsoft (NASDAQ:MSFT), although Microsoft probably never saw it that way once it got the contract to load MS-DOS on all of those IBM PCs. Competition or not, Apple was beaten handily. You can argue that its product innovations and user friendliness were far greater than anything offered by Microsoft, but let's face it, there's only one arena where the competition really matters and it's not who makes the most esthetically pleasing product.
If you don't believe that they were beaten by Microsoft, what then was the cause for Steve Jobs' departure in 1985? The board and the shareholders hate a loser, even if he is the CEO and co-founder. You are your stock. Regardless of your vision the currency that gives carte blanche to pursue a lofty vision is the stock. Truly obnoxious leaders are much more tolerable when the money is flowing unabatedly.
Obviously, the events were a bit more complex than simply being a revolt surrounding an individual, but had the first iteration of Jobs' tenure at Apple resulted in appreciable share gains, his unceremonious exit would not have been as likely.
Back in the old days and again when Jobs returned, Apple had the underdog tag going for it. People admired Apple for its commitment to product, its culture and steadfastness in maintaining the purity of its offerings, by only briefly allowing them to be commoditized.
But it's different now.
Not only is Steve Jobs gone, but so is the underdog status.
As beautiful as its computers and laptops are they will forever be an also ran. Of course, looking forward, that doesn't really matter, because computers, even laptops are an ancient relic, as the iPad has so clearly demonstrated. By the same token, Apple's stock price path in the past decade doesn't matter either. It's not where you've been that matters, unless you booked those profits.
But what if Apple finally gets committed and capable competition from a very motivated Microsoft?
The fact that Microsoft has chosen to bypass Barnes and Noble (NYSE:BKS), Dell (NASDAQ:DELL) and Hewlett-Packard (NYSE:HPQ) is a very strong statement of the belief that its next generation of operating systems will capture some kind of traction beyond those that are tethered to its legacy.
Let the others cede the lucrative tablet market to Apple, but obviously Microsoft has seen the future and it is ready to stake its claim. As opposed to the ill-fated Zune, these stakes are far more important than a dalliance with an mp3 player. For the moment, forget about unanswered questions such as battery life and cost, as it would be reasonable to assume that Microsoft is aware that those could be deal breakers and would be unlikely to overlook those factors.
Much has been made over the obstacles that Microsoft has faced over the years. How closer are we to having our applications served to us? Have you tried Google (NASDAQ:GOOG) Documents? Even the free "Open Office'" in part supported by the Microsoft hating Larry Ellison of Oracle (NASDAQ:ORCL) isn't very appealing to the enterprise user, the very essence of Microsoft's strength.
Before anyone drags out the carcasses of Zune, Kin and "Bob," the operating system, Microsoft learns from everything it does and lets nothing go to waste. There was no compelling reason for it to enter into the home gaming market, but you can be assured that just as with NASA, every little innovation, regardless of how obscure it may appear, has a pragmatic use just awaiting the masses to appreciate the offering.
What would happen to Apple if its lock on the market was faced by a serious challenge from Microsoft's new tablet "The Surface?"
Before you start clinging to the past and using it to bolster your personal vision for Apple's shares in the future, you don't have to do the obvious and look at the Research in Motion (RIMM) experience. RIMM was just a flicker in the continuum of products and fads. It was and is a "one trick pony."
Instead, just look at this: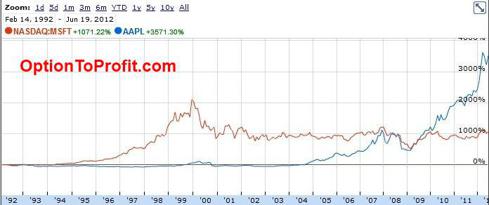 Click to enlarge
What other company had an incredible surge in its stock price and had believers thinking that the sky was the limit when it came to its continued growth?
That's right, it was Microsoft and its price move was eerily of the same trajectory as those of Apple over the past ten years.
There's no better way to enter the same price purgatory than to believe that it could never happen to your stock or as a company to believe your own hype and the hype of your most ardent of supporters.
No one has any idea of what the outcome may be in what may be a battle for the evolutionary direction of personal computing. But what I do know is that both Apple and Microsoft offer better opportunities as actively managed investments when there is healthy competition.
As Apple has spent nearly the past three months since its April 2012 high trading in a range, it has once again become a reasonable stock with which to exercise a covered call strategy. Clearly, you don't do so with a stock that knows only a single direction of movement. I know, because I've had many shares assigned many times over the years.
For years, Microsoft was a great stock to own if using a covered call strategy. Getting the option premiums and dividends was a tangible way to realize return and certainly carried less risk than letting money ride on a high flier in the hope that it would continue soaring. In hindsight, you would be hard-pressed to find anyone that would choose something other than Apple in the past 5 years, just as you would have been equally hard-pressed to find someone selecting something other than Microsoft in the 1990's.
But again, all of that is in the past.
As both Apple and Microsoft trade in a range for the time being, the opportunity exists to milk each for its revenue streams, particularly as Apple is joining the brethren of dividend paying stocks.
At this moment (June 19, 2012), Microsoft trading at $30.70. offers a premium of $0.69 (Total ROI 3.2% if assigned). Meanwhile, Apple, trading at $587.41 offers a premium of $15.90 for the $590 strike (Total ROI 3.1%).
Incidentally, based on their current prices, Microsoft offers an annual 2.6% dividend and Apple, once it starts paying will do so at an 1.8% rate. For the inveterate option seller, there's little better than double dipping and capturing premium and dividend when market inefficiencies take hold.
Just as a further aside, one of these stocks has a much less scary distance to go between its current price and an Armageddon based meltdown, which Microsoft can tell anyone, can happen to the very best of them. I certainly don't expect that to happen to either company. In Apple's case, $100 billion in reserves offers an incredibly secure cushion.
At the moment, I own neither Microsoft nor Apple, but I look forward to a renewal of the old days, but with less compelling leads than Jobs and Gates duking it out.
I don't know who would play the protagonist and who would play the antagonist in any future commercials, but the roles can just as easily become interchangeable, at least from an investor's point of view.
Disclosure: I have no positions in any stocks mentioned, but may initiate a long position in GOOG, AAPL, MSFT over the next 72 hours.