Simcere Pharma (NYSE:SCR) reported solid Q4 and 2007 results, and the company significantly increased its guidance for 2008. Simcere manufactures branded generic drugs, the patented cancer statin drug, Endu, and a treatment for stroke, Bicun.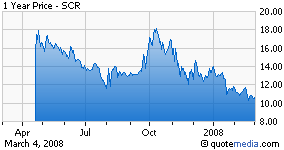 In 2007, Simcere generated revenues of 1.39 billion RMB ($190.5 million), an increase of 46% over 2006. Q4 revenues were 56% higher at 399 million RMB ($54.7 million). Net income came in at 301 million RMB ($41.3 million) for the year, a 75% jump from 2006, and 78 million RMB ($10.7 million) for Q4. The company said its gross margin was up slightly at 82% for the year. Net margin was a very healthy 21.7%.
Simcere is now predicting it will generate revenues in a range from 2 billion RMB to 2.1 billion RMB in 2008, with profits between 390 million RMB and 400 million RMB. That would increase revenues about 42% and profits by 33%.
Endu, which has been on the market since July 2006, produced 216 million RMB ($29.6 million) of revenue, about 16% of Simcere's total sales. The Edaravone injection products, which include stroke medication Bicun and Yidasheng, a new acquisition, came in at 443 million RMB ($60.8 million) in 2007, which is 37% of total revenue. Revenues for Edaravone products were almost double the year-earlier figure.
For the full year, Simcere produced net income of 4.95 RMB ($0.68) per ADS, fully diluted.
Simcere remains cash rich. Following its IPO last year, the company had 968 million RMB ($132.7 million) in the bank on December 31, 2007.
In 2007, Simcere completed the following acquisitions:
• An additional 10% stake in Shandong Simcere Medgenn Bio-Pharmaceutical Company Limited for 27.1 million RMB ($3.7 million),
• A 51% interest in Jilin Province Boda Pharmaceutical Company Limited for 123.1 million RMB ($16.9 million) and
• A 100% ownership in Master Luck Corporation Limited for 32.9 million RMB ($4.5 million) (Master Luck in turn holds an 85.71% equity interest in Nanjing Tung Chit Pharmaceutical Company Limited).
Given its cash hoard and operations that continue to be very profitable, Simcere will probably step up its acquisition activity in 2008.
In Wednesday's mid-session, Simcere is trading higher by 32 cents at $10.83. It currently has a P/E ratio of 16.

Disclosure: none.