Investors in MarkWest Energy Partners L.P. (NYSE:MWE) had to be pleased with the large distribution increase for the first quarter of 2012. The 79 cents per unit distribution declared for the first quarter and paid in May was 18% larger than the 67 cent, 2011 first quarter distribution. MarkWest Energy Partners has not always grown the distribution at these rates, but continued dividend growth appears to be sustainable.
MarkWest Energy Partners is a natural gas gathering and processing midstream company. The company has long term contracts to collect gas at from the wells and then processes the well gas in the company's processing plants to separate marketable natural gas and natural gas liquids - NGL - by-products. MarkWest Energy conducts operations in six natural gas production plays: Marcellus Shale, Utica Shale, Huron/Berea Shale, Woodford Shale, Haynesville Shale and the Granite Wash formation. As the suppliers for MarkWest drill more wells in these areas, the company hooks the new wells to the gathering systems and collects an increasing amount of natural gas to process and then sell the resulting products. The primary revenue source for MarkWest Energy Partners appears - it is not detailed in any company literature - to be the sale of NGL's. MarkWest buys hedges on the price of crude oil and NGL prices are more affected by the changing price of crude than the natural gas spot price.
MarkWest Energy jumped big into expansion in 2011, increasing capital expenditures from a typical $300 to $500 million per year up to $2.5 billion last year. About 90% of the 2011 spending was on acquisitions. For 2012, the company expects to make capital expenditures of up to $1.5 billion. About $600 million is slated for acquisitions and the balance for construction or expansion of existing facilities. MarkWest does not pay general partner or incentive distribution rights, which lowers the cost of raising capital. To fund growth the company uses a combination of new unit issuance and long term debt. With a current market cap of $6.3 billion and capital expenditures of up to $4 billion for 2011 and 2012, it is a safe bet that MarkWest Energy Partners plans to aggressively grow its business.
The quarterly distributions from MarkWest Energy have more than tripled over the last 10 years. The pay-out leveled off for 2 years and a quarter ending with the fourth quarter of 2010. The quarterly rate has increased by 23.5% since that time. The current yield for MWE units is 6.1% and the distributions should increase at a very attractive rate over the next few years, at least. Compared to other MLP investments with fee based revenue models, the results for MarkWest Energy are primarily tied to commodity prices, less any gains from the company's hedging practices.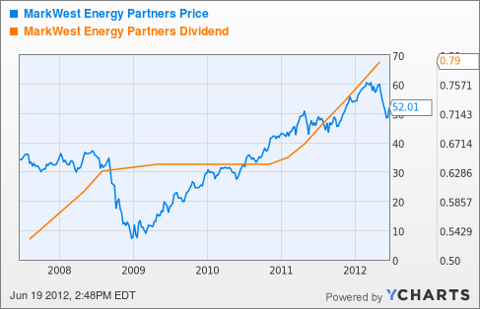 Click to enlarge
Disclosure: I have no positions in any stocks mentioned, and no plans to initiate any positions within the next 72 hours.