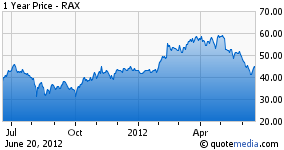 Bankers are putting Rackspace (NYSE:RAX) into play.
It makes sense. The company is growing, but the stock has been falling as cloud is seen as a commodity. Capitalizing on OpenStack requires enormous investments in a global network of data centers, Rackspace's balance sheet can't handle such an investment.
Dell's (NASDAQ:DELL) can. Dell is already making that kind of investment. So, the bankers say, sell to Dell.
There are two big problems with that:
Dell is building its own cloud stack and OpenStack is just a small part of that.

Dell sees cloud as a way to sell Dell servers.
There's another problem. Graham Weston and Michael Dell are virtually neighbors, Weston sitting in San Antonio at the intersection of I-410 and I-35, Dell just up the freeway about 100 miles in Round Rock, north of Austin. Familiarity breeds contempt. These guys are rivals. I mean, you're asking Texas A&M to sell out to UT -- ain't gonna happen.
Besides, Weston feels, if momentum continues as it's now going, he'll be able to buy Dell in a few years, since Dell's total market cap is now just $21 billion against RAX's $6 billion. Aggie rail on top, now. (And I'm not making jokes here. Weston is A&M Class of '86 and Dell famously dropped out of UT around the same time.)
There are better directions to look if you're thinking of a sale.
Oracle (NASDAQ:ORCL) for instance. Rackspace's expected price of $10 billion would be a snip for Larry Ellison. He could afford to make Weston an offer he couldn't refuse. And as for the open source angle? He bought Sun Microsystems, didn't he?
Now admittedly that's not working out so well. Oracle's server revenues are on a downhill slide. As I've written before, Oracle is talking cloud to sell servers and that's not working, because cloud isn't about high-priced servers, but commodity hardware.
Rackspace could change the story. For open source, the loss now would not be as great as Sun's sale was, because OpenStack has already been moved into a separate foundation, and the code could always be forked. Oracle has learned you can't really take over open source at a profit - you have to seduce it to get anywhere.
Another potential buyer is Hewlett-Packard (NYSE:HPQ). But they would have to move quickly, because their market cap is also falling. HP has been pushing its CloudSystem as fully open source and it pushed Open Stack systems into public beta just last month. It's putting the money it's saving from layoffs directly into cloud investments.
That deal almost makes sense. If you see Meg Whitman ordering nachos, be alert. If it's chicken fried steak, be very interested.
Disclosure: I have no positions in any stocks mentioned, and no plans to initiate any positions within the next 72 hours.