As promised in my last article, where Caterpillar (NYSE:CAT) and Deere (NYSE:DE) were on the valuation "hot seat", today is the turn of AGCO Corp. (NYSE:AGCO). (For more explanation on the formulas and method used, check out this last article.)
AGCO is a competitor in the Industrial products, engaged in the manufacturing and distribution of farm equipment, machinery and replacement in North America (20% of sales), South America (21% of sales), EAME (Europe, Africa & Middle East) account for 54% of their sales, and 5% for the rest of the world.
Their products include tractors (which account for 66% of their sales), combines, hay tools and forage equipment and implements.
Their brands include the Challenger, Fendt, Massey-Ferguson, Valtra and recently-acquired General Steel Holdings (NYSE:GSI), a leading manufacturer of grain storage equipment and protein control systems.
This is why is AGCO has been chosen to be valued, and I am one step closer to comparing the Agricultural sector exclusively based on financial valuations and metrics.
Let´s go straight to the 3 methods used to value the stock:
DCF Valuation
The cash flow for AGCO has been marginally improving, more in percentage terms than in real terms. Given the industry´s 37% forecast earnings growth; I used it for 2012 only, and margins and everything else as ceteris paribus.
The projected cash flows used for 2012 until 2017 were (in billions):
-$0.218, $0.282, $0.205, $0.872, $0.915 and $0.289 for 2017.
Might be too optimistic considering this company´s last 5 years have been pretty far away from reaching $1 billion in free cash flow, so that´s why the other 2 methods differ from this one.
Cash flows from 2008 to 2011 (in billions of USD): -$0.07, $0.145, $0.069, $0.005
Terminal value was $4.97 billion ($1.06 billion at NPV), a long-term sustained growth rate of 5% was assumed, and the discount rate used for AGCO was a WACC of 11.1%.
The result: $48.12 per share, the highest of the methods used.
Graham Formula
Stock Value= EPS * ((P/E + (2*growth))
An EPS growth of 18.1% was assumed, the median across analysts following this security.
Result: $43.89 per share. Benjamin Graham would consider this stock fairly valued and probably stay away from it.
EBITDA X 7
I mentioned this one in my last article (linked at top), and will no longer reference the explanation.
AGCO´s result: $43.55 per share.
Now Stop - Metrics Time
Price/Sales Ratio
This ratio determines how much investors are paying for every dollar of a company´s sales.
The result: Investors are paying $0.49 per every $1 of AGCO´s sales. That´s a cheap ratio that might be worth considering, but let´s look at all the metrics to see why the market is discounting their sales so much.
EV/Sales
This ratio is similar to Price/Sales, but it is way more helpful to tell the difference between "cheap" sales and less healthy, debt-burdened sales. The lower the ratio, the cheaper the company is.
When we add the company´s long-term debt to the company´s market share and subtract the cash, we arrive at the company´s Enterprise Value.
AGCO´s EV is $4.28 billion, lower than the Market Value of Company Assets, which is $4.72 billion (as estimated in the DCF Valuation).
The EV is often used as an additional measure to gauge the cost of buying a company.
The result: EV/Sales for AGCO: $0.64
This means investors are paying $0.64 per every $1 of AGCO´s sales.
The price shows you that investors are worried about getting too involved with this company, but it is still "cheap" by this metric.
ROE (Return on Equity)
ROE= Net Income/Total Equity
The result: ROE for AGCO (4 year average): 13.5% Decent enough.
ROIC (Return on Invested Capital)
ROIC is better than ROE because it also includes debt, but excludes all current liabilities and excess cash, making it harder for companies to tweak.
The result: AGCO´s ROIC: 8.6%, not bad you say, well, keep on reading.
CROIC
This is the Cash Return on Invested Capital, and it tells us how much free cash flow a company can generate based on each $1 it invests into operations.
Barely made it into positive territory, resulting in a 0.09% CROIC, had to give it a couple more decimals for this to be visible.
ROA (Return on Assets)
AGCO ´s 2011 ROA was 8.1%, the last 3 year average is 6.7%, stable but more is expected from a company who is not as huge at some of its competitors.
Return on Net Assets (RONA)
Increases in RONA indicate higher levels of profitability, but unlike ROA, RONA takes the company´s liabilities into account.
Result: AGCO´s RONA is 19.3%
Good return on assets with positive Working Capital, no red flags here.
Earnings Yield
This is 2011´s EPS divided by the current market price of the shares. It is basically the inverse of the P/E ratio. The result for AGCO is 8.66%.
Liquidity
For liquidity, I compare 2 metrics: the Current Ratio and the Acid-Test.
Anything lower than 1 is a red flag, and indicates the Cash, Receivables, Inventories and other current assets that could be converted to cash in less than one year is not enough to cover Accounts Payable and any other current liability which has to be paid in less than one year.
Result: AGCO´s Current Ratio is 1.66. AGCO is doing pretty good in liquidity terms, giving AGCO enough current assets to cover their short-term obligations.
The second one is the Acid-Test, which is the same formula as above, but removes inventories, as they could take longer to convert to cash.
Result: AGCO´S Acid-Test result is 0.95. Not bad, it´s almost 1, AGCO has better liquidity than some of its peers, and certainly more than I expected.
Capital Structure
To evaluate AGCO´s structure, 2 methods were used.
The first one is Total Debt/Assets; this of course includes current liabilities and long-term debt.
Result: AGCO has 58% debt and 42% capital. It is one of the best aspects of the company; it does not have a heavy burden of debt.
The second one only takes into account only the Long-Term Debt, divided by Assets.
Result: AGCO´s Long-Term Debt to assets is 19.4% of the Balance Sheet.
Economic Profit
Economic Profit= (WACC-ROIC) * Invested Capital
It is a residual performance metric, one of the best because it summarizes in a single metric if management did create or destroy capital with its operations.
Result: AGCO´s Economic Profit for 2011 was -$0.145 billion.
This means that AGCO is destroying $145 million dollars of value with its operations, and one of the main reasons is the razor-thin margins it has. This is the red flag for AGCO.
For example, has more than 30% gross profit margin, and almost 9% net margin.
AGCO has only 20% gross profit margin (in 2011, the highest in 4 years by almost 4%), so getting net profits from its sales is somewhat like trying to get water from a hose while an elephant is standing on it.
The net margin averaged 4.2% in the last 4 years (compare this with 6.7% for DE), they upped it to 6.7% in 2011 (DE had 8.9%), shareholders hope AGCO can keep their margins going higher, or their own costs are going to drown them.
Piotroski´s F_Score
AGCO got 1 point in every category except LEVER and Q_OFFER, this means the company had to increase both its leverage and its equity offering to get its hands on some cash. Given the $1 billion jump in Investing Activities, this is not necessarily a bad sign by itself, as the company can use the cash to greatly improve its product line and hopefully become more efficient in the future.
Result: 7/9
For the full Piotroski´s F_Score explanation, go here.
Conclusion
The average share value with the 3 methods used to value AGCO´s stock gave a price tag of $45.19, giving it a potential upside of 3.7% from its current price.
Standard & Poor's has a $70 12-month target on AGCO with a Buy recommendation.
You might trust them more as they have a lot more knowledge about the company, but I wouldn't buy AGCO stock at these levels; I would hold and wait for better entry points.
Their liquidity and Capital Structure are good, but if I were a shareholder those margins, Economic Profit destruction, low ROIC and barely any relative cash flows would surely scare me out of buying this stock.
Value investors should not buy more stock, as it seems to be fairly valued.
That is, unless you think the capital the company is spending is what is causing these ratios and metrics to be so bad, and the company will make a leaner, more aggressive AGCO in the future, raking in the cash flow it is now lacking, which might be the case.
Trading Ideas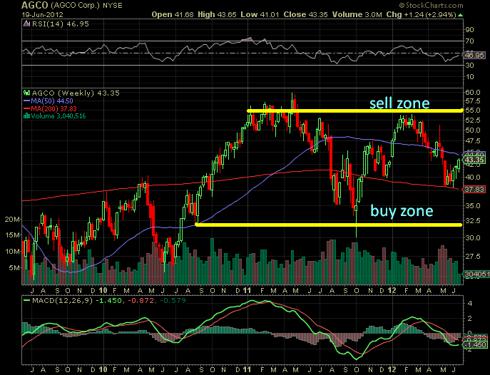 AGCO looks good in the technical trading sense, trading above its 50dma and going after its 200dma; those of you looking to get long might want to wait for a weekly close above $44.50 to pull the trigger. Considering easy money is a promise Uncle Ben and other central bankers have been flaunting at Mr. Market, it might be this week.
Stops should be set below $37.83, sell your long positions above $55.
On the other hand, if you´re going short, I´d recommend setting stops above $44.50.
If I had to trade this stock, I would sell the Nov $40 strike put for $3.50 and either keep the $350 premium per contract or get assigned AGCO at $36.50 per share.
I´m open to suggestions for valuations on any stock. Next up is (NYSE:CNH).
A table summary:
Current Price

$43.59

Share Value w/DCF Valuation

$48.12

WACC

11.10%

EBITDA (in billions)

$ 0.610

Company Value w/EBITDAx7

4.2721

Share Value with EBITDA x 7

$ 43.55

Graham Formula Share Value

$ 43.89

P/E

8.65

Price/Sales

4.97

Price/Sales Ratio

$0.49

EV/Sales

$0.64

Current EPS

4.87

EPS for next year

5.75

EPS growth

18.1%

FCF to Sales

$ 0.00

Earnings Yield

8.66%

Price/Book

1.27

ROIC

8.6%

CROIC

0.09%

ROE (last 4 years avg.)

13.5%

ROA (last 3 year avg.)

6.7%

RONA (Return on Net Assets)

19.3%

Liquidity: Current Ratio

1.66

Liquidity: Acid-Test Ratio

0.95

Capital Structure: Long-Term Debt/Assets

19.4%

Capital Structure: Total Debt/Assets

58.7%

Economic Spread (ROIC-WACC)

-2.5%

Economic Profit (in billions)

$(0.145)

Average Value with the 3 Methods

$ 45.19

Potential Upside (Downside)

3.7%

Piotroski´s F_Score

7
Disclosure: I am long TEF.