If you were too busy watching the basketball or hockey playoffs lately, you might have missed a huge run in shares of Sprint (NYSE:S). The wireless communications provider has seen its shares rise from $2.33 in mid May to Tuesday's close of $3.15, as seen from the chart below.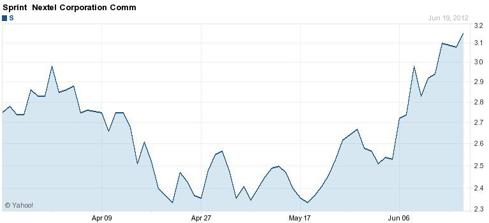 (Source: Yahoo! Finance)
Most of the run has seemed to come after the company announced that one of its prepaid brands, Virgin Mobile, will offer the iPhone to customers towards the end of this month. News of this has calmed fears that Sprint may not be able to meet its 4-year commitment to Apple (NASDAQ:AAPL) to sell the iPhone. While terms of the deal are not 100% certain, Sprint bears have said that Sprint needs to sell 30 million iPhones over 4 years. That equals 7.5 million per year, and Sprint has only sold 3.3 million in its first 6-months of carrying the phone. But looking at the Virgin Mobile news, the real question is, does this deal help Apple more than it helps Sprint?
It is a real possibility. The following table shows the details of the Virgin Mobile deal.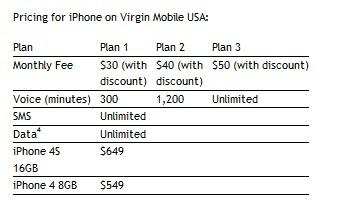 As long as you are willing to bite the bullet and pay for the phone upfront, you get a cheap monthly deal. This deal comes on the back of one we saw announced from Leap Wireless (LEAP). You can view the iPhone presentation PDF on Leap's investor relations site here. Leap's Cricket division is offering a $55 unlimited talk, text, and 3G data plan for $55 a month. The Cricket deal was the first prepaid carrier to offer the iPhone. An iPhone 4 will cost you $399 with them, with the 4S costing $499.
But the issue I have is that Sprint has been touting its unlimited plan since October, trying to steal away customers from Verizon (NYSE:VZ) and AT&T (NYSE:T). Sprint's unlimited plan, which first costs $99.99 for an iPhone 4 8GB, and $199.99 for the 4S 16GB (more for the 32GB and 64GB models) might lose out to this new prepaid Virgin Mobile plan.
Now, Sprint's talk, text, and unlimited data plan costs just $79.99 for 450 minutes, $99.99 for 900 monthly minutes, and $109.99 for unlimited minutes. So go back to the table above. For this argument, assume you get the iPhone 4S. With the Virgin Mobile plan, you'll pay an extra $450 (give or take a few cents) for the phone upfront, but the plan costs you $60 less a month. Over a year, the Virgin Mobile unlimited plan costs you $1,249, and the regular Sprint unlimited plan costs you about $1,520. That's a lot less revenues for Sprint, and that's just one year. Over two years, the totals are $1,849 and $2,840, respectively.
So yes, the Virgin Mobile deal is going to help Sprint sell more iPhones. Revenues will increase, and Sprint should be better able to meet the commitment with Apple. But if they were to convert all of those customers to the regular unlimited plans, they'd be making a bit more. I've said this a number of times, if you want to make money off the iPhone, Apple is the best way to do so. Sprint selling more iPhones will help Apple more than it will help Sprint.
Oh, and the news gets worse for Sprint. Since I last reported on the name, shares of Clearwire (CLWR) have fallen another 5 cents, and that is only after last week's rally that has brought shares up from about $1.07 to $1.15. While Sprint no longer has a majority stake in Clearwire, it still has a huge investment in the troubled Clearwire. As you can see from Note 3 of their latest 10-Q, Sprint had $1.4 billion invested in Clearwire equity at the end of the latest quarter. Sprint was carrying the investment as if shares were at $1.99, but shares are now trading at just $1.15. Also, Sprint has a couple of notes outstanding in regards to Clearwire, which represent another $450 million. But the biggest impact is on the network. Sprint is heavily reliant on Clearwire for 4G network capabilities. Should Clearwire go bankrupt, Sprint's financial losses could be easily calculated (in terms of the investments). The losses to their network plan could be catastrophic, and that is the real issue.
To me, the Virgin Mobile deal is more of a positive for Apple than it is for Sprint. More iPhones sold will get some revenues for Sprint, but more for Apple. I am still recommending Sprint as a short candidate, based on the huge debt pile and $4 billion or so in expected losses this year. The Virgin Mobile deal will help revenues, but will not help profits as much as Sprint getting regular customers on the unlimited plan would have. That being said, there is a good possibility that a continued market rally, based off of elections in Europe and the Federal Reserve meeting this week could push up this name to the $3.25 to $3.50 range. If it gets there, prepare to short it. You could even short some at these levels here. Remember, this was a name that traded for just $2.33 just a few weeks ago. Even if it only trades back down to $2.75 for the short-term, there is a tremendous amount of profits you can make on the short side.
Disclosure: I have no positions in any stocks mentioned, but may initiate a short position in S over the next 72 hours.