Wal-Mart (NYSE:WMT) is the antithesis of a hot stock. Huge. Boring. Slow growing. With a major image problem to boot. Does anyone actually like Wal-Mart? Other than the Mexican officials who received bags of cash under the table, of course. All this could be forgiven, however, if it wasn't for this last fact: Wal-Mart shares have been dead money for more than 12 years. After hitting a high of just under $70 a share in 1999, the price has stagnated and is only just now getting back within spitting distance of that old high.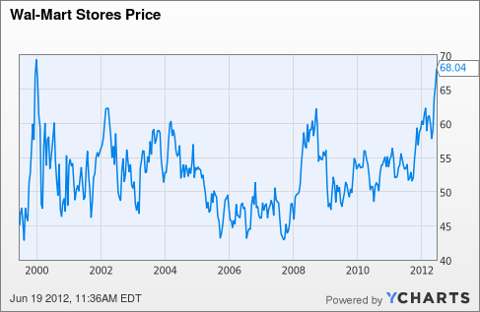 What the stock price leaves out, however, is the steady growth in both the top and bottom lines over this "lost decade". Basically, it looks like Wal-Mart just needed time to grow into what was an inflated stock price. I would argue that is has done that, and then some. Right now the stock is a coiled spring, and it looks like it is just starting to expand. This isn't the first time this has happened, either. The stock traded flat for five years from 1992 to 1997. After that? It had a 500% explosion from 1997 to 2000. Coiled spring indeed.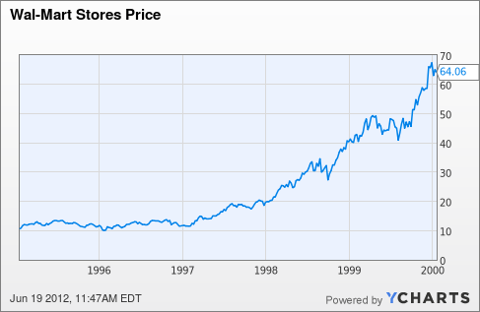 I'm not saying that Wal-Mart will be a five bagger this time around, but the upside could be substantial as money flows into the stock in a self reinforcing cycle (everyone loves a winner!). Fund managers who came of age thinking of Wal-Mart as dead money are going to perk up when it starts making new all time highs. For the technically inclined, take a look at this multi year trading range that was just broken to the upside.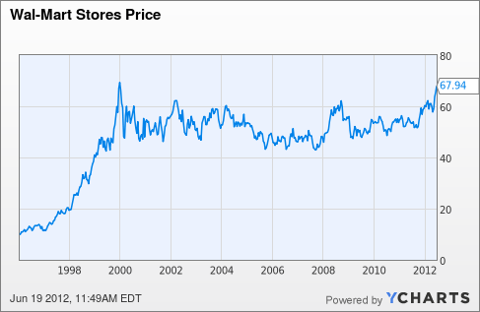 Finally, look at sentiment. Of 22 Analysts, 6 rate it a strong buy, 5 Buy, 16 hold, 1 underperform, and 0 sell. For a blue chip company, this is very negative, particularly given that most sell side shops only go down to hold. In any case there is plenty of room for new converts to fuel Wal-Mart's stock price increase. Perhaps even more telling was the Stock's reaction to the latest revelations of bribery in Mexico (I'm shocked! Shocked, to find gambling in this establishment!)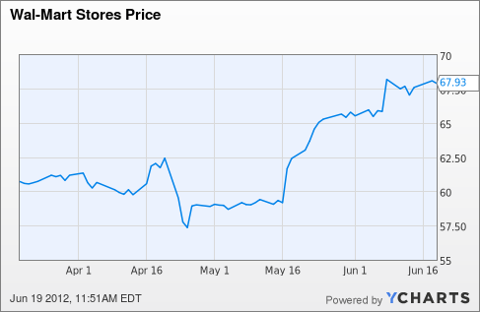 I would call this a case of the dog that didn't bark. After a quick selloff in mid April, the stock not only bounced right back, but quickly proceeded to break out to new 52 week highs. On no news. Or at least no good news. It looks like quite a few funds were afraid of missing the boat, scandal or no scandal.
With a forward P/E of 12.6 and a dividend of 2.4% Wal-Mart is historically cheap. The low beta and solid dividend mean that you can sleep well at night waiting for the next leg up. All joking aside, Wal-Mart is one of the strongest, best run companies in America, and they continue to generate growth in the top and bottom line year after year. Here is a look at Wal-Mart's operational results during this "lost decade". As you can see, profits have tripled. This decade long P/E compression is the fuel that will propel the stock higher. I would advise buying shares on any weakness. If we are lucky the pain in Spain will provide us with the chance to buy shares in the $62 - $64 dollar range as the stock pulls back from its recent run to $68+.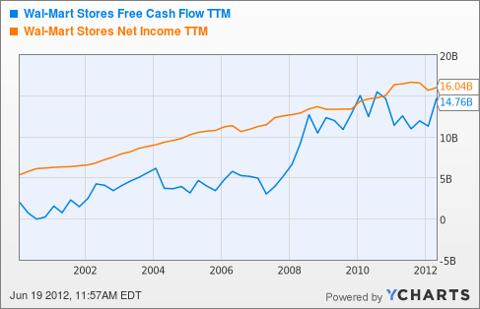 WMT Free Cash Flow TTM data by YCharts
Disclosure: I am long WMT.