<< Return to page 1
Yesterday I posted nearly 30 charts
depicting where support areas existed from my view. These support areas are still valid but I believe you must wait the week out to determine how things will end. Therefore, let's just look randomly at Tuesday's market movers.
A little traveling music maestro:
I could post another 30 charts but most would have the same annotations as yesterday.
Also highlighted yesterday
was the firm belief that bulls will fight to the death to maintain various support levels.
One thing going for bulls are mutual fund flows, not to mention assets to privately managed accounts, as investors fund their retirement plans seasonally. And, most fund managers don't sit on cash; they chuck it into their strategies immediately.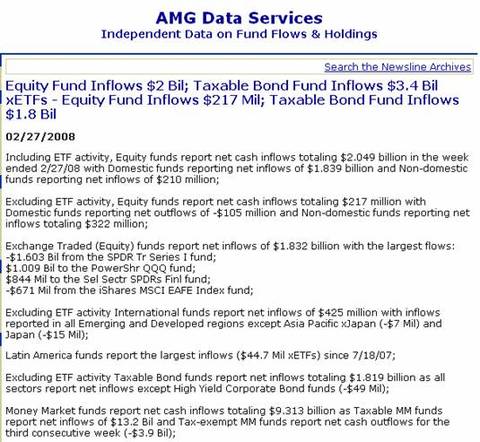 That will do it for today. If you follow weekly charts, which is our primary methodology, then you have to let the entire week play out. Usually we find that to be the best course but like anything, it isn't always so.
Let's see how the battle evolves.
Have a pleasant day.
Disclaimer: Among other issues the ETF Digest maintains long or short positions in SH, PSQ, QID, DBC, GLD, USO, DBA, FDN, IEF and EWZ.