One of my favorite companies is Hurco (NASDAQ:HURC), a small manufacturer of machine tools and the software that powers them.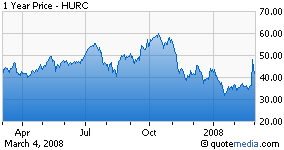 Hurco's machines help manufacturers decrease labor costs and achieve increased production efficiency. I first wrote about Hurco last August when the stock was trading close to 50. In that article, I mentioned that Hurco had experienced solid and consistent growth over the past few years, but has been an extremely volatile stock. I suggested that as long as growth remained strong, I would be a buyer on any undeserved stock price dips.
Well, I believe that time has come. Last week, Hurco announced first quarter earnings that left analysts looking silly. The company earned $1.21/share on $61M in revenue, vs. expectations of $0.90 and $50M. Last year, Hurco earned $0.84 on sales of $47M. Despite slightly down U.S. sales, growth was fueled by insatiable European and Asian demand, helped by the weak dollar. CEO Michael Doar specifically called out new successes in fast-growing India and Eastern Europe.
In response to this news, the market sent shares of Hurc up 30%. Since then, the stock has given back almost 20% on no news and is trading at a trailing P/E of less than 12. With net cash representing more than 10% of its market cap, record new order bookings, and limited exposure to the U.S. economy, Hurco has all the makings of a success story. Look for this little guy to fly during any market rally.
Disclosure: SmartGuyStocks is long HURC.