Brazil has discovered a lot of oil over the last few years through its state-controlled company Petrobras (NYSE:PBR), holding the world's biggest discoveries since 2000. In the long-term, Petrobras offers investors a unique growth opportunity within the major global oil companies. However, investors who played this bullish bet through Petrobras shares, the most obvious investment vehicle for that, are having hard times seeing their capital grow.
Petrobras shares delivered a negative total return (including dividends) over the last 5 years (-2%), 3 years (-12%), 1 year (-14%) and since the beginning of 2012 (-8%). In 2012, Petrobras is one of the worst investments among the world's biggest oil companies, under-performing peers like PetroChina (NYSE:PTR), BP (NYSE:BP), ENI (NYSE:E) or Exxon Mobil (NYSE:XOM).
Source: YahooFinance
Main Weak Points
Despite its huge long-term potential, Petrobras oil production is growing at the slowest pace since 2007 as new fields in the pre-salt region failed to counter declines at deposits where it has been pumping for decades. In 2011, output rose 1.5% falling short of the 7.7% target, and last April production hit a 20-month low.
The company recently released its new 2012-16 business plan, which assumes higher capital expenditure needs, lower production targets, and no price increase for fuels in the domestic market. Petrobras slashed its production target in 2020 by 11%, and now plans to reach 5.7 million barrels a day down from the previous target of 6.4 million. This is clearly negative for sentiment towards Petrobras' shares and can continue to pressure it over the following months.
Additionally, the government interference in the company by setting fuel prices also harmed its share performance, because Brazil's efforts to slow inflation with fixed gasoline prices reduce profits at Petrobras resulting in pressure on the shares if the oil price rise or fall. When oil prices rises, Petrobras earnings are hurt due to fixed fuel prices, when oil prices fall it creates doubts about the company's ability to finance its investment plan. This clearly shows that large state ownership means corporate objectives may not always align well with those of other shareholders.
So for investors who want to play the Brazilian oil story are there alternatives to Petrobras' shares? The answer is yes, the neglected Portuguese company Galp Energia (OTCPK:GLPEY).
Galp Energia Overview
Galp Energia (Galp) is the Portuguese oil and natural gas integrated operator. Its activities span from exploration and production of oil and natural gas, to refining and marketing oil products, natural gas marketing and sales, and power generation. The company had sales of more than €16bn ($20bn) in 2011, and the Galp's current market capitalization is around €10bn ($12.6 bn) which represent close to 10% of Petrobras market value.
The Galp Energia share has been traded since 2006, when the Portuguese state sold a stake of 25%. At the time, Galp was mainly a downstream company in Portugal but also had an upstream division, with production from Angola and exploration prospects in Brazil. Those upstream assets had low earnings visibility and hence the company was sold as a refining and distribution business implying a lower valuation. Since then, the company's shares rose more than 65% reflecting the company huge success, in the following year's, on their oil discoveries together with its partners.
More recently, Galp's share price has been under pressure by the increase in the Portuguese sovereign risk, the lower valuation achieved than expected when it sold a stake in its Brazilian subsidiary, and stock overhang risk.
Source: YahooFinance
ENI is one of Galp's major shareholders with a 33% stake, but it never had the possibility of achieving full control of the company due to political reasons. The Portuguese state still has 8% of Galp's capital and blocked ENI's attempts to increase its stake. Due to Portugal's financial distress this stake is part of the government's privatizations program, so the government influence will be lower going forward.
Over the last few months, ENI has made public its intentions to sell its Galp stake. At the end of March 2012, Amorim Energia (which is also a reference shareholder with another 33% stake) has agreed to buy a 5% stake to ENI within 150 days. The remaining 18% stake will be displaced within 180 days through a market placement, and a further 10% sale will be conducted within 1 year (in which Amorim Energia has the right of first refusal). Since this agreement was announced Galp's share price has declined 22%, so the overhang risk seems to be already priced in as the shares continue to trade near their 52-week lows.
Oil Exploration
In 2007, Galp Energia participated in the world's largest oil discovery in the last 30 years, with the Tupi discovery in Brazil. Recoverable volumes are confirmed to range between 5 and 8 billion barrels of oil and natural gas. Galp Energia has a stake of 10% in the consortium exploring the block, where the operator Petrobras has 65% and the BG Group (OTCQX:BRGYY) has the remaining 25%. Galp's share price had a huge jump when the Tupi discovery was announced, increasing more than 25% on that day.
Additionally, the company participates in another 5 blocks in the Santos Basin with stakes in the range of 10% to 20%, and has other projects in Brazil, Angola and Mozambique. Recently, Galp and its partners have announced a new giant natural gas discovery in Mozambique, adding even more appealing to Galp's upstream assets.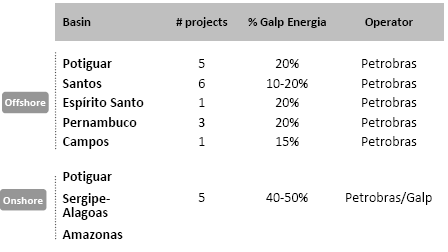 Source: Galp Energia
Galp Energia's exploration activity is growing fast and is the major long-term growth driver, especially in Brazil, Angola and Mozambique with the recent discoveries. Galp is gradually evolving from an Iberian downstream player into an integrated company. Although its E&P division has a small contribution to EBITDA and earnings (less than 30% in 2011), the growth prospect is huge and will be a game-changer to Galp Energia's future earnings profile. According to the company, the EBITDA compounded annual growth rate expected from 2011 to 2016 is 25%, with the E&P division representing between 60-70% of earnings in 2016.
To access how much the company can transform its profile, a comparison with peers that have an integrated business model should highlight Galp's potential. From last year's earnings is possible to see that Galp profitability clearly lag major integrated oil companies. Galp's relatively high ROE is mainly due to its higher debt levels than peers.
| | | | | | |
| --- | --- | --- | --- | --- | --- |
| Company | EBITDA Margin (%) | EBIT Margin (%) | ROE (%) | ROA (%) | Debt/ Total Capital (%) |
| Galp | 6.2 | 3.8 | 15.6 | 4.5 | 56.4 |
| Exxon Mobil | 16.1 | 9.3 | 27.3 | 13 | 9.6 |
| Chevron (NYSE:CVX) | 21.7 | 16.2 | 23.8 | 13.6 | 7.7 |
| Petrobras | 25.2 | 18 | 10.5 | 6 | 31.9 |
| Total (NYSE:TOT) | 19.8 | 14.6 | 19.1 | 8 | 31.7 |
| BP | 10.2 | 7.2 | 19.8 | 9.1 | 28.2 |
| ENI | 23.5 | 15.9 | 12.9 | 5 | 32.9 |
| Average (ex-Galp) | 19.4 | 13.5 | 18.9 | 9.1 | 23.7 |
Source: Bloomberg
To finance the exploration activities in Brazil, Galp sold last December a 30% stake in its Brazilian subsidiary to Sinopec (NYSE:SHI) through a capital increase of $4.8bn. According to the company, the implicit valuation of Galp's Brazilian assets based on the minority stake sale to Sinopec is $12.5bn.
However, the valuation achieved by Galp for this stake in its E&P assets in Brazil was a disappointment for investors because it was priced below the previous Repsol (OTCQX:REPYY)/ Sinopec deal. On the other hand, the capital injection in Brazil has left Galp's consolidated balance sheet in a much better position to fund current capex plan and with a strong partner to future development opportunities.
Conclusion
Galp offers an alternative to Petrobras for playing the Brazilian oil growth, having the advantage of controlling and minority shareholders interests being aligned. Given the short-term issues that affected Galp's shares, mainly the overhang risk, the current low price can offer a good entry point to long-term investors for being exposed to Galp's attractive growth profile and with increased diversification than Petrobras.
Disclosure: I have no positions in any stocks mentioned, and no plans to initiate any positions within the next 72 hours.