The action in the market yesterday was precisely what I have been expecting. And no this is not me patting myself on the back. We needed to see a pattern of a low, lower low, higher low to give us the bottom. The third and final low was to happen on significantly less volume than the prior two lows, which indicates the selling exhaustion has been completed. Of course, the technical analysis here is only used as a backstop to validate a much broader and more important macro fundamental picture that's been developing for some time now.
There is a great deal of evidence, which I cover briefly later in this post, that the market is not reflecting rational price discovery. Thus, we've been seeing aggressive institutional buying for the past three trading days, as indicated by the late session rallies on high volume. Money center banks like Wells Fargo (NYSE:WFC), Bank of America (NYSE:BAC), JP Morgan (NYSE:JPM), Morgan Stanley (NYSE:MS), etc… are all looking VERY attractive.
For reasons I have mentioned several times here and here as well as the now famous market panic buy alert on January 21, the accumulation of these stocks should now be kicked up a notch. If you've been trading this market operation since January 21, then the cost bases for these positions are excellent. One can certainly afford to buy into early weakness in the days ahead. We've seen early selling in the past several sessions from overnight weakness and mutual fund redemptions after the prior day's close. As always, the strong money comes in during the second half of the trading session, generally in the final hour.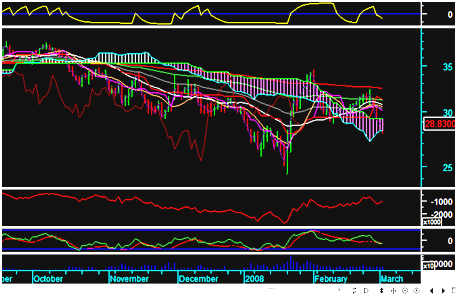 The above chart is a daily chart of Wells Fargo. Some observers may have no idea what this chart represents, while others know the strange "cloud" pattern is referred to as Ichimoku, which incorporates a time element into price action by projecting current prices into the future and into the past. Basically, all indicators are showing the trend reversed in mid January and we are seeing the confirmation right now.
This sharp pullback over the past few sessions couldn't have played out more perfectly. Aggressive buying under $29. An Ambac announcement will light a fire under this sector. Am I losing my mind or did Bernanke actually insist lenders should forgive some principal on troubled mortgages? Wow.
I highly recommend considering the following two ETF's: UYG and VFH. The former is a leveraged version of the latter, both of which represent the major money center banks including all the names I've mentioned previously.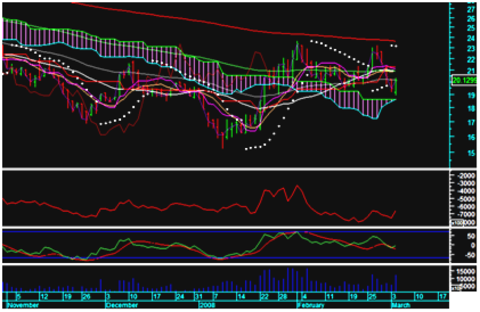 This chart above is the S&P Homebuilders ETF (NYSEARCA:XHB). A short term bottom is in and this is enough for a big spike to the upside as short interest is excessive and a lot of it is weak money from late comers. Look how the recent pullback came directly to the top of the cloud and put in a reversal bar with excellent volume. The November/January/March progression of lows coupled with volume characteristics paints a compelling picture for a buy. This is a great contrarian play as well with everyone screaming that the builders are going bankrupt.
Another ETF I strongly recommend is UYG (below chart), the leveraged version of the financial sector ETF (NYSEARCA:VFH). This ETF moves at a ratio of 2 to 1. It covers the money center banks and has been under accumulation for several weeks now. Tuesday's action is a definite reversal confirmation with a bear trap to boot. Look for scared short covering the rest of this week as this ETF rockets up to $50 before you can say "sub-prime bailout".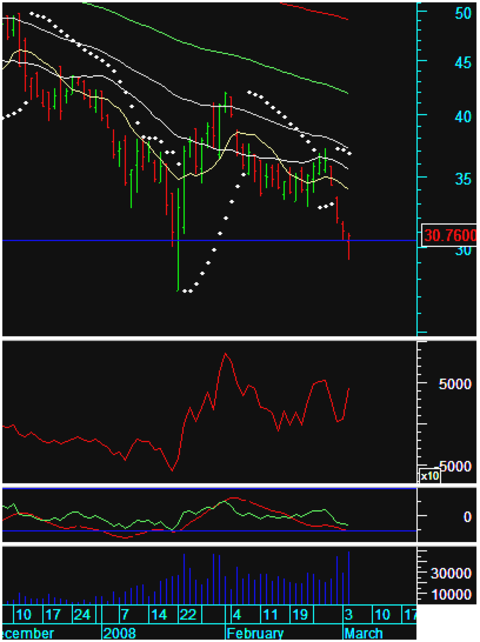 .
In the above chart for UYG, pay particular attention to the third indicator from the bottom which is displayed in red. This is an accumulation line. After being in a steep downtrend for several months (not shown), the line spiked to its highest level in the entire history of this ETF. With volume surging since the beginning of this year, this ETF has been under accumulation.
A great way to take advantage of the excess pessimism in the REIT sector is to buy URE, another geared ETF that holds a portfolio of very strong REITS. Remember, this is also a 2X ETF so it will move twice the regular Real Estate index.
Moving along….American Express (NYSE:AXP) is very attractive in the low 40's with a P.E. of only 12. I wouldn't be a big buyer, just a nibble for the retirement portfolio that depends on a dividend. I also think this will be the last time you will see Bank of America (BAC) below $40 for a very long time, regardless of the doom and gloom you hear from the CNBC pundits.
Speaking of yields, BB&T (NYSE:BBT) is trading around $31, giving her a P.E. of 9 and a yield of six percent. Insiders and directors having been loading up on shares recently and the company has actually been exploiting weakness in the financial sector by going shopping. Moreover, she just confirmed the quarterly dividend. It doesn't get much better than this folks for a retirement account investment.
Many of you know that I'm a firm believer in the "Changing of the Guards" theory when it comes to major money center banks. Every decade or business cycle, when the old executives are replaced with new executives and some financial crisis cuts these stocks by at least 50%. This is how wealth is passed from one generation to the next and this is how it will continue to be. So the simple adage of "buy low and sell high" could not be clearer than right now. Just block out the noise and be a smart investor. With that said….
Let's put on our armor and play "catch a falling knife" with UBS at $27. She's trading at $31 right now but I think we'll see a print around $27. If you are a patient type and think this stock is way undervalued, then buying here and accumulating down is a great idea. Do I really have to spell it out for you? Fine! How does a P.E. of 5 and a yield of almost 7% sound? I know some sub-prime slime oozed over to Europe, but come on. And by the way, Jeromy Kerviel (he has a Wikipedia page!) was at Credit Suisse, not UBS. I'll take a $2 dividend on a $30 money center bank stock anytime regardless of the tricks used to shake stock loose from weak holders and mutual funds. Why wait? Load the boat.
If you're looking for a high flyer in the financial sector, my favorite is China Finance Online (NASDAQ:JRJC). This stock went parabolic last August, right after the poor schmucks at Alchemy Alternatives panicked and blew their traders out of this and four other stocks which proceeded to triple after the schmucks soiled their panties. From $10 to $50 in 18 days. Not bad! The subsequent pullback has bottomed out for now and a run into the mid $30's is likely.
I think all of the financials are way overdone because the size of the write downs are based on distorted mark-to-market accounting, which is priced off an index containing instruments that haven't traded in years (more like months but don't tell the bond traders). Therefore, a good portion of these write-downs are B.S. and will be reversed down the road. Anything to get the stock price down by at least 50% so the new executive team and board members can load up and align the interests of the company with their own. Or is it the other way around?
Just remember the 130/30 strategy I mentioned regarding the builders if you're trading this bounce. It would be a good idea to put on some shorts in stocks like Beazer Homes (NYSE:BZH), Hovnanian (NYSE:HOV) and Orleans Home Builders (OHB). These three are strong candidates for Chapter 11 before this is all said and done.
Disclosures: None