On March 3rd, Westwood One (WON) announced another series of milestones had been crossed in their overall corporate restructuring and turnaround strategy.
The company stated it and former parent company CBS (NYSE:CBS) have "closed the transactions contemplated by the Master Agreement dated October 2, 2007, which solidifies a long term distribution agreement between the parties through 2017". It went on to declare that "Going forward, the Company will manage its business directly and separately from CBS Radio, and employ its own officers". This is a significant development for the company as it formalizes its amicable divorce from CBS , and will allow the company to pursue a business strategy entirely in its own interests.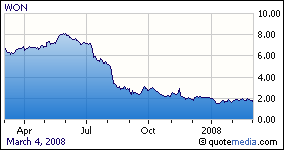 Additionally, the Company announced the "closing of the sale and issuance of 7,142,857 shares of Westwood One common stock to Gores Radio Holdings, LLC". This was the first step in an overall cash infusion of up to $100 million equity investment by Gores into Westwood One as announced by the two entities on February 25th. These initial shares were sold at a price of $1.75 per share for an aggregate amount of $12.5 million.
Finally, Westwood One announced that the latest amendments to their credit agreements with lenders led by JP Morgan Chase previously announced are now effective, and that "20% of the net cash proceeds from the Gores investment will be used to prepay the term loan under the Credit Agreement".
These two items, the cash infusion and amendments to the credit agreement, will help the company tremendously by allowing it the continued freedom to evaluate other strategic options being presented to it with a far less restrictive capital structure now that it stands on its own as a truly separate entity from CBS.
In his February 25th note to clients, JP Morgan media analyst John Blackledge shared his thoughts on what the deal with Gores and the credit amendments should mean for the Westwood One:
The equity financing should dispel WON's debt concerns. As our prior forecast had WON ending the year with a net debt leverage ratio of 3.6x, which was close to the 4x limit in its covenants, we believe the investment should provide WON with sufficient financial flexibility to whether the economic downturn.
While the deal should be slightly dilutive to current shareholders, it should prevent liquidity issues down the road. WON's alternative would have been refinancing its existing debt facilities, which we believe would have been overly expensive and restrictive in the current credit environment
Even though he finds these to be generally positive corporate developments, Blackledge maintains his Underweight position on WON, stating "though WON's near term liquidity concerns may have been addressed with this deal, we continue to believe an operational turnaround will take time".
Victor Miller, analyst at Bear Stearns, echoed Blackledge's thoughts in his own February 25th report, stating that while the "equity infusion alleviates credit concerns", the "capital comes at a high cost". Overall he says, "Net-net, positives outweigh negatives", and maintains his current Peer Perform rating on the company as uncertain operating trends in the radio industry still weigh on the stock's direction.
While I understand their hesitance on the stock given broader advertising market conditions, I find myself much more bullish on WON than either analyst, however.
Overall, these last few structural details seem to have cleared the way for new CEO, Thomas Beusse, to push the company's operational turnaround forward. If the company executes and also gets a little wind at its back as political advertising heats up nationally towards the November elections, WON could be a break-out stock and post some significant returns in the latter part of 2008.
Given some of the turmoil found elsewhere in the radio sector right now, there could also be some interesting acquisition candidates and other M&A possibilities for the company that would help solidify it for the future and reduce competitive pressures on it in the marketplace longer term.
Westwood One remains one of my two favorite stocks in the media space for 2008.
Disclaimer: This article reflects the individual views of Mr. Hannan and may not be attributed to any person, company or other entity with whom Mr. Hannan is affiliated.
Disclosure: No Positions