Yes, you read it right.
Microsoft's (NASDAQ:MSFT) new operating system Windows 8 may hurt the sales of its partner Nokia's (NYSE:NOK) flagship smartphone Lumia 900.
Today, Microsoft introduced Windows 8 to developers. Among the information revealed for the first time -- such as multiple-core, multiple-screen resolution, and SD card support -- Microsoft made it clear that Windows 7-based devices cannot be upgraded to Windows 8. Maybe Windows 8 is too fundamentally changed, now that all Windows 7-based devices will end at Windows 7.8.
It confirms the earlier rumor that Lumia 900, based on Windows 7.5, will not be able to upgrade to Windows 8. Given that this barrier can cause all kinds of headaches in the future, such as a shrinking number of apps available and limited tech support, Nokia faces a big problem caused by its partner today: The cash hungry company may see potential consumers putting their Lumia 900 purchase plan on hold, waiting for Windows 8-based devices, or simply buying Apple's (NASDAQ:AAPL) iPhone or Google's (NASDAQ:GOOG) Android devices.
The news cannot come at a worse time for Nokia. Just when Lumia 900 sales started to creep back up to be a top 10 bestseller at Amazon (NASDAQ:AMZN), this news may kick it further down the sales rank again. Today, it's ranked as No. 12, already down from the No. 6-8 rank it had over most of the time last week. In the following screenshot, one has to go way down to find the Lumia 900. Even worse, the expectation of the Windows 8 release and the fact that current devices will become obsolete in three months will likely hurt sales of the entire Lumia product line. Even the lower-end products in Europe and Asia may see waning consumer interest.
Click to enlarge image.

How much difference does this kind of sales rank drop make? A lot. Here is a study on the relationship between sales rank and actual unit sales for books at Amazon.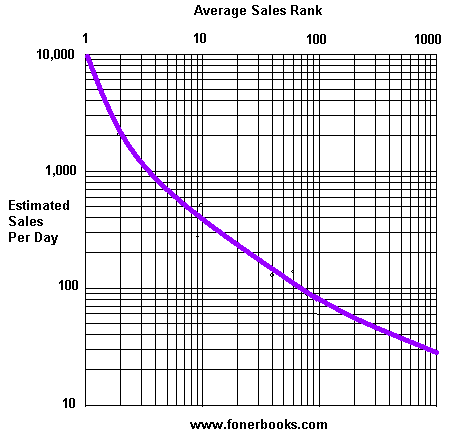 Source: Fonerbooks.com.
Based on this chart, a permanent drop of sales rank from No. 8 to No. 12 would account for an approximately 25% drop in sales. I estimated earlier that Nokia may be selling between 500,000 to 1 million Lumia phones in the U.S. Using a middle point of 750,000 units, the drop means Lumia sales are more likely to hit the lower estimate of 500,000 units a month, converting to approximately 1.5 million units a quarter. That is not great news. Given the earlier report of 2 million units of Lumia sold in Q1 2012 (mostly in Europe), the picture is getting a bit ugly.
I have to revise my earlier view that Nokia's share price might have been near the bottom. It is hard to gauge specifically how much worse it will get for Nokia, as it is already bad enough. But this change clearly suggests that the worst days may not have come yet.
Disclosure: I have no positions in any stocks mentioned, and no plans to initiate any positions within the next 72 hours.