Spain's banking solvency crisis has resurrected investors' memories of the sub-prime crisis and further undermined their confidence in the sector globally. This new crisis has placed even greater pressure on the cohesion of the eurozone and brought economic growth in the region to a grinding halt. This in conjunction with the slowing Chinese economy has seen a slump in demand for commodities, in particular coal, iron ore and oil. This slump has seen economic growth in Latin America slow, particularly Brazil which has seen its GDP growth rate slump by 75% since the end of 2010. Brazil's stunning economic growth caused an explosion in domestic demand for consumer products and the credit products required to purchase them. This has led to speculation as to whether Brazil is experiencing a consumer credit bubble that in combination with stalled domestic demand will affect the financial health of Brazil's banks.
Economic background
As a result of decade long strong economic growth, Brazil was experiencing all of the signs of growing affluence with rising urbanization, increasing average incomes and rising demand for consumer products. This has created an explosion in consumer credit as people took advantage of their growing affluence and financial security. Much of this consumption and the credit used to fund it was directed to consumer durables such as automobiles, consumer electronics, white-goods and household furnishings. Despite the slowing economy the consumption of credit continued to grow.
This rising domestic consumption combined with the injection of foreign capital and growing profits from the commodities boom caused the economy to overheat, with rising inflation which saw the government raise interest rates to a high of 12.5% in July 2011 and in an attempt to cool the economy.
However, it is arguable that the government has moved too quickly and aggressively because these high interest rates have caused domestic consumption to stall and in combination with a slowing Chinese economy and a deepening European financial crisis have almost brought economic growth to a halt. As a result of the slowing economy, lower amounts of foreign capital being injected into the country and a concerted government policy of pushing the value of the Brazilian currency, the Brazilian real has fallen in value by 11% against the U.S dollar this year.
In reaction to the slowing economy the Brazilian government has moved to lower the official interest rate to stimulate economic growth, with the national rate dropping from its 12 month high of 12.5% to 8.5%. The depreciating real, while good for Brazilian exporters and industry, is bad for stock prices denominated in dollars such as Banco Santander (NYSE:BSBR), Banco Bradesco (NYSE:BBD) and Itau Unibanco's (NYSE:ITUB) listed American Depositary Receipts (ADRs). The falling value of the real has also contributed to curbing consumer demand because the prices of imported consumer products have risen.
Falling demand for credit
However, as a result of the slowing economy, consumer demand for credit is decreasing, which has put a damper on the profitability of Brazilian banks because this was seen as a key area for expansion and growing profitability. In comparison to March 2012, the number of consumers seeking loans fell by 11.2% and for the first four months of 2012 the overall demand for credit fell by 7.6% in comparison to the same period in 2011.
In conjunction with the economic slowdown there has also been a rise in non-performing loans across the industry as many consumers find themselves under increasing financial pressure. The economic slowdown has also seen an increase in unemployment, which has risen since the end of 2011 by 1.3% to be 6% at the end of April 2012, which not only affects the demand for consumer credit but the ability of borrowers to repay loans. This will obviously lead to a rise in defaults as households come under greater financial pressure.
Rising non-performing loans
The Brazilian industry wide non-performing loan ratio as at the end of April 2012 was 7.9% and this is certainly concerning as it is the same as Spain's industry average non-performing loan ratio of 7.91% reported at the end of March 2012. It is also substantially higher than the U.S industry average non-performing loan ratio of 4.2%. However, unlike Spain, the high non-performing loan ratio is not being driven by toxic high risk property loans for developers and real estate speculators but rather by defaults on consumer loans. This also makes the situation substantially different from the sub-prime debt crisis, which again was triggered by sub-standard and toxic property loans. The rising default rate is predominantly driven by consumer loans extended for the purchase of consumer durables and in particular car loans.
In April 2012 alone defaults or non-performing Brazilian car loans hit a record high, rising to 5.9% from 5.7% for March. This means in many cases that the institutions will not be able to recover a substantial portion of the loans in default. But the level of financial exposure hence loss is far lower and would not lead to a banking solvency crisis as Spain is experiencing or as was seen in the U.S with the sub-prime loan crisis.
A rising default rate and increasing volume of non-performing loans will have a direct impact on the performance of Brazil's banks and is having some impact on investor confidence. There are also growing concerns regarding the quality of loans issued by small to mid-size banks in Brazil as the central bank steps in and seizes Banco Cruzeiro do Sul because of balance sheet discrepancies regarding the revenue generated from reported assets. This has seen a loss of investor confidence in small to mid-size banks in Brazil and some concerns that this will affect those major banks choosing to extend credit to this sector.
Bank performance
However, despite the rapidly slowing economy Brazil's major banks for the first quarter 2012 delivered strong financial results. This is illustrated by the performance of the three Brazilian banks listed on the NYSE as ADRs, Banco Santander Brasil, Banco Bradesco (BBD) and Itau Unibanco (ITUB).
Banco Santander Brasil
For the first quarter 2012 Banco Santander Brasil, the local separately listed subsidiary of the global retail bank Banco Santander (NYSE:SAN), reported a 9% increase in revenue from the fourth quarter 2011 to $5.8 billion and for the same period a 7.5% increase in net profit to $969 million. In contrast to this, the bank saw bad debt provisions rise by 36% to $1.7 billion while non-performing loans remained steady at 4.5%. The bank's coverage ratio also declined from the fourth quarter 2011 by 2.3% to 134.5%.
However, the bank is operating with a solid efficiency ratio of 43.6%, which is superior to its parent's efficiency ratio of 44.7%. In addition, it has solid liquidity measures which are also superior to its parent, with a loan to deposit ratio of 105% versus 115% and a tier one capital ratio of 21.8% versus 11.05%. An important point to note for investors, which puts its exceptionally high tier one capital ratio into context, is that this ratio is inclusive of goodwill. I believe that this is misleading and certainly makes it more difficult to determine the bank's true tier one capital.
Despite the increasingly difficult operating environment Banco Santander Brasil is still performing strongly. It has solid risk and liquidity indicators which are all well within the healthy range. However, despite the bank's non-performing loan ratio remaining steady, this ratio is at the upper end of the healthy range. When this is considered in conjunction with the significant increase in the value of loan loss provisions it creates some concern as to whether further provisions will need to be set aside. If the bank's loan loss provisions were to grow they would obviously have an effect on profitability.
Banco Bradesco
For the first quarter 2012 Banco Bradesco reported that revenue had risen by 2.6% from the fourth quarter 2011 to $13.3 billion and net profit, for the same period, by 2.5% to $1.5 billion. The bank also saw bad debt provisions rise by 3% to $11 billion with non-performing loans rising marginally by 0.2% to 4.1% and the bank's coverage ratio declined by 2.7% to 181.7%.
However, the bank is operating with a solid efficiency ratio of 42.7%, which is superior to Banco Santander Brasil. In addition, it has solid liquidity measures with a loan to deposit ratio of 92% and tier one capital of 12%.
Overall, despite the difficult operating environment Banco Bradesco is performing well with all of its risk and liquidity indicators within acceptable limits and superior to Banco Santander Brasil.
Itau Unibanco
For the first quarter 2012 Itau Unibanco reported revenue rising by 1.2% from the fourth quarter 2011 to $10.9 billion and for the same period net profit fell by 6.9% to $1.9 billion. The bank also saw bad debt provisions rise by 10.6% to $3.3 billion with the non-performing loan ratio rising by 0.2% to 5.1%. The bank's coverage ratio also declined from the fourth quarter 2012 by 5% to 148%.
However, the bank is operating with a solid efficiency ratio of 44.5% but this is also the lowest of the three Brazilian banks analyzed. I also like Itau Unibanco's solid liquidity measures with a loan to deposit ratio of 96.7% and a tier one capital ratio of 12.5%.
Despite the difficult operating environment Itau Unibanco has performed well, although of the three banks analyzed it has the weakest performance and credit quality indicators. In particular I am concerned by the bank's high non-performing loan ratio, though this is 2.8% lower than the industry average. However, I do find its level of liquidity quite appealing and this is superior to Banco Santander Brasil.
Future outlook
It is clear when evaluating the macro situation that many of the short to medium-term growth catalysts for Brazilian banks have been significantly curtailed with domestic demand stalling and economic growth slowing to near recessionary levels.
However, over the longer-term there are a number of growth catalysts for Brazilian banks, the key one being that Brazil has a large population and is significantly under-banked with relatively low penetration rates for banking products and services. Naturally this presents significant growth opportunities for Brazil's banks, particularly with regard to basic banking products and services.
However, unless the Brazilian government is able to restart the growth cycle and make the jump from being a middle income country to a high income country, a natural cap will be placed on this growth. At this time all economic indicators indicate that Brazil is firmly caught in the middle income trap and that it is becoming increasingly doubtful that it will ever be able to transition to a high income economy.
This instantly places a cap on both the size of the banking market and its profitability, particularly as it may never mature enough for higher margin and more profitable value add products and services to be introduced to the market. These include product and service offerings in the lending, wealth management and insurance spaces.
At this time Brazil has a loan to GDP ratio of around 50%, which is far lower at almost one third of the loan to GDP ratio being sustained by developed high income economies of 137%.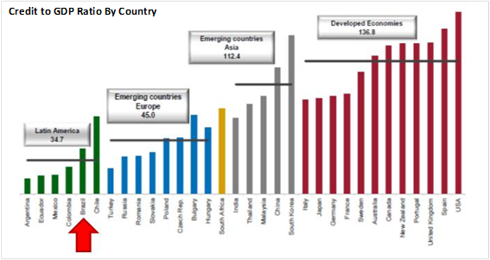 Source: Banco Bradesco Q1 2012 Presentation
This I believe is symptomatic of Brazil being caught in the "middle income trap" and represents a ceiling on the volume of debt the population can support. This ratio is only forecast to grow moderately over the next 2 years to 55% by 2014. This indicates there is little if any opportunity for ongoing growth in consumer credit in Brazil and effectively means that Brazilian banks won't be able to count on an explosive growth in demand in consumer credit as a means of fueling increased profitability.
Where to next for investors?
Itau Unibanco has shaped up to be the worst of the three Brazilian ADR listed banks, particularly on the health of its credit indicators, yet all three banks have delivered solid financial results in a difficult operating environment. However, for those investors seeking exposure to the Latin American banking sector I believe there are better value investment opportunities with greater potential upside for investors. I believe that two of the better choices for investors seeking Latin American banking exposure at this time are Banco Santander or Banco Bilbao Vizcaya Argentaria (NYSE:BBVA).
Both of these banks have been heavily sold down by investors because of the Spanish banking crisis as they are both domiciled in Spain. However, both of these banks derive more than 50% of their attributable profit from Latin America. This sentiment driven sell-down now sees both banks trading at compelling valuations with particularly generous dividend yields.
In addition, they provide investors with significant diversification across a range of Latin American banking markets, mitigating the risks associated with being exposed to a single geographic market while enhancing the opportunity for returns. However BBVA, unlike Banco Santander, does not operate in the Brazilian market so for investors specifically seeking Brazilian banking exposure they should only consider Banco Santander, its separately listed Brazilian subsidiary or, what I believe is one of the stronger of the Brazilian majors, Banco Bradesco.
There isn't a credit bubble but future growth will be curbed
After ten years of sensational economic growth and a consumer credit boom fuelled by a Chinese led commodities boom it appears that the party for Brazil's banks has stopped. With a slowing of demand for commodities and stalled domestic demand there is little momentum for the continued expansion of consumer credit which has become such a significant part of the revenue stream for Brazilian banks. But it is clear that despite rising delinquencies and defaults that Brazil has not experienced a consumer credit bubble nor has insolvency caused by toxic loans become an issue for the major Brazilian banks.
However, the effects of a slowing Brazilian economy, low interest rates and rising delinquency rates will all place significant pressure on the short to medium-term profitability of Brazil's banks. It also seems that Brazil's inability to make the transition from a middle income to a high income economy, with economy only now able to support a credit to GDP ratio of around 50%, is hindering the growth and profitability of its banks. While Brazil is significantly under-banked, which bodes well for further expansion, this currently supports the penetration only of low margin products and services, rather than the more profitable products such as consumer credit, wealth management and insurance products.
Disclosure: I am long STD.