Let's begin with a chart. Does the following sort of return compared to the S&P 500 (NYSEARCA:SPY) intrigue you?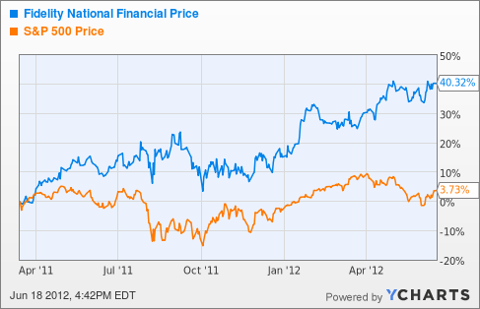 It's funny how we find out about some stocks. I looked into Fidelity National Financial (NYSE:FNF), of the above strong returns, when I started out investing in the stock market in early 2011. I wanted to have a financial stock in my portfolio, and I knew about Fidelity as an investment company. I was thinking about the brokerage - an entirely different company, in other words - and stumbled on FNF, which had an attractive dividend and looked promising enough as a financial play. So I opened a position in March of 2011, from which that chart dates.
After holding it for a little while, I realized Fidelity National Financial was an insurance company, not a bank. Thinking I needed an actual bank, and that I could get a better yield elsewhere, I stumbled on Flushing Financial (NASDAQ:FFIC), a small NYC bank that is perfectly fine (and not coincidentally has a ticker symbol close to FNF). Fidelity went up in the meanwhile, and I sold out of the position in early May 2011, pocketing a not bad 8.6% gain and switching to FFIC and its marginally better dividend and (I thought) growth prospects. Here's how that worked out: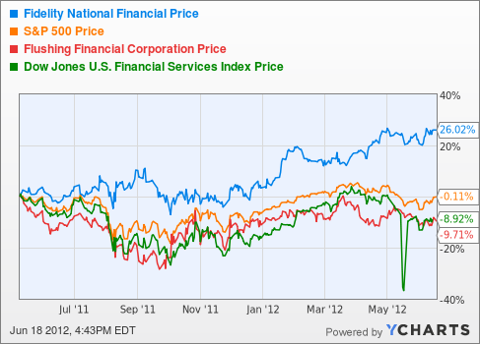 A year or so later, I thought I'd check back with Fidelity. Despite being the nation's leading title insurance provider and a Fortune 500 company, presenting a decent dividend and returns far outpacing the financial sector as a whole, Fidelity is not a much followed company, either on Seeking Alpha or in the investing media in general. Considering its diverse portfolio, position as national leader in the title insurance industry, increasing margins, and ability to take advantage of an impending housing comeback, this lack of attention seems rather glaring.
Fidelity National Financial is the holding company for several businesses. The main business is Fidelity National Title Group, the banner under which several regional title insurance businesses are stuffed. The title insurance, other insurances, and closing services provided by FNF offer essential support to the real estate process. Through its ServiceLink business, FNF also has a national lender program to offer support to mortgage originators and servicers.
Fidelity's title insurance business is, as mentioned, a national leader. The company has 35% of the market share. Its margins set the industry standard as well at above 10%. Other writers have made the argument that these high margins leave FNF vulnerable as its rivals, most notably First American Financial (NYSE:FAF) should be able to increase margins to catch up. Both articles are worth reading; my sense is that having high margins and top market share is a good position to be, though Fidelity has lost some share over the past few years.
Fidelity also holds ownership stakes in a few other businesses that the company characterizes as part of its investment portfolio (indeed, one of the notable red flags in considering Fidelity is its opacity in reporting results of these holdings). Among those are a 47% stake in Remy International, an auto-parts manufacturer; a 33% stake in global business services firm Ceridian International; a 70% stake in Cascade Timberlands; and most notably, 55% control of American Blue Ribbons Holdings, a restaurant company. Overall, these businesses added $5.8M in earnings for Q1 2012, just under 8% of total earnings.
The last of that list is most notable because Fidelity has been adding to its restaurant business. The company just bought out the remaining outstanding shares of O'Charley's (NASDAQ:CHUX), giving it control of the O'Charley's, Stoney River Legendary Stakes, and the Ninety Nine restaurant chains (the last brought to my mind warm memories of the cheesy, catchy jingle, "The Ninety-Nine/(great deal)/The Ninety-Nine/(best deal)/The Ninety-Nine, the best deal in town!" That and the jingle for Foxwoods Casino. Ahhh…). Adding over 340 restaurants to American Blue Ribbons Holdings gives Fidelity a stake in a 674 restaurant company under six different chains.
An insurance company investing heavily in the restaurant business seems odd, to say the least, and others have criticized Fidelity for its lack of focus. There are a few compelling aspects of Fidelity's increased investment in the space, however. For one, Fidelity has a good history of developing and divesting of assets, as was the case recently when the company sold off its flood insurance business. Management views this as a similar opportunity: Fidelity is guiding to grow the new ABRH from a pro forma $1.25B in revenue in 2011 to a $2B revenue business in the next 2-3 years, a CAGR of between 20-28%. The gap between ABRH's EBITDA margins and O'Charley's lower margins suggest Fidelity can improve its new restaurants' margins, and that before the $20M in guided synergies for the acquisition. In its most recent conference call, the company hinted that the end-game upon achieving those targets would be to spin the business off as a publicly-traded business in which Fidelity would maintain a large ownership stake. This seems like a solid value for the company.
The last compelling aspect of the O'Charley's acquisition is that the chains Fidelity acquired in this deal are very family-oriented, the sort of restaurants that show up in strip malls or suburban centers. An increase in home ownership could play into an increase in casual restaurant dining for families. For a company that already makes its bones on housing, in a period where many speculate housing is soon to recover, adding exposure through a different revenue stream to this trend is not beyond the pale.
Having run down Fidelity's business, we move to the numbers, comparing FNF's valuation to its peers. For peers, I chose its two main title insurance rivals (FAF and Stewart Information Services (NYSE:STC)), two other insurance companies of similar market capitalization, and Allstate (NYSE:ALL) for an industry leader comparison.
(Sources:TDAmeritrade, WSJ)
As of Q1 2012

Fidelity National Financial

First American Financial

Stewart Info. Services

Cincinnati Financial Corp

(NASDAQ:CINF)

W.R. Berkeley Corp (NYSE:WRB)

Allstate Corp.

Market Capitalization

$4.3B

$1.8B

$288.1M

$6.0B

$5.2B

$16.7B

Quarterly Revenue Growth (Y-over-Y)

5.31%

4%

5.07%

6.36%

11.43%

2.99%

Yearly Revenue Growth

-15.32%

-2.16%

-2.10%

1.37%

8.75%

2.82%

EPS Growth (Annual)

25.30%

-40.88%

NA

-4.30%

-0.84%

-35.84%

Estimated Earnings Growth (next 3 years)

-3.45%

31.03%

316%

40.38%

15.49%

74.33%

Earnings 2011

1.66

0.73

0.12

0.74

2.09

1.32

Earnings 2012 (Est.)

1.4

1.35

0.81

1.56

2.62

4.1

Earnings 2013 (Est.)

1.35

1.31

1.28

1.55

2.72

4.24

Book Value/Share 2011

16.29

19.08

23.32

25.13

24.51

33.1

2011 P/E

11.70

23.15

124.00

49.76

17.87

25.74

2012 P/E

13.87

12.52

18.37

23.60

14.25

8.29

2013 P/E

14.39

12.90

11.63

23.75

13.73

8.01

PEG Ratio

neg.

0.75

0.39

1.23

1.15

0.35

2011 P/Book

1.19

0.89

0.64

1.47

1.52

1.03

Price

19.42

16.9

14.88

36.82

37.34

33.98

Dividend

0.56

0.32

0.05

1.61

0.36

0.88

Dividend Yield %

2.88%

1.89%

0.34%

4.37%

0.96%

2.59%
Fidelity does not have growth forecasts for the coming years, which is obviously not ideal. That said, Fidelity's first quarter is well ahead of its earnings pace from last year, and last year's number included about $.38/share in earnings from the sale of the flood insurance business. Subtracting that impact, FNF's P/E for 2011 obviously jumps (to 15.17x earnings), but the business looks much steadier, with low positive growth for the next three years but a chance at upside through the restaurant business or, more importantly, a revival in housing. In any case, the stock appears fairly valued at current levels, which makes sense considering how much it has run up in the past 15 months.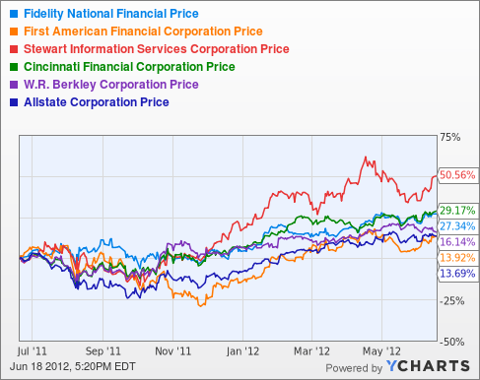 Fidelity's management feels good enough about the company's position to have the board approved a dividend hike of nearly 17% earlier this year. The share price has run well ahead of that hike, keeping the yield lower than it might be, but for this peer group the yield is quite good. At the same time, Fidelity's dividend history is rather rocky: the company halved the dividend during the 2008 crisis, raised it once in 2010, cut it by 33% again at the beginning of 2011, and only now recovered some of that second cut. The payout ratio is only 40%, suggesting there is room to grow the dividend, but the company's track record means this is not the safest dividend in the world.
The story for Fidelity on the whole is interesting, at least. Positives include the company's leading position in the title insurance industry, its industry-leading margins, its exposure to the housing recovery, and its diverse portfolio. The agglomerated ABRH especially could turn into a very nice investment for the company in support of its core business. As mentioned, the hypothetical vulnerability of those margins and the lack of focus within that portfolio, as well as a shaky dividend history, can be viewed as the key red flags. Also significant is the fact that the stock sits just below its 52-week high (set last Friday) and has not had a real pullback since February/March.
Having left the stock too early, a year ago, I consider Fidelity cautiously. The spurned investor in me wants to make up missing out on a huge move for silly reasons. Having run the numbers and studied the company, I'm intrigued enough to keep an eye on it again; however, considering the price move, I'd like it to pull back to around 18 if possible before getting really interested. A steady business with exposure to some intriguing and strengthening parts of the U.S. economy and, at that pulled back price, 3+% yield would be an interesting proposition.
Those who think housing is coming back and want a solid, dividend-supported way to play it, consider Fidelity if it pulls back. In the meantime, the trick for all of us is to learn from our mistakes, so that next time we don't leave the same money on the table. At least, that's the hope.
Disclosure: I am long FFIC.