Insider buying is an especially important consideration for small caps. The two REITs listed below have strong insider buying.
1: Arbor Realty Trust (ABR)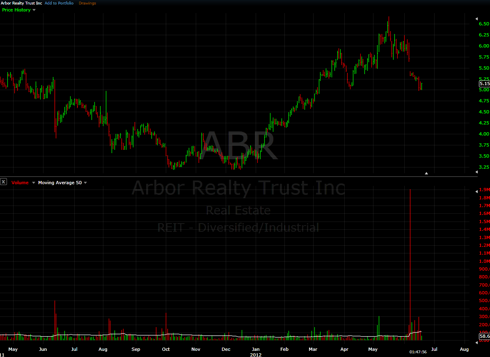 Click to enlarge
Arbor Realty Trust is a REIT with a 5.95% yield. It trades at 0.7x book. Both of these are favorable, according to Forbes:
the recent ABR share price of $5.05 represents a price-to-book ratio of 0.7 and an annual dividend yield of 5.95% - by comparison, the average company in Dividend Channel's coverage universe yields 4.2% and trades at a price-to-book ratio of 1.7
Several insiders at ABR have been buying strongly in recent months:
Ivan Kaufman, CEO, has added 45,000 shares since March. At current market value, this represents an investment of over $225,000.

After Kaufman's initial purchase in March (when shares were priced between $5.29 and $5.37), ABR rallied strongly, clocking 20% gains for the following two-month period. As recent market action put downward pressure on the stock, Kaufman has been buying again -- suggesting he thinks the stock is significantly undervalued at the current price.

In total, insiders have added 121,255 shares in the past three months, which represents over $600,000 of market value.
ABR's market cap is $122.46M, making the recent insider purchases equal to 0.5% of total market cap.
2: Ares Commercial Real Estate (ACRE)
Ares Commercial Real Estate is another REIT with strong insider buying. Since its recent IPO, insiders have been loading up on shares. In June alone, insiders bought 19,100 shares on the open market, representing over $324,000 of market value.
With a market cap of $161.98M, these insider purchases represent 0.2% of total market cap. Since insider buying commenced, the stock has risen 6%.
Disclosure: I have no positions in any stocks mentioned, and no plans to initiate any positions within the next 72 hours.
Additional disclosure: I am long VNQ.