Market Recap: The market dropped after Fed Chairman Ben Bernanke and the Federal Reserve extended Operation Twist by nearly $300B of treasury buying. The market "sold the news" after rallying for several days into the expected announcement ... leaving the market wondering where next. The market started off strong early with Europe up on Greece's ability to form coalition government and Spanish yields dropping. Yet, things turned sour after Bernanke started his press conference and commented that things are getting worse, the job market was not going to grow as fast as was expected, and that they would not be buying European debt.
The decision came as expected, and we got a limited reaction for the most part. So, where does the market go now? We thought a lack of QE would hurt us and more than expected would ignite the markets. Now, we have not much to push us either way. We have window dressing into the end of Q2 that should be expected. Further, we will turn back to Europe, which hopefully will be working toward its own larger bailout package here soon. That could come right in time for the end of the quarter and get things moving.

Two Trades
Two trades we are watching right now are a pair trade in Marathon Petroleum (NYSE:MPC) and Home Properties (NYSE:HME) as well as we like the looks of a Baidu (NASDAQ:BIDU) bull put spread. Right now, MPC is looking very solid. The company is bucking the trend of the rest of the energy sector, which is giving it added attention, and they received a solid upgrade from Goldman Sachs (NYSE:GS) today. The company is on its breakout, and we expect it to continue to outperform. We like positioning them with a short in Home Properties. HME has been looking weak as of late, not joining the market in its move higher. REITs have been strong in 2012, but HME has flattened after a good start to the year. With a forward PE now reaching 40, they may be due for some correction or at least underperformance. The stock has been weak since a stock offering on May 14, and we see MPC outperforming HME.
Additionally, we like Baidu. The company was downgraded in PT from GS, but they also were announced as the Chinese search engine for Apple (NASDAQ:AAPL) iPhones. Those phones are going to be gigantic growth places for both companies, and we like the company's current weakness as a place to initiate a position.
Trade #1: MPC Long, HME Short
Trade #2: BIDU, Dec22 '12, 100/90 Bull Put Spread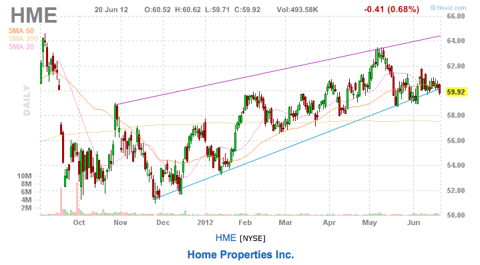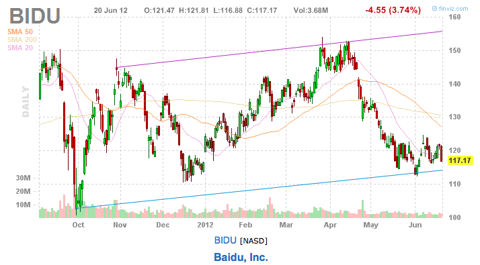 Tomorrow's Outlook
After quite a intense few days, the market may slow down here a bit for the next couple weeks as we get into earnings season. We are expecting a pretty flat move for the rest of the month with some potential upside on window dressing and European moves. As for tomorrow, some downside follow through may be expected on Operation Twist "sell the news," but we do have a bit on the docket that could also come into play. The eurozone will be releasing some manufacturing data that will be important as well as the euro reaction to Fed news. That move will play into Spanish bond yields, which need to stay low. We also get Great Britain retail sales and jobless claims here at home. Perhaps the most important indicators, though, will be the eurozone consumer confidence number as well as existing home sales and Philly Fed number here at home. Look for a more flat move tomorrow with pushing up or down given the success or failure of these data points. We have interesting earnings tonight from Bed Bath Beyond (NASDAQ:BBBY), Micron (NASDAQ:MU), Redhat (NYSE:RHT) and Sonic (NASDAQ:SONC) as well as CarMax (NYSE:KMX) and Conagra (NYSE:CAG) tomorrow to give us insight into consumer discretionaries, semiconductors, application software, automotive and consumer staples.
Our Moves
We had another solid day in the market as we were able to exit a couple positions from our Short-Term Equity Portfolio. We got out of a pair trade in Netsuite (NYSE:N) and Rockwell Collins (NYSE:COL) for 4% gain, and we sold half of our Skyworks (NASDAQ:SWKS) long trade for 1.2%. We added the above pair in MPC and HME as well as opened a bull put spread in Starwood (HOT).
We have the following positions. In our Short-Term Equity Portfolio we are long Home Depot (NYSE:HD), Apple, Skyworks and MPC. We are short Advance Auto (NYSE:AAP), SPDR S&P (NYSEARCA:SPY) and Home Properties. In our Options Portfolio, we are long HOT, Dollar General (NYSE:DG), Monster Beverage (NASDAQ:MNST) and AutoZone (NYSE:AZO). We are short Aflac (NYSE:AFL). We have a reverse iron condor on Apple. In our Earnings Alpha portfolio, we are long Intuitive Surgical (NASDAQ:ISRG), Marriott (NYSE:MAR) and Lennar (NYSE:LEN). We are short Constellation Brands (NYSE:STZ), Schlumberger (NYSE:SLB) and Walgreen (WAG). We have a reverse iron butterfly in Decker's Outdoor (NASDAQ:DECK).
Chart courtesy of finviz.com.
Disclosure: I am long PNRA.