Trying for a repeat performance of 2011, Cabot Oil & Gas (NYSE:COG) just might be able to pull it off. The company, with 90% of its production being dry gas, is one of those oil and gas businesses that stand to gain substantially when the price of natural gas begins to rise again.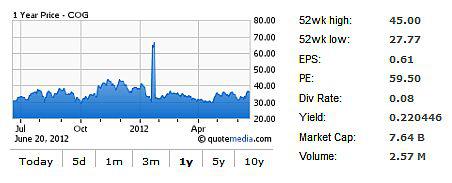 Some of Cabot's competitor's like Comstock Resources (NYSE:CRK), Chesapeake Energy (NYSE:CHK), Petroleum Development (PETD), and Anadarko (NYSE:APC) quickly got into diversification when the price of natural gas took a dive, but Cabot has stayed strong and true to its natural gas plays and is profiting from them. The company's primary areas of focus for operation are Appalachia, east and south Texas, and Oklahoma. In other words, Cabot keeps close to home focusing on one product, and doing it the right way. That is why I believe this company to be a winner for inclusion into any investor's oil and gas segment of investments.
In its Marcellus Shale play in Susquehanna County, Pennsylvania, the company is going strong and anticipates increasing its liquids productions there. The cost per well in this region is expected to be $6 million. In 2011, the company's fourth consecutive year there, the company drilled 64.7 net wells while completing 904 frack stages (In 2010, the company completed 529 stages). Last year, 12 wells were brought online with initial 24-hour production rates of over 20 MMcfgd.
The company has been successful at increasing production in this play ever year. At the end of 2010, the company had gas production of 236 MMcfgd, and by year-end 2011 this increased to 600 MMcfgd. In late March of this year, the company had a minor set-back when a fire broke out at the Lathrop Compressor Station. Things are finally back up to normal, bringing relief and joy to company President and CEO Dan O. Dinges as reflected in a recent statement:
We are extremely pleased with this news and our ability to return to previous production levels in less than one week. We commend Williams and all of their personnel for the monumental effort to resolve this matter in a prudent and expeditious manner. We estimate that this disruption deferred only about 1 Bcf of natural gas production in total, clearly a minor impact to the year.
This shale play is turning out to be a great one for Cabot. The company reports that production from its Marcellus Shale properties had reached a new record of 606 million cubic feet per day in a twenty four hour period and that production averaged 600 million cubic feet per day during the final two days of 2011. Additionally, the company's production exit rate for 2011 was 154% above the 2010 production exit rate of 236 million cubic feet per day and that total compression capacity has now reached 650 million cubic feet per day.
Overcoming all obstacles that interfere with the exploration and production of natural gas is a trademark of Cabot. Take, for example, the hoopla around fracking. The process of fracking has been very controversial with protests and government studies threatening to end, or at least change the way companies go about using this method for finding oil and gas. Some claims include that fracking contributes to air pollution and that the procedure of fracking can cause earthquakes. It has even gone so far as to cause some to call for a compete ban on the use of fracking, claiming that the process leads to the contamination of water supplies.
Following its normal path of finding solutions, Cabot is one of the few companies out there that is addressing the problems of fracking. The company, working with Comtech Industries, has found a way to recycle 100% of the water that comes back to the surface during the fracking process. Typically, when a well is fracked, it has an initial flow-back period of 15% to 25% of water and increases over time as the well continues to produce water. Cabot captures that water and recycles it using a semi-permanent recycling station where it is put through a process of both chemically treating and clarification so the water can be sent out and reused on the next fracking process. So far, the station has recycled about 900,000 barrels of water for reuse.
Cabot is strong financially and ready to take on new plays for extended growth. The company has a $7.6 billion market cap. Year on year, Cabot grew revenues 13.53% from $863.10 million to $979.86 million, while net income improved 18.40% from $103.39 million to $122.41 million. The company is wise with its cash too. In 2011, cash reserves at the company fell by $26.04 million, but the company earned $501.84 million from its operations for a Cash Flow Margin of 51.22%. Additionally, the company used $487.62 million on investing activities and also paid $40.26 million in financing cash flows. In 2011, the company produced 187.5 billion cubic feet of natural gas equivalent, or 513.7 million cubic feet of natural gas equivalent per day. Its proved reserves totaled approximately 3,033 billion cubic feet of natural gas equivalent at December 31, 2011.
The company is no slouch in its efforts to bring gas to market. During 2011, Cabot drilled 161 gross wells and continues with the drilling for both oil and gas with new wells already online in South Texas Eagle Ford (30) and six in its Marmaton play. The company continues with its aggressive efforts using funds gained from sales of assets and cash on hand. In October 2011, the company sold certain proved oil and gas properties located in Colorado, Utah and Wyoming to Breitburn Energy Partners, L.P., and in May 2011, it sold certain of its unproved Haynesville and Bossier Shale oil and gas properties in east Texas to a third party.
With its continual drive to bring oil and gas to market, Cabot is set to profit handsomely now and in the long run, especially when natural gas prices rise. To own this company is simply smart investing.
Disclosure: I have no positions in any stocks mentioned, and no plans to initiate any positions within the next 72 hours.