Bed Bath & Beyond Inc. (NASDAQ:BBBY) reported a strong bottom line number for the 1st quarter earnings $0.89 per share, beating estimates by $0.04. This compares to EPS of $0.72 a year ago, and is the 15th consecutive quarter earnings have beat expectations. The stock pulled back 1.1% in trading today after reaching an all time high of $75.84 on Tuesday, June 19th and is adding to today's losses falling over 10% in after hours trading. Net sales on the quarter rose 5.1% to $2.22 below estimates for sales of $2.25 billion. And the biggest disappointment came from the company's guidance for 2nd quarter EPS of $0.97 to $1.03 when the street was looking for $1.08 in Q2. The company also gave full year earnings guidance for a gain over last year in the high single to low double digits, when analysts had been forecasting an increase of over 14%.
The company has entered into an agreement to acquire all outstanding shares of Cost Plus, Inc. (NASDAQ:CPWM) and expected to complete a tender offer in the 2nd quarter. The company believes this acquisition of Cost Plus will negatively affect earnings by a few cents per share in the 2nd quarter, and will be slightly accretive in the back half of the year, but would not change the company's full year guidance. On June 1st the company also announced the acquisition of Linen Holdings LLC but does not believe that acquisition will materially impact earnings during fiscal year 2012.
The concern with this company is that Amazon.com (NASDAQ:AMZN) has stepped up its offering in the home furnishing category with the launch of Casa.com earlier this year. With pressure on Bed Bath & Beyond's gross margins being cited as a result of increased competition from Amazon. With that said I believe the acquisition of Cost Plus helps the company take away some completive pressures. It also always Bed Bath & Beyond to offer more food and beverage products as it brings some of Cost Plus's offering to existing stores. These products are less likely to be bought on Amazon.com. Bed Bath & beyond appears to be a better position to defend themselves from Amazon than bookstores and consumer electronics retailers were a few years back.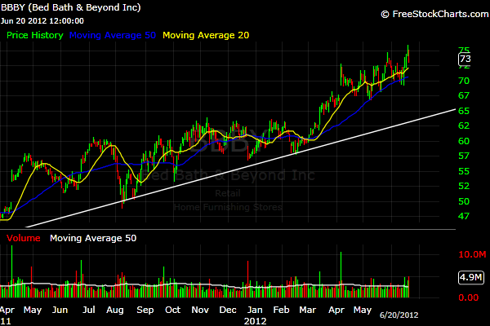 Click to enlarge
The company has been in a strong uptrend for some time now, and starting in mid February began to accelerate this uptrend. Today's after hour's fall down to $65.75 has moved the price closer to in line with the longer term uptrend. I believe the company will hold this uptrend, and in turn this leaves me bullish on the stock at these levels.
One way to play Bed Bath & Beyond would be using options. Given that support should come into play around $65 per share, I would look to write the January 65 strike. This trade would make a maximum profit if BBBY is above $65 per share on January 18th, 2013.
Disclosure: I have no positions in any stocks mentioned, and no plans to initiate any positions within the next 72 hours.