Range Resources Corp. (NYSE:RRC) is an excellent equity to purchase for the continuing rebound in natural gas prices. Range has a 58% corporate revenue share from natural gas production. The company has a focused management team. Natural gas and oil remain the key energy sources in the U.S. The equity has delivered a 2,220% return since December 1992. The management team has a clear vision to continue to create shareholder value.
The current valuation provides a compelling opportunity today to buy Range Resources when natural gas prices are only starting to move higher.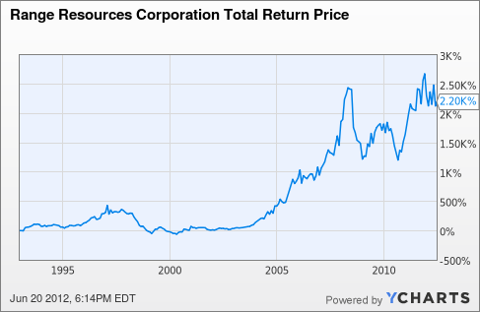 Click to enlarge
RRC Total Return Price data by YCharts
Range Resources Corp. is a Texas based company that focuses on natural gas and oil exploration and production in unconventional shale, coal bed methane and tight gas sand reservoirs in the US. It operates in four areas: Midcontinent (Oklahoma and Texas panhandle), Marcellus (Maryland, Ohio, Pennsylvania, West Virginia), Southern Appalachia (Kentucky, Virginia, West Virginia) and the Southwest (New Mexico and Texas).
In 2011, the company saw a 14% increase in proved reserves to 5.1 trillion cubic feet equivalent (Tcfe) a 12% gain in production that marked nine sequential years of production growth averaging 17% annually since 2003. As of January 2012, Range had between 44 and 60 Tcfe of unproven reserves, roughly ten times its proved reserves, and planned to increase production by about 30 - 35% over 2011. Given its deep inventory and large reserves, Range expects double digit growth in production for several years ahead which should help it grow revenue even if oil and gas prices drop.
Business Strategy: Range grows its reserves organically and through selective acquisitions. Range's bottom line strategy is to grow its operations at the lowest cost through high quality - low cost wells, and to steadily expand reserves to deliver shareholder value. Due to varying oil and natural gas prices, Range hedges its positions, primarily through collars and swaps, to reduce earnings volatility and maintain predictable cash flow. This does not, however, always add to earnings.
Range shifts its production focus yearly based on oil and natural gas prices. For example, with high oil prices and low natural gas prices in 2012, Range plans to increase production in its liquids rich regions such as the Marcellus Shale and the Mississippian mid continent areas.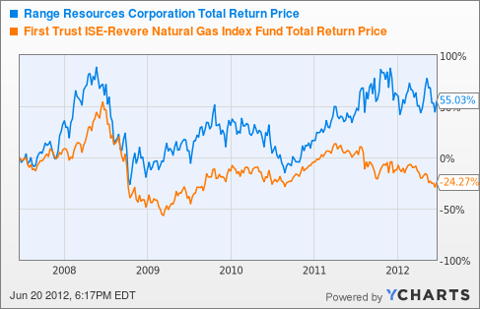 Click to enlarge
RRC Total Return Price data by YCharts
Financials: Range's financial results depend significantly on energy prices which can be fairly volatile. For example, natural gas prices dropped from $4.12 per mcf in Q1 2011 to $2.77 in Q1 2012, down 33% in a year.
Natural gas contributed 58% to revenue from product sales, followed by NGLs at 24% and oil contributing 17%. Revenue increased in each segment (including natural gas despite the 33% drop in average prices) because higher production offset price declines. Production was up 56% for natural gas, 38% for NGLs and 39% for crude oil.
(click to enlarge)

Click to enlargeDuring Q1 2012, overall production was up 52% but lower prices put a lid on revenue growth which was up 26% but was offset by losses in derivatives and asset sales. Net revenue was up 16% to $246.9 million. In parallel, total costs and expenses grew 19% to $316.5 million despite a 33% reduction in direct operating expenses per mcfe.
(click to enlarge)

Click to enlarge
For the quarter, Range reported a net loss of $41.8 million, a 67% deeper loss than Q1 2011. Loss per diluted share grew from 16 cents to 26 cents, yet Range maintained its 4 cents dividend payout per share.
In Q1 2012, Range issued $600 million of 10 year notes and had a debt to capitalization ratio of 49%. As a result, cash holdings increased to $122.9 million, total assets grew 7% to $6.3 billion, notes outstanding increased 34% to $2.4 billion and shareholders' equity remained virtually unchanged at $2.4 billion.
(click to enlarge)

Click to enlarge
In the quarter, cash from operations was up 11% relative to Q1 2011, to $156 million due to higher production and revenues. Investing activities saw a 63% increased use of funds for additional property and acreage purchases. Financing activities benefited from the $600 million in notes issued. As a result, overall cash was up $122.8 million for an ending cash balance of $122.9 million.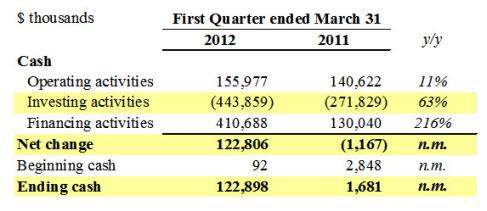 Range allocates its quarterly capital budget primarily to drilling activities (80%) and residually to acquiring new acreage (15%) and to developing its pipeline and facilities infrastructure (5%). It funds its capital spending with a combination of cash flow, debt and proceeds from asset sales.
Range has a strong financial base with liquidity of approximately $1.3 billion held as debt and subordinated notes (with earliest maturity in 2016) and common stock. Range also has bank credit facilities totaling $2 billion spread over 29 banks.
Shares: As of June 20, 2012, Range shares were trading in the $59.33 range, in the middle of their 52 week band of $51.26 - $77.24. Range has a market capitalization of $9 billion, almost four times its book value.
Summary: I believe Range is a great value at current valuations. Natural gas should continue to rebound with a hot summer. The stock has provided investors with phenomenal returns.
Management is focused upon per share growth of production and reserves at a low cost basis. Range's 2012 organic growth rate should be 30% versus a historical 10% growth rate. Management keeps a simple and understandable financial capital structure. Range controls top tier assets throughout the premiere oil and natural gas fields. Buy this stock and hold on for continued success.
Disclosure: I am long Range Resources via a synthetic covered call position.
Disclosure: I am long RRC.