Recently I read an excellent Wall Street Journal article by Jack Hough called The Case for 'Wide Moat' Stocks and in the article the author wrote:
When investors talk about a 'wide moat' company, they mean one able to defend its profits from marauding competitors.
As Hough explained, "Moat-based investing isn't new. Warren Buffett has used the term 20 times since 1986 to describe his investment process in annual letters to Berkshire Hathaway shareholders". Clearly the moat-based model is considered a cornerstone of differentiation and Warren Buffett uses the moat theory to determine whether a company is a desirable long-term investment prospect.
A Modern Day Real Estate Fortress
In medieval times most castles were protected by large moats that would defend enemies from attacking the nobles and servants. These large fortresses (fortis - derived from Latin for smart) and moats were designed to withstand significant attackers from outside forces. The larger moats could enhance the defensive strategies and allow the royal families to remain competitive in battle.
Today the more common fortresses are called real estate investment trusts (REITs). These solid fixed-income alternatives are designed to protect revenue streams (aka dividends) in good times or bad. Accordingly, the REITs with the largest economic moats have provided a more defensive component that defines the REIT's competitive positioning and protects from its closest rivals.
REITs with wide economic moats have a better chance of long-term survival and they also help to protect revenue streams, profitability, and market share. So in theory, a larger economic moat is likely to be a steady and sustainable business model characterized by an extraordinarily high survival rate.
The Fortress REITs with Wide Moats
As we learned from the great recession, the REITs with wider moats performed much better and they were in a better position to defend against highly competitive forces. By protecting these differentiated revenue streams, the more durable REITs have been able to defend against loss and most importantly, grow the ever important reward - we call durable dividends.
By measuring a REIT's dividend-paying history and future dividend growth capacity (utilizing AFFO), an investor is able to determine which REITs (fortresses) build their strategies on the strongest sources of differentiation. Accordingly, the REITs with the sharpest degree of differentiation have become leaders and, in the words of fellow Seeking Alpha, David Fish, "Dividend Champions".
According to NAREIT, there are 125 equity REITs with a combined market capitalization of $468 billion (as of May 31, 2012) and the average dividend yield for the combined equity REIT industry is 3.45 percent. During the last recession, there were just twelve REITs (one is technically not a REIT) that survived - not only maintaining their dividend payout, but also by increasing it. The following twelve (*) REITs have provided over ten (10) years of repeatable differentiation by paying consistent and increased dividends:
Federal Realty (NYSE:FRT), Washington REIT (NYSE:WRE), HCP Inc. (NYSE:HCP), Universal Health Realty (NYSE:UHT), National Retail Properties (NYSE:NNN), Tanger Factory Outlets (NYSE:SKT), Essex Property Trust (NYSE:ESS), Realty Income (NYSE:O), Urstadt Biddle (NYSE:UBA), W.P. Carey (NYSE:WPC), Omega Healthcare Investors (NYSE:OHI), and National Health Investors (NYSE:NHI).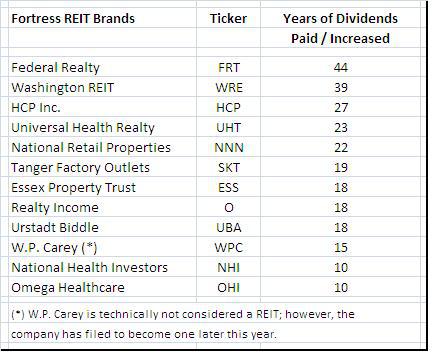 Predictable and reliable revenue is important to wide-moat investment strategies and several REITs were able to provide risk-aligned defense by simply maintaining their dividend yields. These REITs include Taubman Centers (NYSE:TCO) and Monmouth REIT (NYSE:MNR).
Several Fortress REITs to Watch
In addition to the above-mentioned dividend fortresses, several REITs have been growing their wide moat brands by creating sharper differentiation. In the case of Kimco Realty (NYSE:KIM), the largest shopping center REIT has enhanced its highly diverse platform by investing outside of the US in markets with a well-balanced portfolio of around 930 properties in the U.S., Canada, Mexico, Puerto Rico and Latin America. Likewise, Regency Centers (NYSE:REG) - the largest grocery-anchored REIT, continues to power its necessity-driven platform by maintaining and growing its strong occupancy and income fundamentals.
Some of the newly listed REITs like Healthcare Trust of America (NYSE:HTA) and American Realty Capital Trust (NASDAQ:ARCT) have built strong fortress-like foundations around exceptionally high-quality income. These previously operated non-traded REITs offer investors more narrow dividend histories with the promise that the moats will grow wider in time.
Protect Your Fortress Portfolio with Wide Moat REITs
By investing in real estate, an investor is certain to benefit from income and growth. By investing in REITs, an investor is able to leverage these fundamentals by enhanced transparency and liquidity. Further, by investing in wide moat REITs, an investor is able to build a fortress (Latin: smart) like portfolio capable of standing strong - even when risk meet adversity.
By owning REITs with predictable and reliable income fundamentals, an investor is certain to control portfolio risk while building a powerful source of sustainability. This rock-solid investment approach is best explained by the intelligent investor, Ben Graham:
The defensive investor must confine himself to the shares of important companies with a long record of profitable operations and in strong financial condition.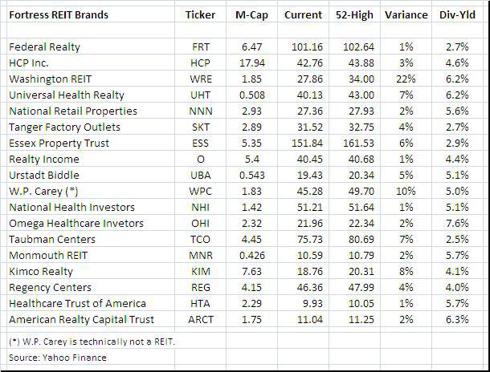 Click to enlarge
(*) W.P. Carey is technically not considered a REIT and the company has announced plans to merge its Corporate Property Associates 15 Inc. (CPA®: 15) non-traded REIT into W. P. Carey & Co., LLC. Upon merging of these two entities, the merged company will become a publicly-listed REIT. See details of my article on W.P. Carey here.
Disclosure: I have no positions in any stocks mentioned, and no plans to initiate any positions within the next 72 hours.