Gulf Resources (NASDAQ:GURE) is a leading provider of chemical products in the People's Republic of China. The company operates through its two wholly-owned subsidiaries; Shouguang City Haoyuan Chemical, which primarily produces and distributes bromine and crude salt, and Shouguang Yuxin Chemical Industry, which focuses on manufacturing and selling chemical products.
Elemental bromine is used to manufacture a wide range of compounds utilized in manufacturing industries and in agriculture. The company's chemical products are currently utilized in a variety of applications, including oil & gas field exploration, papermaking chemical agents, wastewater treatment chemicals, and inorganic chemicals, such as industrial refrigeration chemicals. The company has also developed proprietary pharmaceutical intermediary products that await commercialization.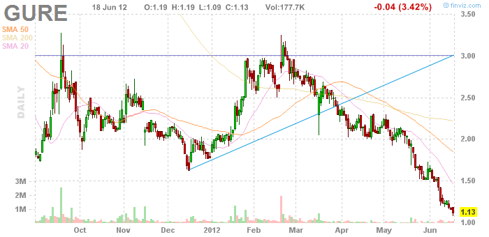 I see at least 3 reasons to buy the stock currently:
1. The stock is trading below net cash
The company has $81.9 million in cash and no debt. The company has 34.6 million shares outstanding which creates net cash of $2.37 per share. The company had positive cash flow from operating activities of $3.3 million for the first quarter.
2. The company's outlook is still positive
Based on the current business outlook, the company estimates that bromine prices, a factor with a large impact on the company's operating performance, will fluctuate between a range of RMB23,150 ($3639) per tonne and RMB30,000 ($4716) per tonne in fiscal year 2012.
Given anticipated bromine price levels, the company forecasts total revenue to range between $114.7 million and $147.3 million, and net income to range between $16.8 million and $30.5 million in fiscal year 2012.
The above forecast does not take into account the potential effect on net income resulting from expenses that may arise from potential drilling expenditures in 2012 for further testing and exploration of underground bromine water resources in Daying County, Sichuan Province.
Although we expect bromine prices to stay relatively constant and stable in fiscal year 2012 due to the continued slowdown of the economy in China, we believe the strategy of exploring more brine water resources and obtaining bromine assets through acquisitions will enable us to achieve long term growth in the future.
said Mr. Xiaobin Liu, CEO of Gulf Resources.
We have sufficient cash flow for our operating activities and will continue to look for attractive acquisition targets.
3. Demand for bromine continues to outpace supply in China
Bromine and crude salt are essential for several industries and are used to manufacture flame retardants, pharmaceuticals, pesticides, water purification compounds, dyes, sanitizers, inorganic bromides for photography and other products.
Bromine is also widely used in chemicals for oil and gas exploration, such as drilling fluids, and in 2007 Freedonia consulting estimated the market for oil field chemicals to reach $14 billion in 2010.
China is now the world's third largest bromine producer after the United States and Israel. The production of bromine is currently over 150,000 metric tons/year in China, but demand for bromine continues to outpace supply. Global bromine sales are approximately $2 billion with more than $300 million originating from China.
While the international market is large and steadily expanding, the main growth potential for bromine products is in China. China will soon become the largest papermaking country in the world, and the country's strong demand for oil and gas is expected to boost the domestic oil exploration industry, driving demand for bromine products. In addition, the demand for flame retardants for the textile, electronics, furniture, and toy industries offers significant growth opportunities for bromine manufacturers in China. In 1999 China produced only 2.5 tons of brominated fire retardants, while the output has increased to 80 tons by 2006. China's bromine production is currently only able to satisfy 80% of domestic bromine consumption.
This translates to excellent opportunities for the company as one of the country's largest bromine producers. In addition, the company continues to aggressively market its specialty chemical products, while introducing new proprietary compounds for customers in the papermaking, oil and gas exploration, agricultural, and pharmaceutical industries.
Competition
Chemtura Corporation (NYSE:CHMT) is one international competitor to Gulf Resources. Chemtura is one of the three largest developers and manufacturers of bromine and bromine-based products (Great Lakes Solutions). Chemtura currently trades at P/E 10 while Gulf Resources has a P/E of 2.
I could not find other publicly traded bromine manufacturers.
Conclusion
I will be following the bromine prices with this link. The company's business outlook is valid if the bromine prices were to fluctuate between a range of RMB 23,150 ($3639) per tonne and RMB 30,000 ($4716) per tonne in fiscal year 2012. The current bromine price is RMB 20,000 ($3144) per tonne. There is a risk that the company lowers its guidance if the bromine prices were to stay at these low levels for several months.
Disclosure: I am long GURE.