Procter & Gamble (NYSE:PG) is a consumer goods company, the kind of company investors look to for real (inflation adjusted) growth and a decent dividend. A closer look, however, reveals the dirty laundry: the stock has been dead money for five years and growth just isn't happening.
(click to enlarge)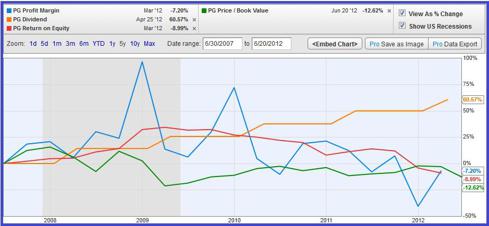 Click to enlargeCourtesy YCharts
Over the last five years, the company has seen its return on equity shrink, its profit margin shrink and its price/book value flatline. At times like this, investors should be thankful that inflation hasn't been strong.
The key stats for the company: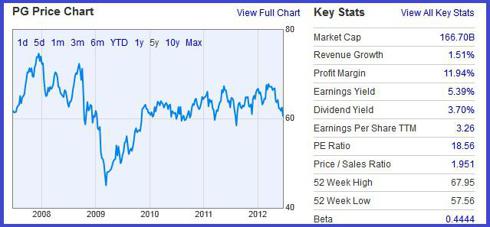 Click to enlarge
Courtesy: YCharts
The company has underperformed versus peers such as Colgate-Palmolive (NYSE:CL), Kimberly-Clark (NYSE:KMB), Johnson & Johnson (NYSE:JNJ) while outperforming Energizer Holdings (NYSE:ENR):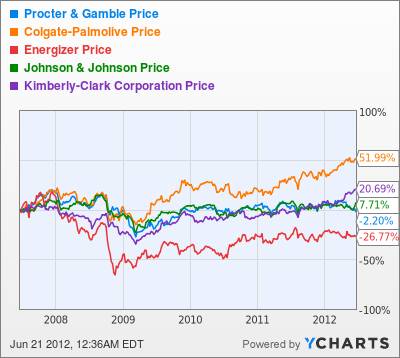 Then Wednesday, the company guided lower while presenting at the Deutsche Bank Global Consumer Conference in Paris, France.
April - June 2012 Quarter Guidance

For the April - June quarter, organic sales growth is now expected to be in the range of two to three percent, compared to a prior range of four to five percent. Foreign exchange is now expected to reduce net sales by four percent. Net sales are expected to be in the range of down two to down one percent compared to a prior range of an increase of one to two percent. Core earnings per share are now expected to be in the range of $0.75 to $0.79 per share, compared to a prior range of $0.79 to $0.85. All-in diluted net earnings per share, which includes a gain of $0.47 to $0.50 on the sale of the Snacks business, are expected to be in the range of $1.17 to $1.26 per share, compared to a prior range of $1.21 to $1.32. Versus prior guidance, the revisions to the Company's fourth quarter outlook are primarily driven by slower than anticipated top-line growth from slower than expected market growth rates and market share softness in developed regions and negative impacts from foreign exchange rate changes.
So basically, the stock has value as a dividend paying company. Or does it?
PG Dividend Yield data by YCharts
On an earnings per share approach, P&G is not head and shoulders above the crowd as it has not shown a gain over the last five years: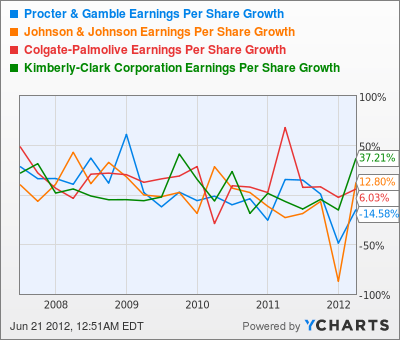 PG Earnings Per Share Growth data by YCharts
Return on equity has not pampered investors either: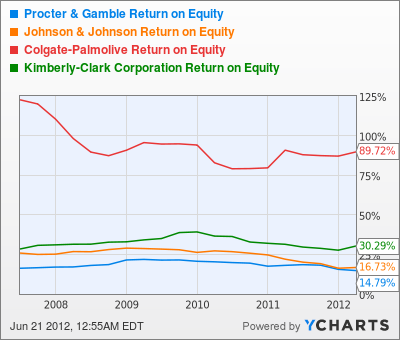 PG Return on Equity data by YCharts
Bottom Line: Investors in Procter & Gamble should consider buying into a company in the same sector with better growth prospects. The trade can be done sector neutral, growth positive and with a marginal dividend yield pick up. In the sector, my top pick for income and growth is Johnson & Johnson.
Disclosure: I have no positions in any stocks mentioned, and no plans to initiate any positions within the next 72 hours.