The financing deal announced by China North East Petroleum (CNEH.OB) on March 3rd is much better than I anticipated in my January 31st article.
The main financing details are:
$15m loan to be repaid over 4 years, of which only $5.25m is payable in the first 2 years and the balance $9.75 repayable in years 3 and 4. Interest at 8% payable quarterly throughout.
4.8m warrants to the lender at an average price of $2.51, being 1.2m at $0.01, 1.5m at $3.20 and 2.1m at $3.45.

480k warrants to the financial consultants on similar terms; 1.2k at $0.01, 1.5k at $3.20 and 2.1k at $3.45.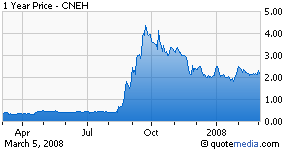 In total, CNEH receives cash of $28.25 million from the loan and the warrants, $15m from the loan and $13.25m being generated by the 5.28m warrants.
Uses of Cash
$10m are to be used to drill 100 new wells in 2008. The balance, $18.25m, is to be used for acquiring additional oil acreage and for general needs.
P&L Effect
1. CNEH will drill 30 more wells in 2008 than originally anticipated and, with its internal cash-flows now free from constraints, the company can drill more well again in 2009 than had originally been anticipated.
2. Higher P&L interest charge than anticipated for years 2008-2010.
3. Assume 1.32m warrants lead to immediate share dilution in Q1'08 with the balance, 3.96m, occurring in Q1'09
4. Overall, EPS for 2008 and 2009 are higher than previously estimated.
Balance Sheet
Even with the increased drilling activity in 2008 and in 2009, the company still ends 2009 in a much stronger cash position, i.e. a cash balance of about $20 million.
Acquisitions
By early 2009, CNEH will have approximately $20 million cash available for oil acreage acquisitions and other needs beyond its already known drilling program. Based on recent acreage transactions in the Jilin region, CNEH ought to be able to acquire additional extractable oil reserves at well under $1.00 per barrel, perhaps in the $0.60-0.80/bbl price range. And, assuming CNEH shares are trading in the region of $10 at that time, the company will in a position to issue as little as 2 million new shares in order to raise a further $20 cash, bringing its total war-chest to $40 million. At that juncture, CNEH can, at a stroke, double the size of its business.
Other Points
CNEH is committed to obtaining a full market quote before February 27, 2009. This, again, is sooner than had been anticipated.
In the above remarks, I maintain the original oil price assumptions; 2008 $85/bbl, 2009 $95/bbl and 2010 $100/bbl. So far in 2008, oil has been trading well above the 2008 $85/bbl assumed price, but for the sake of conservatism, no changes are yet being made.
Following the release of Q4'07 results, I will undertake a complete redo of the P&L and Balance Sheet forecasts for the benefits of additional clarity and understanding.
Summary
This financing deal is a form-changing event. Not only will EPS for 2008 and 2009 be enhanced, but the company will have about $20 million available cash in 2009 for acquisitions that will accelerate Sales, Profits and EPS in subsequent years. It is an exceptional financing deal, one that significantly enhances what had already been a very compelling investment.
Disclosure: Author has a long position in CNEH.OB