As if shares of embattled French oil and gas major Total (NYSE:TOT) didn't have enough problems with Europe teetering on the edge of a fiscal cliff the price of Brent crude fell to its lowest level since the 2010 holiday season early Thursday. Global economic headwinds have beaten back demand in the past several months and many commodities have gotten slammed. Things may get much worse.
Europe's economy is held together by dubious and vague promises made by parties that cannot be accountable for them. Greece remains a petulant powder keg and by some measures Spain is in a full-on depression. Leadership has been comically/nightmarishly absent in Europe and it is hard to believe that will change because of these election results in Greece:
Final results presented to President Karolos Papoulias gave New Democracy 29.66 percent, followed by the Syriza radical left coalition at 26.89 percent. The extreme far-right Golden Dawn party, whose members have been linked with violent attacks on African and Asian immigrants, came fifth with 6.92 percent; it won 18 seats -- down from the 21 it collected on May 6.
THAT is the rescue plan? Make a deal with 29.66% of Greeks!? The 70.34% of the electorate that is not on board can be described as "radical left," "extreme far-right," and "violent." That will go well.
On the other hand maybe a lot of the bad news might be priced in already. Total has never recovered from the 2008 crash and has gotten battered lately on the down-turning economic data: (Source: Google Finance)

Click to enlarge
Total has been sold off so much that its dividend yield is almost 7%. Situations like that often end in either a dividend cut or a correction - to the upside - in the stock price. And maybe Europe will get it together after all and announce a massive stimulus plan to get their economic juggernaut going. If that happened Total would surge for sure. Right now there is blood in the streets and we might kick ourselves for having a chance to get a great energy company like this ridiculously cheap - and passing.
Straddling the Fence
What do we do in a case like this? We can see the bull case and the bear case so clearly that if Total moves way up or way down we will be kicking ourselves for not capitalizing. What do we do? Simple: nothing. Don't go long on a stock you think might tank and don't go short on a stock you think might surge. Simple distillation: don't be an idiot.
However, there is a risky way, using options, to play the volatility we think will befall Total using what is called a straddle. A straddle involves buying both a call option and a put option on a stock at the same strike price, then if the stock moves big one way or the other one of the options will be worthless, but the other can give you a big leveraged gain.
Again, we are not recommending this trade, check out the American $33,000 Portfilio for trades we like, instead we want to run a simulation so that we can see what would have happened if we placed this straddle trade, and maybe we can learn a thing or two along the way.
The Sound of a Man Working on an Options Chain
Let's check out TOT's options chain, a list of the puts and calls available for TOT. (Source ETrade)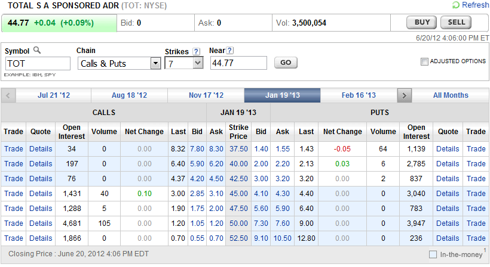 Click to enlarge
A call option is the right but not the obligation to buy a share of stock at an agreed upon price until an agreed upon date. A put option is the right but not the obligation to sell a share of stock at an agreed upon price until an agreed upon date. The agreed upon price is the "strike" and the date that the rights end is the "expiration." Options like this also trade in lots of 100. So each call and put costs 100 times its listed price and confers rights on 100 shares. Total last traded at $44.77, so if we want to bet on volatility we can pick the $45 strike price and profit from a big move up or down from there.
Total's Jan 19 2013 $45 call has an asking price of $3.10 and the same put has an ask for $4.30. So our entire outlay for this trade will be $740 (($3.10 X 100) + ($4.30 X 100)) and that is the maximum we can lose on this trade. So if by Jan 19 2013 TOT falls to $30 our call will be worthless, but our put will have an intrinsic value of $1,500 ($4,500 - $3,000). If TOT surges to $60 our put will be worthless, but our call will again be worth $1,500 ($6,000 - $4,500). However, if TOT does not move much at all and ends up at say $50, we will have a loss, in this case our put is worth $0 and our call $500, a $240 loss ($740 - $500). To get our original $740 back in intrinsic value TOT will have to move to greater than $52.40 ($5,240 - $4,500) or less than $37.60 ($4,500 - $3,760).
Conclusion
A straddle is a way to make a bet on volatility in a stock, going both long and short with the leverage of options. Whether the stock moves up or down is not important to the straddle-holder, instead it is how big a move the stock makes that counts. We will name this trade the "Euro-Straddle" and check back in with it to see how it performs over time and see what we can learn. Get moving Total, you don't have to go home, but you can't stay here.
Here are some energy stocks that, along with Total, are holding their breath for a global upturn: Arch Coal Inc (NYSE:ACI), Alpha Natural Resources, Inc. (NYSE:ANR), Apache Corporation (NYSE:APA), Baker Hughes Incorporated (NYSE:BHI), Peabody Energy Corporation (NYSE:BTU), Chesapeake Energy Corporation (NYSE:CHK), ConocoPhillips (NYSE:COP), Chevron Corporation (NYSE:CVX), Devon Energy Corporation (NYSE:DVN), Enbridge Energy Partners, L.P. (NYSE:EEP), EOG Resources, Inc. (NYSE:EOG), Halliburton Company (NYSE:HAL), Hess Corp. (NYSE:HES), Linn Energy, LLC (NASDAQ:LINE), Marathon Oil Corporation (NYSE:MRO), National-Oilwell Varco, Inc. (NYSE:NOV), Plains All American Pipeline, L.P. (NYSE:PAA), Petroleo Brasileiro SA (ADR) (NYSE:PBR), Penn West Petroleum Ltd (NYSE:USA) (NYSE:PWE), Royal Dutch Shell plc (ADR) (NYSE:RDS.A), Seadrill Ltd (NYSE:SDRL), Schlumberger Limited. (NYSE:SLB), Statoil ASA (ADR) (NYSE:STO), Suncor Energy Inc. (NYSE:SU), TOTAL S.A. (ADR) (NYSE:), Valero Energy Corporation (NYSE:VLO), Exxon Mobil Corporation (NYSE:XOM)
Disclosure: I am long ACI.