I wrote an article on Molycorp (MCP) on June 16th. Molycorp's market capitalisation is ten times more than that of Rare Element Resources' (NYSEMKT:REE), a company I look at today. Molycorp is already producing rare-earth elements, but Rare Element Resources won't start production before 2014.
Rare Element Resources is a publicly traded company having 100% interest in the Bear Lodge Property in Wyoming, USA, which contains one of the largest disseminated rare-earth element deposits in North America (US Geological Survey Professional Paper 1049D), as well as extensive gold occurrences.
The Bear Lodge Project has high-grade light REE (LREE) and significant quantities of heavy REEs (HREEs), favorable metallurgy, outstanding infrastructure, and it is located in one of the world's best mining jurisdictions, recently globally ranked fourth by the Fraser Institute.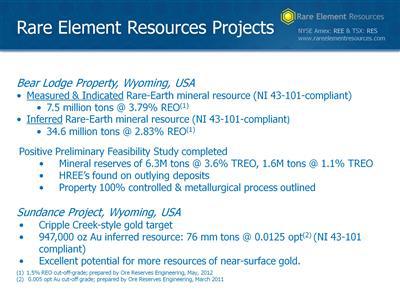 I see at least 3 reasons to buy Rare Element Resources currently:
1. Insiders have been buying shares at and above current share price during the last 12 months
George Byers is a 35-year mining and energy industry veteran with extensive executive experience in federal, state and local government relations. Mr. Byers is Vice President, Government and Community Relations in the company. Mr. Byers purchased 10,000 shares on May 23rd at $4.15 and holds a total of 70,000 shares.
Jaye Pickarts is a senior process engineer with more than 25 years of leadership in project management for project development, acquisitions, engineering design, permitting and reclamation, mine closure, water management, and process operations. Mr. Pickarts purchased 4,100 shares at $6.04 on March.
Mr. Schlauch has over 40 years of legal experience in the mining industry having recently retired as a partner of Holland & Hart, one of the leading law firms specializing in mining law in the United States. Mr. Schlauch purchased 5,000 shares at $5.33 on December 2011.
Mark T. Brown is the President of Pacific Opportunity Capital Ltd. headquartered in Vancouver B.C. Pacific Opportunity is a financial consulting and merchant banking firm active in venture capital markets in North America. Mr. Brown purchased 34,000 shares during 2011 directly and indirectly and controls 1.5 million shares.
2. Promising Pre-Feasibility Study at Bear Lodge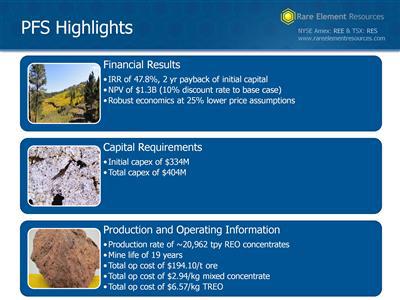 The company announced the PFS results on April 12th. The revised results of the PFS indicate that the Bear Lodge Project is technologically feasible with robust returns on invested capital.
Net Present Value at a 10% discount rate ("NPV-10") of $1,271M after state taxes, but before federal income taxes
Internal rate of return ("IRR") of 47.8% with 2-year payback of initial capital
Robust economics at the 25% lower price assumptions (NPV-10 of $790M )
Average annual production rate of 20,962 metric tonnes (23,111 tons) bulk mixed rare-earth carbonate concentrates containing 9,433 tonnes (10,400 tons) total rare earth oxide ("TREO")
Nineteen year mine life based on mineable mineral reserves of 5.7M tonnes at an average grade of 3.6% TREO
Average metallurgical recovery rate of 81.4%
Initial capital cost of $334M and life-of-mine ("LOM") capital of $404M
Average price of $17.36/kilogram ("kg") of concentrates based on 3-year trailing average "basket price" FOB China, 45% concentrate grade and 40% discount
Average annual operating cost of $61.8M and operating costs of $194/tonne mined and $2.94/kg of bulk mixed RE carbonate concentrate
Substantial upside potential to increase reserves and resources as exploration continues at Bull Hill, Whitetail Ridge, East Taylor and Carbon areas
Exploration potential exists in the district to delineate resources of heavy rare earth elements ("HREEs")
Definitive Feasibility Study is starting in the second quarter of 2012 with a mid-year 2013 planned completion date
3. Upcoming milestones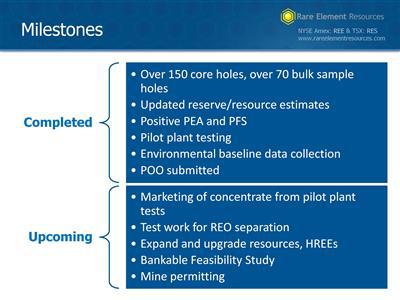 The company has sufficient cash on hand to conduct its current exploration and development plans through 2013. The company plans to continue to advance the Bear Lodge Project in Wyoming, USA, during 2012 and into 2013, including the following:
Additional resource definition drilling to expand and upgrade the resources at the Bull Hill, Whitetail Ridge, and Bull Hill NW deposits.
Exploration drilling at the Bull Hill West, Carbon REE, Taylor REE, and other prospective REE targets identified during the 2010 and 2011 exploration programs.
Geological mapping, geochemical sampling, and geophysical surveys over selected areas in order to better delineate current target areas and identify new targets for economic REE mineralization.
Collection of additional bulk sample mineralized material for continued pilot plant testing from a second large diameter core drilling program in select, well-mineralized areas, along with additional sampling of mineralized surface exposures in road cuts, trenches, and drill sites.
A condemnation drilling program to ensure that the proposed low-grade stockpile and waste facility will not cover ground that is prospective for REE and/or gold mineralization.
Environmental baseline and geotechnical studies for use in the environmental impact study ("EIS") and prefeasibility study.
Continued metallurgical testing of the oxide, the oxide-carbonate and the low-grade stockwork mineralized material for optimization of mineral concentration and chemical concentration processes.
Initial metallurgical testing of Heavy Rare Earth Elements ("HREEs") enriched oxide material at the Whitetail Ridge, Carbon REE and East Taylor REE deposits.
Perform market testing from product produced by the pilot plant.
Completion of a Definitive Feasibility Study, which is anticipated mid-year 2013.
Start of the formal National Environmental Policy Act EIS process in 2012.
Start of the formal Land Quality Division of the Wyoming Department of Environmental Quality permitting process in the second quarter of 2013.
Continue to add key personnel during 2012 to develop the corporate infrastructure to support the current project development and future planned production operation.
Conclusion
I believe the current share price presents a good entry point for new investors. I have taken a long position in the stock this week.
Click to enlarge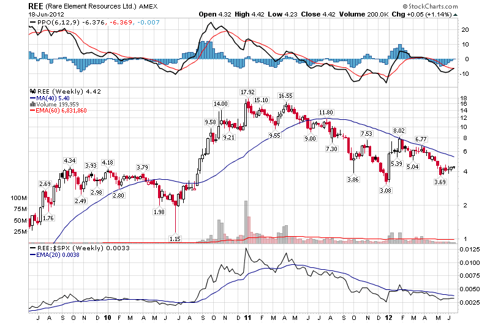 Disclosure: I am long REE, MCP.