Over the last few months, Sigma Designs (NASDAQ:SIGM) has seen it stock price fall by over 60% as the markets continue to crumble. A large part of SIGM's sharp decline can be attributed to the discretionary nature of the end products that utilize the company's chips. This argument does have merit, as consumer spending has been sharply impacted by the ongoing issues in the real estate and credit markets. However, does this justify such a dramatic contraction in valuation for this company? Not necessarily, as the fundamentals of the business remain strong and the future outlook is positive.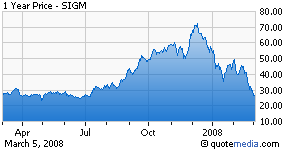 In the most recent quarter, SIGM reported earnings of 72 cents a share, up from the 11 cents in the year-ago period. The company also reported revenue of $66.2 million, which represented a 163% increase over the prior year. Both these figures substantially exceeded the street's expectations of 55 cents on $51.8 million. As a result, SIGM shares soared to $65.43, and reached a high of $72.17 less than two weeks later. Fast-forward three months, and we find the company's stock trading at $26.29.
Aside from broader economic concerns, has anything fundamentally changed with SIGM since the last report to validate such a sharp sell-off? Definitely not, and if anything, the outlook looks even rosier than three months ago. Up until now, there has been a battle between the two next generation DVD formats: HD-DVD and Blu-ray. Both formats offer fantastic quality compared to traditional DVDs. However, consumers have been left confused as to which type of disc player to purchase, as it was unclear which format would become the next standard in high definition DVD viewing. The last thing a consumer wants is to make an investment in a new technology only to find that it would be soon outdated or discontinued. Well that battle has come to an end as Toshiba (OTCPK:TOSBF), the primary backer for HD-DVD, recently announced that they will be withdrawing this format from the market. They attributed this decision to the vast majority of the entertainment industry siding with Blu-ray, which is backed by Sony (NYSE:SNE). As a result, it is official that Blu-ray will become the standard for the high definition DVD market.
This news is monumental for Sigma Designs as they currently have 50% market share for the chips that go inside Blu-ray disc players. Now that consumers have clarity as to the direction of the industry, they will be much less hesitant to purchase a Blu-ray player. We will see all entertainment content providers offer high definition DVDs using the Blu-ray format just as Warner Bros Entertainment already has. We will see new production by hardware manufacturers as they license the technology from Sony, because they too will want exposure to this higher margin sector of the DVD industry. All of these developments should have a dramatic positive impact on SIGM over the coming years and solidifies the future outlook for the company.
From a valuation perspective, SIGM is too inexpensive to overlook. The stock is trading at 19x trailing earnings and only 10x forward earnings. Given the company's impressive growth rate, and even more spectacular future outlook, it appears the company is trading at a deep discount. The company managed to nearly triple revenues from 2006 to 2007, during a time when it was unclear whether this technology would prevail over competing formats. Now, the company is expected to have 2008 revenues of $220 million, representing a 141% increase over the prior full year. This revenue projection appears too low, as the confirmed shift to Blu-ray should have a substantial impact on revenues in the coming quarters. Although consumers are not expected to go out and buy Blu-ray players immediately, we do know that they will NOT be buying HD-DVD compatible players. Once we see all the major entertainment studios jump onboard exclusively with the Blu-ray format, consumers will soon follow suit, and make this the standard in DVD viewing.
Sigma will report fourth quarter earnings on March 12. I do expect the company to easily beat current estimates of 83 cents on revenue of $75.5 million. But what investors will really be looking for is the company's guidance now that Blu-ray is victorious in the battle against HD-DVD. This may create some volatility for the stock in the immediate short term. However, investors will look back one year from now and realize how great of an investment this really was.
Disclosure: Author has a long position in SIGM