Shares of Microsoft (NASDAQ:MSFT) have declined over 11% since announcing the mammoth bid for Yahoo (NASDAQ:YHOO) five weeks ago. Investors don't like the fact the company will be spending $44B for a slow growing, margin compressing company that doesn't want to be acquired. Furthermore, investors know that an acquisition of this size will take months, even years to fully digest. Like a 30 foot anaconda after eating a 30 pound capybara, Microsoft will be slow moving and lethargic, allowing arch rival Google (NASDAQ:GOOG) to become even more dominant in all things online.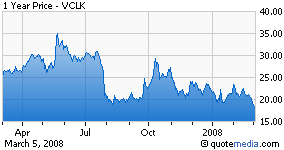 Microsoft would be much better served by buying ValueClick (VCLK) at a deep discount price of just $3B or $30 per share. The $3B price tag would reflect more than a 60% premium to the current ValueClick share price and would be welcomed with open arms by ValueClick management and board of directors. This price would be a significant bargain versus the $6B Microsoft paid for aQuantive last year and the $3B that Google has bid for DoubleClick.
At $30, ValueClick would be valued at just 4 times 2008 revenues, versus the 14 multiple Microsoft shelled out for aQuantive and the 10 multiple that Google has offered for DoubleClick. Best of all, ValueClick is profitable, with 2007 net income of over $71M and over $200M in cash on their balance sheet. The cash reduces the overall price tag to just $2.8B.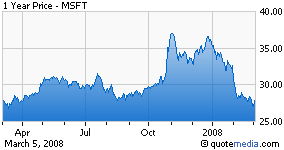 Mr. Ballmer, dropping the Yahoo bid and buying ValueClick would result in an immediate $20B gain in market cap for Microsoft, enable Microsoft to become a dominant player in the online advertising space and leave Microsoft with over $20B in cash. Cash that could be used to pursue other, more accretive acquisitions.
Author has a long position in shares of ValueClick.