The programmable logic device semiconductor companies Altera (NASDAQ:ALTR) and Xilinx (NASDAQ:XLNX) have declared the semiconductor correction is over. Yes, I know it's summer, the 'Greek Tragedy' is still going on and the Euro Zone may implode. But realistically, how long can you sit captive and watch the financial news?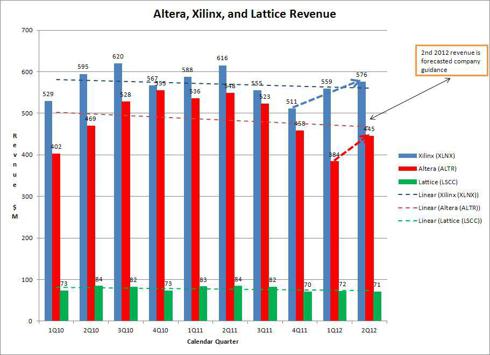 Click to enlarge
Lattice Semiconductor (NASDAQ:LSCC), a much smaller PLD semiconductor company did warn on 6/14. The company now sees Q2 revenue flat to down 3% sequentially; previous guidance was for revenue to be flat to up 4% sequentially. Although some will try and extend this to Altera and Xilinx it sounds like a rounding error to me...$72M in revenue in Q1 2012 to $71M in Q2 2012.
Altera
Altera reaffirmed its 2Q revenue guidance on June 7th. A solid 14% to 18% up in sequential revenue ending a 3 quarter slide in revenue.
In addition, it's time for Altera to make its annual dividend bump. The current dividend is not that large at $0.08/share (0.9% annual rate), but with a dividend to earnings payout ratio of only 15%, there is plenty of room for a dividend boost.
Forward P/E (Dec. 31, 2013) is 15.8, cash is $3.48B or $10.78/share with debt at $500M (Data from Capital IQ).

Click to enlarge
Xilinx
Xilinx is the other major PLD semiconductor company. In Q1 Xilinx's revenue was up 9.4% sequentially after two quarters of lower revenue.
In its Q1 conference call, Xilinx's CFO said:
Let me now turn to a discussion of guidance for the June quarter of fiscal year '13. Our backlog heading into the quarter is up sequentially. We are expecting strong growth from our 28-nanometer and 40-, 45-nanometer product families. From an end market perspective, we are expecting sales from Communications to be up sequentially, with increases in both wired and wireless. We expect sales from Industrial and Other to be approximately flat sequentially, as increases in industrial, scientific and medical are offset by a decrease from defense. Consumer & Automotive is expected to be approximately flat, as increases in automotive are offset by a decrease in audio/video broadcast. Lastly, we expect data processing sales to increase sequentially. We expect last time buy sales to decline by about $5 million sequentially. As a result, we are expecting total sales to be up 1% to up 5% sequentially.
It recently raised its dividend to $0.22/share for an annual rate of 2.7%. Forward P/E (Mar. 31, 2014) is 14.1, cash is $1.92B or $7.27/share with debt at $906M, and dividend payout ratio is 39% (Data from Capital IQ).

Click to enlarge
Conclusion
Altera and Xilinx are back trading in the same range as they were last summer and worth a look.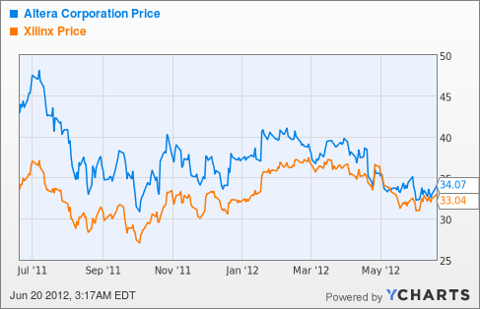 Click to enlarge
Disclosure: I have no positions in any stocks mentioned, but may initiate a long position in ALTR, XLNX over the next 72 hours.