Optimism in a period of economic uncertainty is a wonderful thing. It makes people smile, it makes people think things will get better. For the next four months our President will inundate us with feel-good ads and make speeches claiming that things are improving and will continue to get better in the economy. Meanwhile, the presumptive GOP nominee will mudsling and try to make the case that things are getting worse, but will magically get better if he's elected. Neither candidate really knows or probably even cares if he is right, they just want to live in the White House the next four years.
Just like our politicos, I want to be optimistic about our economic and investment future, really I do - it serves no great good to hope that things will get worse. But at the end of the day, I'm a realist. After a decade filled with corporate shenanigans, devastating miscues, outright frauds, and a mortgage-related nightmare, it's difficult to know what overpaid corporate executives are getting shareholders into nowadays. And just when we thought things were getting stable in financial land, J.P. Morgan (NYSE:JPM) throws a wrench into our thoughts.
Meanwhile, the developing and fluid situation in Europe could end up making our recent financial crisis look like a walk in the park. Throw on top of that the continuing plight of the middle class in this country, and one might find it difficult to visualize a catalyst for economic and investment market improvement.
On the other hand, there are positives present that would seem to act as a floor to the domestic market and economic situation: reasonable equity valuations and clean corporate balance sheets, arguably stabilizing/improving macroeconomic data, and individual investors seemingly comfortable about owning equities once again.
My argument, not a particularly omnipresent or sexy one, is that we should anticipate more of the same for the foreseeable future. A trading range from major market indices, continued low interest rates, a bottoming, volatile economy with intermittent flare-ups both domestically and especially internationally, and a tug of war from the bulls and bears. Investors will continue to tangle with conflicting, unconvincing corporate performance, economic data, and global political and financial issues.
Is The Economy Getting Better?
While the U.S. has stepped back from the precipice that it approached back in 2009, with gradual improvement in some macro data, does that mean we headed back to economic stability in short order? Probably not. I suspect that we are in the middle innings of a perhaps a decade-long bottoming process.
Basically, we are living in uncharted waters. Ultra-low interest rates, forced stimulation by the Fed, continued wind down of toxic mortgage-related securities, and a European volcano with day-to-day bubbling would seem to provide a cap to any consistent progression on the home front.
Meanwhile, multinational U.S. corporations have started to consistently point to Europe as a growth obstacle. McDonald's (NYSE:MCD), amongst others, has blamed Europe for performance softness. So despite what would appear to be a stabilizing situation domestically, the ongoing weakness across the Atlantic has seemingly acted to cancel that momentum. My view is that Europe will not spiral out of control, but similar to the U.S. financial crisis, it will take years, perhaps more than a decade, to unwind an increasingly complex and unstable situation. The Eurozone appears to be now where the U.S. was four years ago.
Inflation appears tame and in my view will probably remain in what has been a 2-4% growth range over the past 30 years. There are those that predict both hyper-deflationary and inflationary scenarios that will create a cataclysmic event in the economy. To me it is just noise. The norm appears much more likely.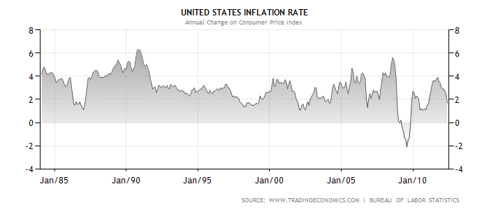 Caught in the Middle
Data points continue to indicate that the average American family isn't faring so well and that the middle class is in decline. According to the Census Bureau, in 2010 the number of households earning less than $25,000 was seven times the number earning more than $200,000. Ten years earlier that ratio was 5.6 to 1.
And according to the Federal Reserve, the median U.S. family net worth fell nearly 40 percent to $77,000 between 2007 and 2010. The middle class, the lifeblood of our economy, is shrinking, suffering with underwater mortgages, a distaste for Washington and gridlocked government, 8% unemployment, stagnant wages, job insecurity, and depressed spending sentiment.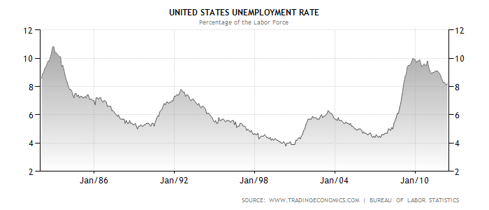 Corporate America
This is a point certainly worthy of argument, but broadly speaking, corporate earnings appear robust on the surface and balance sheets appear healthy. Of concern to me, however, is what I consider a low quality of earnings. Too many companies, from my perspective, are consistently hitting their bottom-line numbers but appear to be doing so by "cutting costs and heads."
Organic top-line growth has seemingly come to a standstill for many companies, but through a variety of expenditure reductions and personnel diminution, profit targets are still being met. Eventually there comes a point where you stop cutting to the bone and start cutting into the bone, sacrificing product and service quality in the name of the bottom line. While we may not be at that point yet, we are certainly headed in that direction, sans a definitive pickup in top-line growth. Investors are skeptical of growth prospects for the broader market and are not willing to pay premium multiples for indeterminate growth.
Corporate America's perceived stability, at least near-term, has come at the cost of the middle class, which continues to watch jobs being shipped overseas by the boatload. It is a trend that has benefits for emerging economies and corporate earnings, but continues to be a disaster for the middle class and provides a weak foundation for forward domestic growth.
The Bottom Line
I have little in the way of expectations for the domestic market. Frankly, it wouldn't surprise me if the past decade becomes the next decade. I'd prefer to feel more optimistic and lift our collective spirits, but I'd rather be realistic and provide a cautionary outlook consistent with present data and extrapolated prospects.
Despite this rather dour prediction, there always have been and there always will be opportunities on the home front. Apple (NASDAQ:AAPL) has put together one of the most impressive corporate performances ever seen over the past several years. Emerging companies, a la Facebook (NASDAQ:FB), will continue to take the nation by storm and create goods and services unimagined years prior. Yes, the IPO didn't work out so well, but you catch my drift.
Investment Strategy
For long-term, conservative growth investors, this will continue to be a challenging environment to craft a diversified, buy and hold portfolio and profit. In general, I tend to think that over the next several years that small-cap will outperform large-cap and that select international markets will outperform the U.S. Mundane investments like iShares Small Cap 600 Index (NYSEARCA:IJR) and Vanguard MSCI Pacific ETF (NYSEARCA:VPL) could diversify and improve performance of portfolios heavy in large-cap domestic equities.
Income investors who prefer large-cap, dividend payers should pay careful attention to holdings with heavy exposure to the Eurozone. Clorox (NYSE:CLX), with a roughly 3.5% dividend yield is a name that garners 80% of its revenues from the North American continent. Small-cap B&G Foods (NYSE:BGS) with mostly North American exposure and a 4% yielder, offers some food for thought.
While the low interest rate environment makes domestic bonds decidedly unattractive from a historical perspective, investors willing to take on a bit more risk should look to funds flexibly managed for higher yield. The Alliance Bernstein Global High Income Fund (NYSE:AWF) has a good track record and is one I've held for many years.
While I don't advocate a trading strategy for the average individual investor, I think even long-term investors need to be willing to trade around positions, i.e. sell partial positions when stocks run up and buy more when the positions appear oversold. Above all else, don't become attached to a stock, be willing and prepared to dump your consistent under performers and move on to greener pastures. In my view, patience is not a virtue in the present market.
Disclosure: I am long VPL, AWF, IJR, JPM.
Additional disclosure: The above should not be considered or construed as individualized or specific investment advice. Do your own research and consult a professional, if necessary, before making investment decisions.