Global X launched their GURU ETF with much fanfare recently and this represents the most recent attempt at using 13F data to make investment decisions.
As we've noted several times, 13F holdings replication is a very valuable pursuit but one that is also very easy to do incorrectly. 13F holdings are only representative of the holdings for a small group of filers so much care must be shown in selecting which filers' 13Fs to use in creating an index to replicate. Since AlphaStratus has the only commercially available 13F database to include every single filer, we took a look under the hood of the GURU ETF in order to understand exactly what investors are getting.
GURU
From the factsheet:
"The Top Guru Holdings Index is comprised of the top U.S. listed equity positions reported on Form 13F by a select group of entities that [are defined as] hedge funds"
As of launch there were 51 positions in this ETF representing the top equity positions of 51 hedge funds. The list of funds used is below: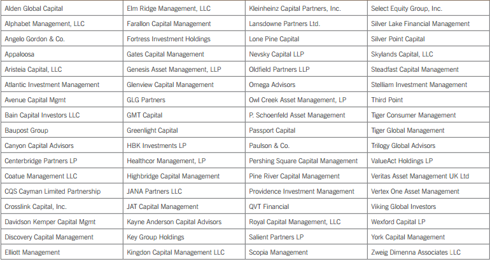 Already, there are two huge problems with the construction of this ETF...
Most of the hedge funds on this list are not suitable to 13F-based replication for one (or more) of these reasons:
The hedge fund is not equity-focused: Consider the 1st fund on the list, Alden Global, which is a large and very well-respected distressed debt hedge fund run by Randy Smith (who is "a legend in the distressed debt investing world"). Alden is over $3BN at this point but only $779M of positions were reported on their most recent 13F. This is because Alden primarily invests in distressed debt and private equity positions that are not going to show up on the 13F filing. Any investor piggybacking off Alden's top equity position is getting exposure that in no way resembles what investors in Alden are getting.
The hedge fund demonstrates high-turnover: Consider the second fund on the list - Alphabet Management LLC. This is a lesser-known but very interesting firm that is essentially an options market maker. Most of the guys here are transplants from options powerhouse Susquehanna and their primary strategy is trading equity options (usually on ETFs) against the equity underlying. The problem here is obvious. Firstly, the turnover in this strategy is way too high for 13F's to offer any information about what's in the portfolio right now. These are only a quarterly snapshot so before one uses them to "replicate" a hedge fund's returns - make sure that hedge fund has low turnover...otherwise you're worse off than simply throwing darts. Also, why would you want to replicate the top equity position of a filer like this that is going to have an offsetting options positions as well? The NET exposure of that trade is what you would want to replicate...not just 1 leg of it.
The hedge fund is not long-biased: Consider a favorite example of ours - JAT Capital. JAT Capital is an excellently run long/short equity fund founded by ex-Schumway analyst John Thaler. It's also a fund we would NEVER try and replicate using 13F holdings. Why?...because JAT is very diligent about maintaining a very low net exposure...which means for the $2.6BN in reported long positions on their recent 13F, there is likely going to be almost an equal amount of short positions (or short exposure) which is not visible on the 13F. Replicating only 1 side of the trade is a dangerous proposition to be sure.
The filer is really several hedge funds: Paulson & Co. is another favorite example of ours. Paulson's top equity position is a $2.6BN position in the GLD etf. Why? Because in addition to his well-known Paulson Partners fund (merger-arbitrage), Paulson Advantage fund (event-driven) and the Paulson Credit fund... he also runs a Paulson Gold-only fund. He also offers gold share-classes of the 3 other funds. Because filers report holdings at the level of the management company, this means that GLD is going to remain a top equity position for Paulson & Co. for reasons that are very, very different from the investment thesis that are driving his funds' performance.
The vast majority of the list of funds used for the GURU ETF suffer from one of the issues cited above. This is precisely why AlphaStratus advises a very carefully constructed approach to investing in 13F holdings.
This is an area where a little bit of knowledge is a dangerous thing.
Tread carefully investors.
Disclosure: I have no positions in any stocks mentioned, and no plans to initiate any positions within the next 72 hours.