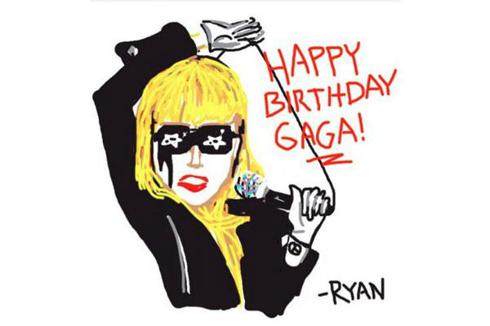 Click to enlarge
Zynga (NASDAQ:ZNGA) announced earlier this week that its newly acquired Draw Something mobile game will be turned into a television show. CBS won the bidding rights for the game show. The pilot is being developed by Sony Pictures, Embassy Row and Ryan Seacrest Productions. Seacrest is also a producer for shows like "Keeping Up With the Kardashians," "Khloe and Lamar," and "Jamie Oliver's Food Revolution." The host of American Idol will produce the show, but will likely not be hosting the game show. Ryan Seacrest has been a fan of the game and even shows some of his drawings on Twitter occasionally, including the one above for Lady Gaga.
The game show will have contestants and celebrities compete for prizes and money. Viewers at home will also be able to play along and win prizes. The game show is described as a "competitive drawing challenge." Encouraging audience participation of the new Draw Something game show could get the mobile and tablet game back into top 10 download lists and increase monthly active users.
Back in March, I discussed the positives of Zynga's acquisition of Draw Something game maker OMGPOP. Zynga spent $180 million on the company, making it its largest acquisition at the time. Analysts questioned the move at the time and are now even more negative of the move as Draw Something monthly active users continue to decline. It appears to investors and analysts that Zynga purchased the company at the height of the game's popularity. The game has been dropping out of top 10 application lists and could use this bump in consumer's interest.
The deal with CBS reminds me of Ancestry.com (NASDAQ:ACOM) and its partnership with the television show "Who Do You Think You Are?" Ancesty.com partnered with NBC (NASDAQ:CMCSA) over the last four years to help celebrities track their family genealogy. Deadline.com reports that in the three years the show was on the air, subscriptions rose 42.6% at ancestry.com. The television show made viewers aware that they could track their own family history using the software on ancestry.com. Zynga is hoping a similar move with its recently acquired Draw Something game can increase awareness and get people drawing again.
Zynga recently announced its intentions to take its acquired Draw Something game global. The company teamed up with Enrique Iglesias and Jennifer Lopez, who are touring together later this summer. The singers will help release new words for gamers up until the launch of their tour. The two are also the figureheads of the new global expansion. Up until now, Draw Something had only been available in English and for American users. Twelve new languages are being introduced for the game:
French
Italian
German
Spanish
Norwegian
Swedish
Brazilian Portuguese
Dutch
Danish
Korean
Japanese
Chinese
Along with new languages, the game will also include local cultural references including athletes and pop culture icons. Zynga also entered into a partnership with Sina's (NASDAQ:SINA) Weibo.
A Simplified Chinese version of the game was launched through Weibo. The partnership helps Weibo users connect with family and friends through the popular Draw Something game. The version of the game features Chinese language, translation help, and more closely tied Chinese popular culture words to draw. Users of Weibo can also share their drawings with friends on the social network.
Zynga shares are down over 35% from their first publicly traded day on the Nasdaq. Shares are also down 62% from their all-time high price of $15.91. Zynga has beat analysts' estimates for earnings each of its two publicly traded reported quarters. Analysts (Yahoo Finance) are calling for $0.06 in the quarter to be reported July 23rd. Analysts also see Zynga posting a profit of $0.27 for the current fiscal 2012.
I have been bullish on shares of Zynga even before the initial price offering. I have never bought shares of the social gaming company as my portfolio already has a couple of video game companies. I will be looking at buying shares of Zynga if they remain in the $5 range. I recommend buying shares before the upcoming Zynga Unleashed event held on June 26th.
Disclosure: I have no positions in any stocks mentioned, but may initiate a long position in ZNGA, ACOM over the next 72 hours.