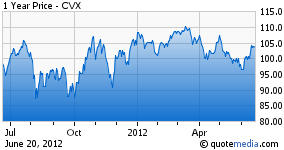 I am big believer in assessing investment possibilities by looking at relative value. Sometimes I am amazed to find two companies in the same industry that seem flip flopped in how investors are assigning value to them. A great example of this is in looking at the two biggest domestic oil majors, Exxon (NYSE:XOM) and Chevron (NYSE:CVX). The market is assigning an approximate 25% premium to Exxon based on trailing and forward PE over Chevron, even though the latter is the superior investment.
10 reasons CVX is a better investment than XOM:
Chevron provides a 3.5% dividend yield versus just 2.7% for Exxon.
More importantly, Chevron has increased its dividend payouts at an average of 12.5% annual clip over the past five years compared with just 7.5% at its bigger cousin.
Thanks to Exxon's ill-timed 2010 $40B acquisition of XTO Energy, the company has a higher percentage of reserves in less valuable natural gas (51% Gas/49% Liquids) than Chevron (43% Gas/57% Liquids).
This has also showed up in production figures where Exxon's production ratio is 54% liquids versus the 69% ratio Chevron is running at.
This explains the discrepancy in growth rates. Analysts expect 4% to 5% revenue growth over the next two fiscal years for Chevron, versus flat sales at Exxon.
Over the past five years, CVX has averaged 8% annual EPS growth versus flat growth in that time span at XOM.
Despite having inferior reserves the market is assigning a value of 2.53 times book value to Exxon version 1.63 times for Chevron.
The market is assigning a value of 7 times operating cash flow on Exxon, yet just over 5 times OCF on Chevron.
Chevron is much less exposed to the volatile refining segment than is Exxon, where Exxon produces more than three times as much refined product.
Exxon is approximately 10% under its median analysts' price target of $93, versus Chevron's 20% discount to its median analysts' price target of $125 a share.
Disclosure: I am long CVX.