A while back I had said that uWink (UWNK.OB) has been quiet for awhile, and that I expected some announcements from the company shortly.
Well, uWink certainly delivered with a couple of new deals that further strengthen their restaurant side of the business, and more importantly, their software and content side of the business.
I'll go over these two developments as well as update you on the progress of their new restaurant openings, and important notes regarding the company.
uWink Signs First Technology Licensing Agreement
The biggest news to come out of uWink in the last few weeks, if not so much in dollar terms, but more because of what it means for the potential of uWink's platform, is a recently announced deal with InSite Development, to provide unique touch-based technology for the senior housing market.
To be honest, when I first wrote about uWink expanding their technology to the hospitality market, the thought of coming out with a product for the senior community never crossed my mind.
There are two aspects to this deal, and here's how they work:
uWink will supply the software: Under this agreement, uWink

'

s interactive digital content operating system and real-time, multi-player game platform will initially be deployed into Arbor Court, a groundbreaking housing community in Lancaster, California.
There will be 231 units built at Arbor Court and each unit will contain a flat screen touch monitor, powered by uWink's intuitive interface, that will allow the residents one-touch connectivity to a wide variety of information and services including food and pharmacy ordering, video conferencing, assistance and maintenance requests, and games and other digital content.
Details are still being worked out as to whether or not additional "slave" terminals will be added to the units so that residents can play communal games and also have the functionality in multiple locations within their residence.
uWink is not providing the terminals, nor are they responsible for their maintenance and upkeep, they are only responsible for the software running the terminals.
InSite used the specs provided to them by uWink to make the terminals, but that's where uWink's involvement with the hardware side of this deal ends.
In addition, InSite plans to use uWink's multi-player game platform to offer group entertainment as well as memory muscle games that have been shown to enhance brain function in seniors and also to reverse damage caused by Alzheimer's, strokes and surgery.
The common area in Arbor Court will contain a bank of terminals, 20-30 of them, so that residents can get together, and play games on the terminals such as bridge, bingo, and other games.
The possibilities of this technology are almost as endless as the imagination of the creators and their abilities to allow seniors the most flexibility and independence possible so they can remain active and involved in their lives without depending on others for assistance.
Here's what a typical day might look like for one of the residents of Arbor Court:
You wake up in the morning and realize that there is a leak in the kitchen sink.
Using your touch screen monitor, you alert maintenance of the problem and have them there without picking up the phone.
Later that same day, you decide you are bored and want to go mingle with some of the other residents. You head over to the common room to play bingo with a bunch of friends, and when you guys all get tired and hungry, you simply tap the touch screen interface a couple of times to order a pizza.
Finally, you head back home at night and realize that your medications are running low, so with a few more taps on the touch screen terminal in your unit, you interact with the local pharmacy, which by the way, is paying a fee to be the "preferred" pharmacy on the uWink terminal, and order your medications over the web-enabled interface and have them scheduled for delivery bright and early the next day.
If you can imagine the application, uWink can incorporate it within the terminal's software, and allow active seniors to have a more comfortable, and interactive lifestyle.
uWink and InSite Partner for Future Software: The second part of this arrangement is probably the most important for uWink going forward.
Not only will uWink be developing the software for this particular housing development, but InSite and uWink are going to partner in developing custom senior-specific applications based on the uWink technology and will license them to third parties in the senior housing market.
Under the agreement, uWink will receive an initial $50,000 licensing fee and a minimum of $25,000 in custom development fees during the first year.
After that, any third party licensing revenue from software applications custom developed under the agreement will be shared 50-50 between the parties after appropriate deductions for reasonable sale, delivery, installation, support and/or maintenance costs.
Typical of most retirement communities, most of the residents are on very low or limited budgets, and therefore, the costs incurred for the building of this community are subsidised and costs are kept to a minimum to keep rent low. This means that most of the sales from this deal are paid up-front, and then on a limited basis going forward, except for the recurring revenue of licensing deals, advertising, co-branding, etc.
So basically, once uWink is paid to create the custom software for this particular builder, they can then license and market this software to any other senior housing facilities or developments being built in the future, and split the revenue from that 50-50.
This includes any custom software deployed for each specific application, and more importantly, any revenue generated from advertising, co-branding, or other money-making initiatives set up through the uWink platform.
uWink's ultimate goal is to provide the software for any number of applications and terminals, and to be able to just install their software on any hardware platform, regardless of who makes it, and why uWink's applications are written in Java/Linux and are very portable.
Although this deal doesn't sound big off-hand, it's what it portends for the future that's the interesting and potentially large development.
Once the concept is proven within this particular project, uWink can then partner with other developers for schools, government facilities, other housing projects, and as-yet-to-be-named projects that will lead to further penetration of their software, concept and platform.
uWink Launches Cross-Promotion Deal With Kabillion
Now you can eat in peace while your kids play branded games on uWink's touch screen terminals with free prizes and gifts awarded for various games and food purchases.
Under the agreement, uWink will offer new Kabillion-branded video games for kids, in addition to kids' meals featuring characters from Kabillion's animated programs, and high-quality toys and plush from Taffy Entertainment, the parent company of Kabillion.
Kabillion, for those that really want to know, or that don't know, is a multi-platform, kids' entertainment program service launched in January 2007 and available both as a free video on-demand [VOD] channel and a free online broadband site (www.Kabillion.com).
Kabillion offers high-quality animated and live-action kids' series entertainment on both platforms in addition to offering various games on their website as well as an interactive community for kids to play games together, share and critique music ideas, and even offer a Massively Multi-Player Online Role Playing Game, or (MMORPG) for kids.
The website functionality won't be available on the uWink terminals, but uWink will be porting over some of Kabillion's branded video games and their merchandise.
uWink is not paying anything for this deal, and instead will be receiving proceeds from Kabillion for the privilege of being the sole provider of kids content on the uWink terminals.
This relationship will initially roll out at their Woodland Hills location, and then expand to all future restaurant openings.
Good for uWink
This relationship is a win-win for both parties but in particular uWink because it makes their restaurants more "sticky" for kids which allows them to make more revenue from patrons that stay longer and order more food and drinks.
uWink's goal is to average $12 per seat, per hour, so anything that allows this to happen, either with free prizes and games, or a more entertaining environment for patrons, is something that benefits uWink's restaurants.
Again, while this deal isn't a huge money maker for uWink, it just shows their continued shift and execution with their business model and strategy to leverage their platform and terminals to increase margins and sales in their restaurants.
New Restaurant Openings
Hollywood and Highland uWink Opening in Early May: uWink just announced today final details for their restaurant that will be opening at the Hollywood and Highland Center.
This 7,200 square foot restaurant's location was formerly occupied by Wolfgang Puck's Brasserie Vert, and is slated to open in early May, now that all the proper permitting processes have been approved and actual construction and build-out can begin.
The Hollywood & Highland Center is a high end shopping center chock full of luxury retailers, some of Hollywood's hottest clubs and restaurants and the 3,400-seat Kodak Theatre, host to some of Hollywood's most famous events like the Academy Awards, the ESPYS and the American Idol Finals.
The center features over 60 top retailers, nine of L.A.'s finest restaurants, Grauman's Chinese 6 Theatres, two popular nightclubs and Lucky Strike Lanes, a high-tech and trendy bowling alley/nightclub.
We'll see how this one plays out, but I think uWink couldn't be happier with the location of their latest restaurant, and to finally have a firm opening date.
Mountain View, California Location: As of right now, uWink operates only one restaurant in Woodland Hills, California.
Their goal is to open a total of 3-4 more by fall of 2008. One of those is the aforementioned Hollywood and Highland location, the second of them is slated to open in Northern California, specifically in Mountain View, with close ties to San Jose and right near the sprawling Google complex as well as other Silicon Valley stalwarts.
The Mountain View uWink is still waiting for all the proper permits and licenses to come through before uWink can build out the location.
The hold-up for these restaurant openings is due to local bureaucracy, licenses and permits, and other logistical issues that delay the opening of a location from the actual announcement by 6-12 months.
Fortunately, uWink is ready to go once they are cleared to open, and they should be able to build out this location in only 6-8 weeks since this location was previously also a restaurant and the up-front costs and time to build out is way less than if it was a brand new location without the pre-built infrastructure.
Galleria Mall in Dallas, Texas Location: uWink is still in negotiations for this location concerning the terms that have been set forth and are still discussing possible solutions with the owner of the property.
Florida Location with franchisee: They have an agreement with a franchisee in Florida to build 3 locations in the next 3 years, with the first to be built this year.
So far, everything is going well with that first location and they are just finalizing the real estate parameters within next few weeks and then are looking for the actual opening about 6 months out from there, sometime in the late fall 2008.
A Few More Notes
Here are a few more pertinent details to the uWink story and some important developments to keep you informed about their strategy going forward, and their execution:
Total Restaurants: uWink is looking to open a total of 3-4 restaurants this year. They look for EBITDA of at least 15% on those restaurants once they reach maturity and are targeting EBITDA above 20% after they get operations fully ramped up and costs under control at each location.
Corporate Profits: uWink would also like to be break-even on a cash flow basis by the end of this year, and then see where they are in terms of finances and cash-flow to plan their next move for further expansion. Ideally they would like to fund future growth from their own operations and not tap into the equity markets, but that is yet to be determined. They'll know more once all the planned locations are up and running by the end of this year.
Sponsorship of Room Games: What is proving to be a relevant and increasingly popular model for uWink is allowing various companies, like Sam Adams beer for instance, to sponsor some of their room games with active audience participation, and prizes. This is a win-win for both parties, and a great revenue and margin driver for uWink, since it requires no additional man-power or resources to implement.
Room games are games that are played on a store-wide or multi-location basis, such as playing a trivia game vs. 2-3 different uWink locations, or just one location but with the whole restaurant participating at the same time.
Sponsors are increasingly warming to the idea of this mode of entertainment and advertising for their brands, and uWink is pushing to get more advertisers for these room games going forward.
Games for Credits: All the games now on the uWink terminals are based on a "credit" system whereby you receive a certain amount of credits for how much food and beverages you purchase. Before, uWink's games were either free or pay-for-play, but this eliminates that distinction at least on the surface.
For instance, a game that used to be free, will now cost a certain amount of credits, but those credits are tied directly into your food purchases which wind up being about the same amount of "gaming time" that you would have spent before, while increasing the potential for additional food or credit purchases.
So, if you want to keep playing a certain game, but don't want to order any more food or drinks, you can simply purchase more credits using the touch screen system.
This is a much cleaner and easier system for uWink, and also allows them to capitalize on a engaged audience that might want to stick around and play more games but not order more food.
Before you could just sit there playing games for free for as long as you wanted to. Now you'll either have to order some more food, or pay the system for more credits.
Maybe this isn't such a customer-friendly system, but you can't have people abusing the free games available and not buying any food or drinks.
uWink cleaned up the system to make it more of a win-win for them and for other customers that are waiting for a table on a busy Saturday night.
Multi-Touch Technology: There was a recent article in BusinessWeek that referenced a "new" technology that is being used in upscale restaurants and other locations like casinos to entice higher end clientele.
This technology is called "Multi-touch" computing where you can have multiple people or users doing things on the screen at once and the program reacting to those interactions. This type of computing utilizes no mouse or keyboard and must react to many things that a person might do all at the same time. Things like dragging and dropping menu selections into a "cart", or collapsing windows, or one person tapping on a wine list, while another opens up the menu, etc.
While the technology right now is expensive (the cost of installing the systems being produced by various companies covered in the article range from $5,000 to $250,000 each), uWink is intrigued with the possibilities of multi-touch platforming (uWink's terminals are currently "single-touch") and they might look to get into this market and create better software for these companies that will make the applications much more cost-effective and ubiquitous.
Right now multi-touch platforms require infrared cameras and multiple processing units to compare and react to the interaction being performed.
In the future, companies like uWink will look to incorporate this technology into existing platforms and build upon what is already available.
Stay tuned. This could be another huge market for uWink and their software capabilities.
uWink's Earnings: uWink should be releasing their latest earnings report and might even have a conference call, on or around March 31st. Look for more updates as we approach that timeline.
Bottom Line
That's a lot to digest, but that's good news.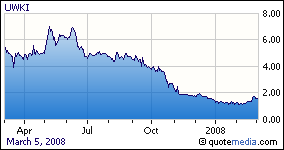 It means things are happening over at uWink and they are executing on their strategy and business model.
When I previously wrote about their deal with Volante systems for the hospitality industry, I never thought that something as simple as a retirement community could benefit from uWink's software to make senior's lives easier and more independent.
It makes me wonder what other potential deals and growth opportunities are available for uWink outside of their core restaurant business.
That's precisely why I invested in this company, and why I urge you to do the same.
The risk is high because there is no track record and Wall Street doesn't like taking chances on unproven businesses, but you are getting a fair discount for that risk with the stock at its current price.
In a few years, you'll look back and kick yourself for not at least picking up a few shares for your long term investments, so hopefully with all the information and good news coming out of uWink, you can press that "buy" button with confidence knowing that uWink's management team has a long term focus, and is managing the business for long term growth and prosperity not only as a restaurant chain, but also as a software provider for a whole host of applications.
The elevator door is closing on this ground flood opportunity. Get in before it's too late.
Disclosure: None